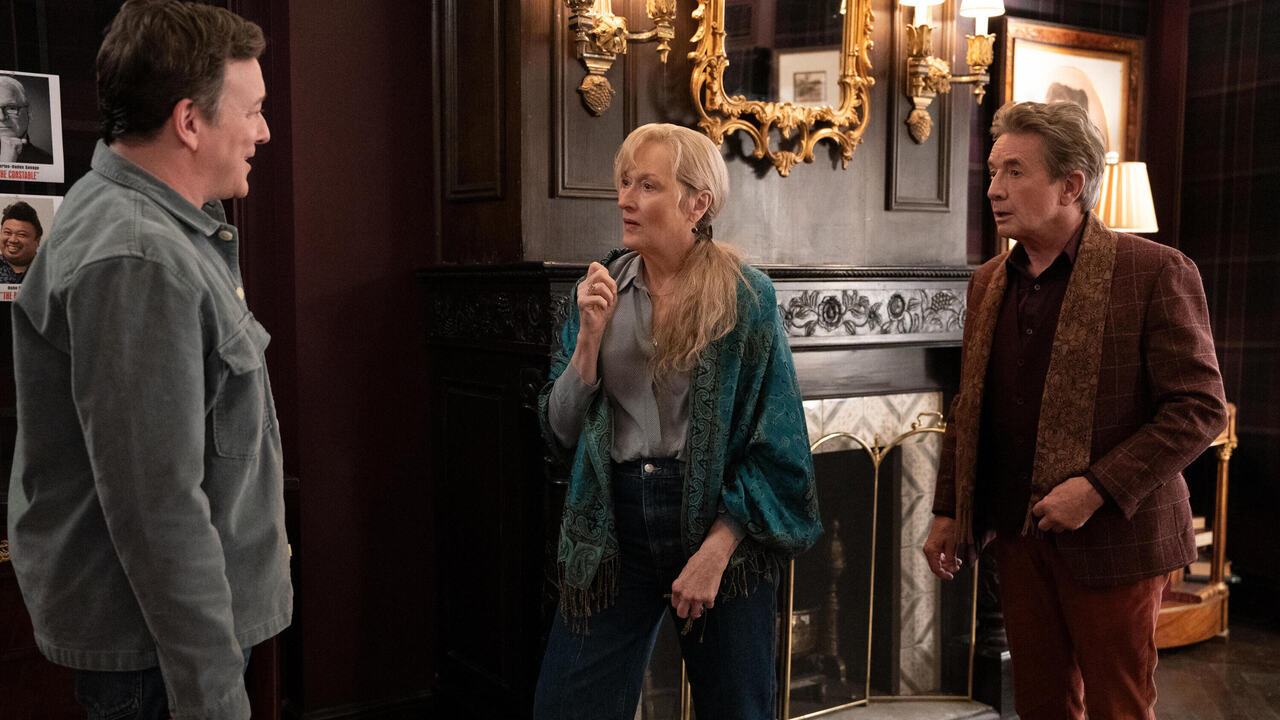 We saw how in episodes 1 and 2 when was murdered and Mabel, Charles, and Oliver found his body. Ben wasn't able to escape death despite beating it once. At the end of the first episode, I thought that the trio again might be under suspicion of murder and thankfully this didn't happen.

The third episode is 39 minutes long and starts with Oliver writing a musical. Trying his best to save his dream comeback, he is suffering mentally and physically. The old man started to lose his charm and engaged rigorously in work that he forgot what it meant to be Oliver. As it is suspected that Ben was killed by someone from the cast, anyone could be the killer.

Oliver sets a meeting with Donna and Cliff and he proposes a musical instead of a simple show. The first thing that comes into notice about this mother and son is the unnecessary intimacy. The way they kiss on each other's lips, I am forced to doubt the relationship they're shown to share. Donna was right in her place when she denied funding a musical as they're expensive. If she had to do one, there were two prerequisites. She needs a showstopper and an addictive song. Donna gives Oliver three days to show something substantial.

Mabel and Charlie are still working on the case while Oliver is busy with his Broadway production. They suspect that Ben was poisoned and start searching for motives. As Ben gave everyone a handkerchief and had one in his grasp when he was dead, their first clue was to find who among the cast doesn't have their handkerchief. Poor Mabel was banned from Oliver's apartment as musical rehearsals had to be conducted there and he couldn't risk discussing the murder in front of everyone else. In reality, this was a false reason as the old lad wanted to focus only on his comeback and was clear about having no distractions. This wasn't a selfish thing to do as Broadway had always been his dream while the podcast was a recent experience. Charlie joins the cast and directly asks them to show their hankies. The chap fails as to who lays out the cards like this.

While Charlie was busy finding out about the missing handkerchief, Mabel went to Ben's apartment and met Robert with a T i.e., Tobert there. He too came to that place with motives which he doesn't reveal instantaneously.

Loretta has been the shady character from episode 1 itself. Meryl Streep as Loretta amazed the audience with her performance. She now has Dickie as her manager who has referred her name to some biggies. The lady lands a role in a good show until Oliver decided to ruin it all for her. Thinking that he liked her, what Oliver did was too low even for him. Things were slipping away from his hand and with the history of a recent mini heart attack, he had to take things lightly.

The cast unites and bitches about Oliver in the presence of Charles who finds it hard to break reality to his friend. This episode is all about Oliver and how he did some unapologetic acts. In the end, Loretta is our and Oliver's savior and we get to witness a lullaby in which Meryl Streep looks charming. Her expressions are lovely and it is an unforgettable scene. The episode ends with pointing fingers at Kimber, and we can't wait to see what motives she had.

Final Score: [7/10]