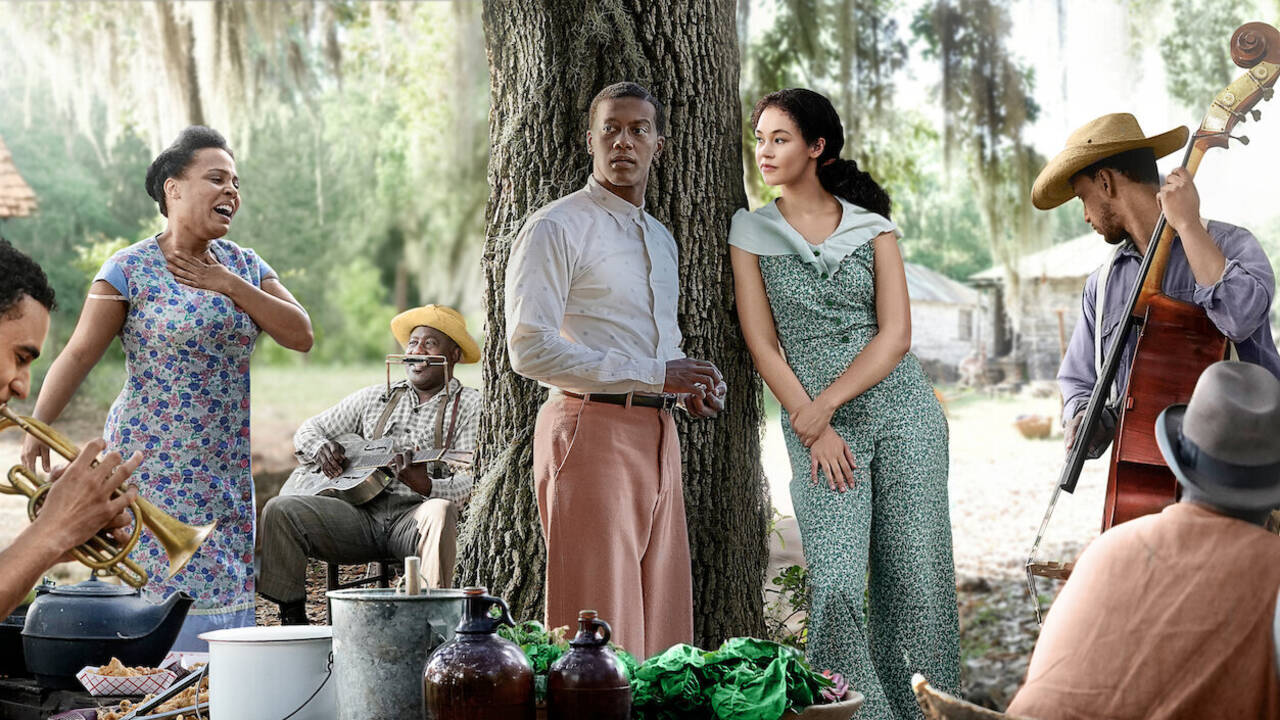 Tyler Perry's A Jazzman's Blues is about two lovers - Bayou (Joshua Boone) and Leanne (Solea Pfeiffer) - who become victims of racial discrimination. It's 1987, and an old woman delivers some letters to a Georgia attorney general and asks him to investigate a murder that had been committed almost 40 years ago. The man shows no enthusiasm at first, but then his eyes notice the words "Leanne Harper." The film then goes back in time and reveals the events leading up to the murder. It's here we first meet Bayou and Leanne.

Bayou is loved by his mother and bullied by his father. The latter considers Willie (Austin Scott) to be his true son. Leanne, on the other hand, faces severe abuse from her grandpa. These two lovers secretly meet one another at night and soothe their personal wounds. After their first kiss, Bayou walks home excitedly, jumping on the ground. Pay attention to the line in this scene, "I walked home floating like my feet didn't even touch the ground. But that ain't last long." Indeed, whenever Bayou and Leanne share a happy moment, they are immediately hit by a disaster.

When Bayou proposes marriage to Leanne, the following day, she is taken away by her mother. He is forced to run away from his home after they make out in the car. And when he meets Leanne and her kid towards the end, he is confronted by a mob. If the title and the opening scene indicate something, it's that there is no place for happily-ever-after here. This world and its people won't let Bayou and Leanne live with each other. This is a doomed romance.

The "Blues" in the title not only refers to the feeling of sadness. It also has to do with the music sequences. There are juke-joint blues jams and a couple of stage performances. After he is forced to run away to Chicago with Willie and his agent, Bayou rises to fame as a singer. All his shows go houseful while Willie plays in the background, injects needles into his skin, and becomes increasingly jealous of his brother. As soon as Bayou decides to go to Georgia with him, you guess precisely how Willie would take his revenge.

Both Bayou and Leanne seem to float with the current. They have no control over their circumstances. All they can do is love each other and face pain and obstacles. Leanne's passing allows her to marry a white man, which is something she is forced to do by her mother. Bayou never thought he would become a famous singer, but it all happened because he was pushed by the agent to sing in front of everyone. Bayou and Leanne don't control their lives, but that's something none of us can do, right? You can have plans for the weekend, but that might change after an incident.

Our awareness of the destination lends an ache to all the scenes, no matter how celebratory they are. We sit in our seats as helpless as the characters. A Jazzman's Blues works because we care about the two lovers. The good guys get our sympathy, while the bad ones repulse us. No one should be hanged from a tree if their crime was that they loved someone. Instead, condemn those who spread lies and separate two souls. However, it's also true that the poetry of romance will always outlive the brutality of rancor.

Final Score – [7.5/10]
Reviewed by - Vikas Yadav
Follow @vikasonorous on Twitter