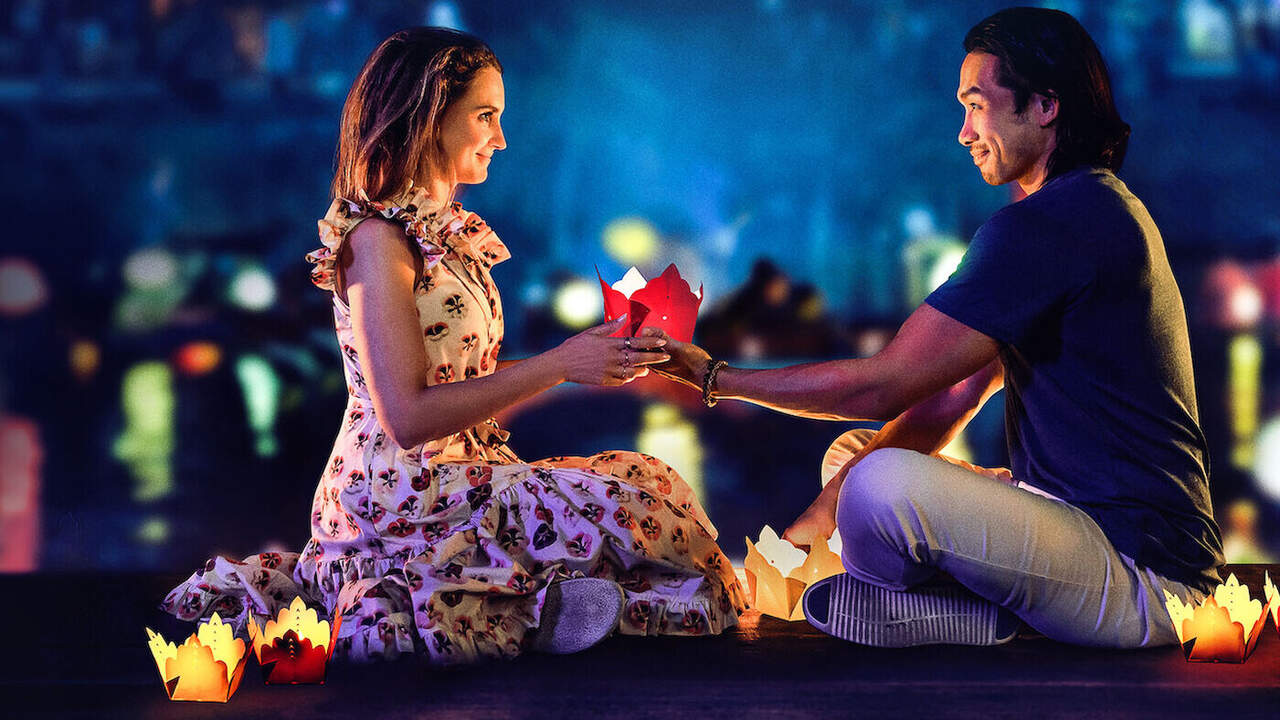 A romantic drama about Rachel, a tourist who falls in love with her tour guide in Vietnam, as they journey together across the country's stunning landscapes and immerse themselves in its vibrant culture. The movie is a celebration of love, travel, and the beauty of Vietnam.

In A Tourist's Guide to Love, a successful, upstanding woman who recently ended a relationship is followed as she embarks on a trip to learn what it really means to be adventurous and in love. What one may anticipate from A Tourist's Guide to Love is exactly what one gets, and there is nothing wrong with that. The consequences of these cookie-cutter relationships that Netflix keeps churning out tend to remain the same, notwithstanding the opinions of the audience as a whole. There are some similarities between this story and the latest Victoria Justice film The Perfect Match. One will feel that Rachel Leigh Cook's acting is consistent if they had seen Love, Guaranteed. But Netflix has one advantage over Hallmark: lavish spending and productions that travel frequently.

Although A Tourist's Guide to Love isn't particularly noteworthy, its familiarity and ease make it cozy and, most importantly, enjoyable. With A Tourist's Guide to Love, Rachel Leigh Cook makes a comeback in the realm of Netflix romance. She plays Amanda Reilly, an ambitious travel executive who, after a tense argument with her longtime lover, decides to go undercover to investigate a prospective new tourism business to acquire. She travels unexpectedly and ends up in Vietnam just in time for the Tét celebration of the Vietnamese Lunar New Year.

She meets Sinh (Scott Ly), the tour guide who will fundamentally alter Amanda's life, there. He is an independent man who loves his family, country, and company dearly. For a few wonderful days, Sinh and Amanda will figure out creative ways to travel and experience life as a couple. After directing Resort to Love for Netflix, Steven Tsuchida is now in charge of this project. To transport the spectator to Vietnam and not some fictitious representation of the colorful country, Tsuchida and cinematographer Jon Keng take great pleasure in the on-location shot. The audience is given visual evidence to corroborate Sinh's assertions that Vietnam is much more than what is sometimes portrayed in Hollywood as he offers advice on how to enjoy traveling to another nation.

The groundwork is laid by screenwriter Eirene Donohue for a happy, joyous journey through Vietnam. With expansive landscape images and close-up on-location photography, Ho Chi Minh City, Da Nang, Hà Giang, Hanoi, and other cities are exquisitely depicted on film. The audience will be completely enthralled by what Vietnam offers to the story, and Amanda is in good company. The most important element in this situation is being in the nation and experiencing the traditions and practices of the Vietnamese people, making A Tourist's Guide to Love a must-see for that reason alone.

Overall, "A Tourist Guide to Love in 500 Lines" is a must-see film for anyone who loves romance, travel, and beautiful cinematography. It is a cinematic masterpiece that will leave you with a warm, fuzzy feeling in your heart and a desire to explore the world. The movie is a testament to the power of love, and it showcases the beauty of Vietnam in all its glory.

Final Score- [8/10]
Reviewed by – Neha Krishna
Follow @Neha25Krishna on Twitter
Publisher at Midgard Times