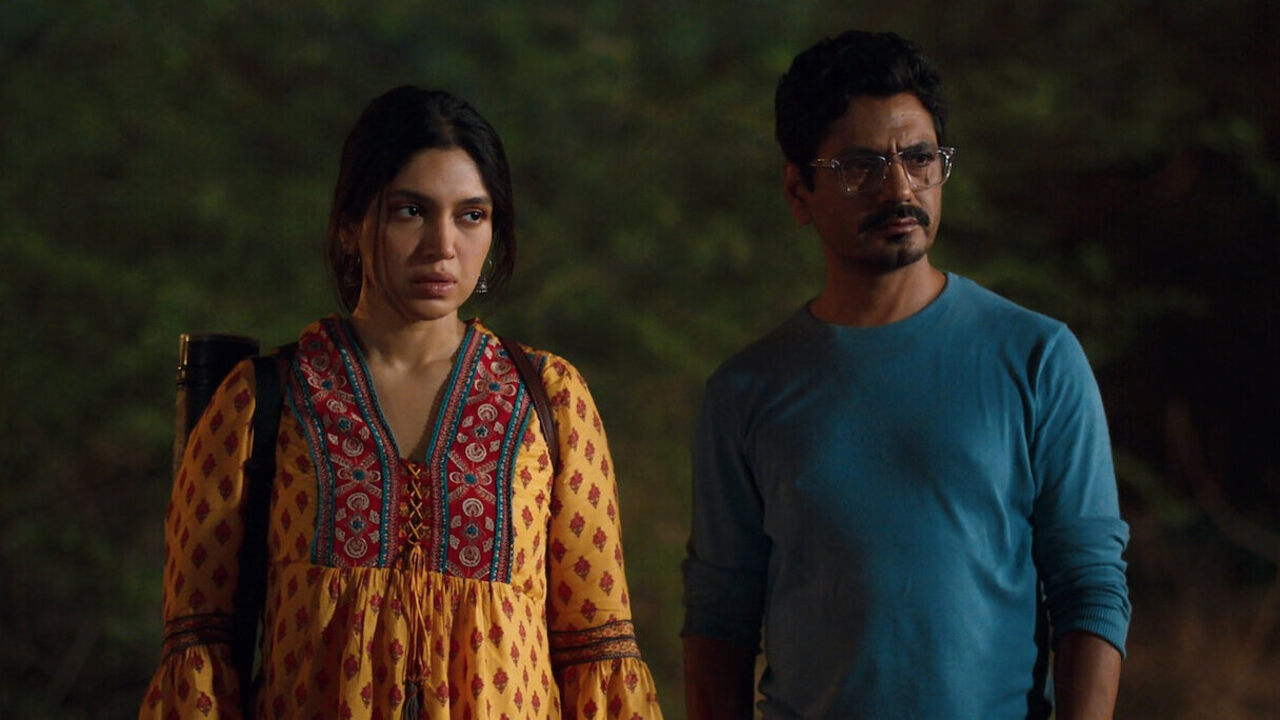 In Sudhir Mishra's Afwaah, when a journalist does his job amidst violence, you see the moment as a spoof. When Nivi (Bhumi Pednekar) screams in front of her fiancé, a politician named Vicky Singh (Sumeet Vyas), her outrage looks so calculated that it gives rise to chuckles. What's more, you smile when a father talks to her daughter on the phone in the middle of an operation. There is humor beneath the surface of Afwaah, which comes to the foreground during these moments. I wondered how much better the film would have been if it had fully surrendered to its comic tone. This material, after all, deserves a spoofy treatment. Mishra, though, mostly abstains from having fun. We sense that he feels guilty during the funny moments, which is why he balances things out with seriousness. As a result, even the comedy in Afwaah seems stifled.

Mishra likes to show off and wants us to appreciate his intelligence. We hear the Google Map voice say, "You are driving in the wrong direction," when Rahab (Nawazuddin Siddiqui) and Nivi run away from Vicky's men. It's the kind of scene that neither feels funny nor urgent because you are able to see the filmmakers patting their backs for coming up with something so "clever." Mishra might as well be asking us to give him a standing ovation. Afwaah is like that person at a party who goes around telling everyone how smart he is. Accuse him of being arrogant, desperate, or pompous, and he will hit you back with its "good intentions."

Before the movie's theatrical release, Mishra tweeted how the majority of the people go to theaters for propaganda films, but the so-called intellectuals are not buying the tickets for good, meaningful films. In Mishra's eyes, Afwaah is an anti-dote for movies featuring vile political propaganda, but his feature is not so different from those hate-driven narratives in terms of filmmaking. Mishra, Agnihotri (The Kashmir Files), and Sudipto Sen (The Kerala Story) are directors who completely submit themselves to a (political) belief and forget to do anything significant with their filmmaking. They remain content with making big points, which is why their movies don't look so different from the politicians giving speeches to the public.

For a while, I thought Mishra would turn out to be tasteful, that he would refrain from preaching. But then I saw that scene where Nivi scolds a college student for believing in a lie. You feel as if Mishra has gotten fed up with providing "entertainment" and now wants to offer a lesson to the audience. To make matters worse, Nivi's lecture starts and stops clumsily. It sticks out like the proverbial sore thumb. The actors are all wasted as they simply communicate the text to the audience. They fail to give their characters an inner life, so everyone comes across as a puppet or a mouthpiece dispensing the thoughts of the writers (Apurva Dhar Badgaiyan, Shiva Shankar Bajpai, Nisarg Mehta, and Mishra have the writing credits). Only Sharib Hashmi manages to shine in this mess.

During Afwaah's climax, Vicky is defeated by the hate he created, and some spectators clap while an injured Rahab asks for help (crime nowadays has become part of our daily spectacle). These scenes are laughable at best, and Mishra makes the text and the subtext yell at the audience. We, on the other hand, cover our ears so that we don't become deaf. However, nothing is more ridiculous than that shot of donkeys walking out of a truck (it's again one of those scenes where one can notice the writers high-fiving themselves for coming up with something this clever). Mishra says we should not trust every rumor and those WhatsApp forwards because anyone who believes in them is dumb. In the game of politics, it's the public who's treated as a donkey, a brainless stick figure. The message is well-intentioned but delivered in a dull, predictable package.

Final Score- [5/10]
Reviewed by - Vikas Yadav
Follow @vikasonorous on Twitter
Publisher at Midgard Times