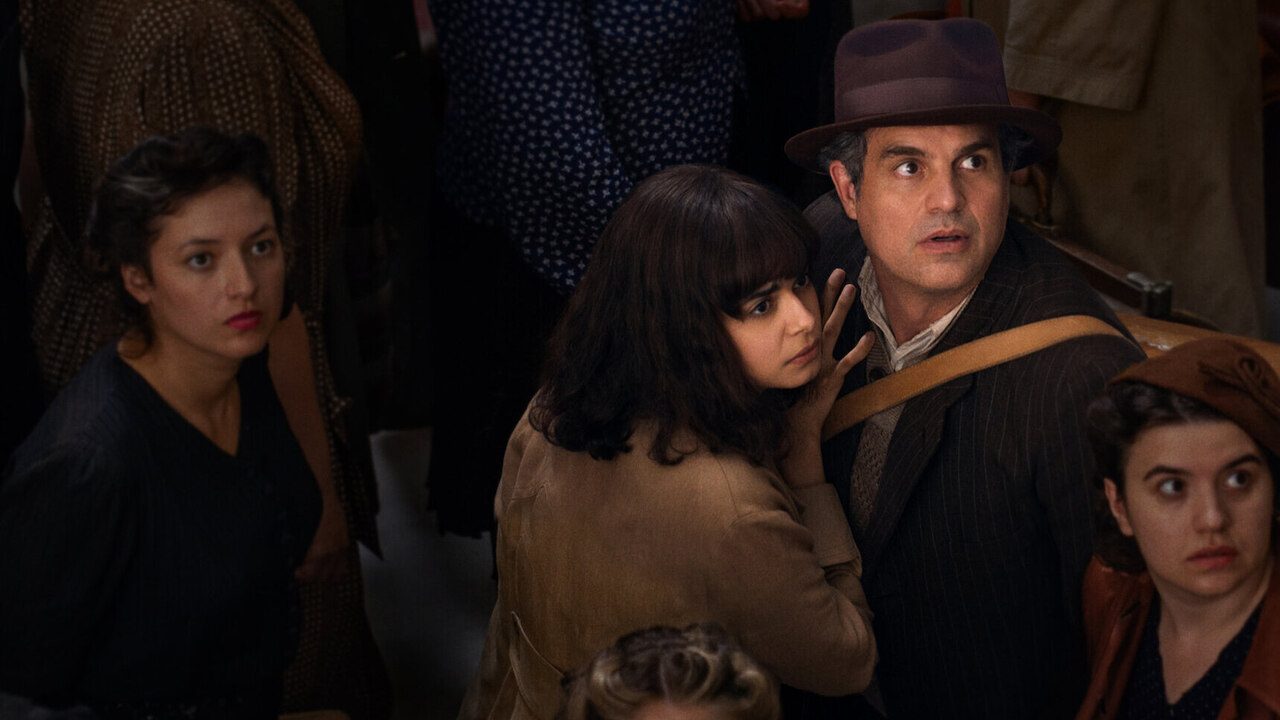 In All the Light We Cannot See, director Shawn Levy and writer Steven Knight use World War II to create a giant hug of a TV series. What's always in the foreground is not the sensation of being surrounded by enemies but the sensation of being surrounded by dimwits. The evil German soldiers make idiotic decisions (not pulling the trigger at the right moment) while the good people keep on defeating them without using much intelligence. The basic lesson is simple: The Germans were silly amateurs. They also had the habit of shooting themselves in the foot. Why else would a German officer put a "corrupt" radio whizz in a prestigious school so that he can wear the uniform? If he were sharp, he would have recognized that the kid, sooner or later, would end up sabotaging a mission.

But usually, in a show or a film, when the enemy is a group of German soldiers and officers, they are often portrayed without much intelligence. There are moments in All the Light We Cannot See where someone from the enemy side manages to arrive at the correct conclusion, yet they eventually end up meeting their maker. The series takes the easy route (death) to wrap up most of its threads. If you want complexity, look somewhere else. The problem with a simple-minded approach is that it fails to generate any substantial rewards. When you already know that the villains are weak and as thin as a stick figure, you stop caring for the safety of the good characters. The menace they exude is almost cartoonish in nature (loud screams, grumpy faces). Herr Siedler (Ed Skrein) looks less threatening in front of a doctor who examines Werner (Louis Hofmann). The intention is to show that we are in the presence of a bigger monster who reduces an animal like Siedler into a chicken. And when the other children run after Werner, they look like bulls charging towards their target. This stock villainy fails to make us shiver.

A story set during a war relies on tense situations to produce a sense of nervousness. But a show like All the Light We Cannot See is devoid of tension. What it has is just scenes that should have made you restless, like the one where some German soldiers interrogate Daniel LeBlanc (Mark Ruffalo) or the one where a blind girl, Marie (Aria Mia Loberti), confronts Sergeant Major Reinhold von Rumpel (Lars Eidinger). Even the scenes where Americans throw bombs over the buildings of Saint-Malo lack any sense of chaos. Everything is bland, both visually and storywise. The camera merely records and hands out ongoing information, and the story suffers from repetition. For instance, we see war images accentuating Etienne's (Hugh Laurie) PTSD condition, and then minutes later, a character talks about this psychological situation without any extra enlightenment. Moreover, the detail regarding von Rumpel's search for the Sea of Flames, a cursed stone, is repeated with the help of a flashback. All the Light We Cannot See doesn't have much to say to us, which is why it goes over the same things again and again through flashbacks and dialogues. In fact, the whole structure of this show - shifting between past and present - is repetitious.

Levy and Knight have interesting ideas. The series is about lovers who, as a child, lived far from each other but listened to the same radio station. It's about a man who wants to be immortal and dies right in front of the object of his desire. These ideas, however, are not held together by a strong script. We see what this show could have been, though that doesn't change the fact that what you do see is sorely uninteresting.

All the Light We Cannot See is loaded with tender moments, some of which do manage to impress you with their warmth. I am thinking of that image of a brother and sister quietly enjoying the taste of chocolate and that scene where a father and daughter listen to the voice of a professor. This is the kind of show where a heart patient dies happily with the knowledge that someone is ready to take her place to tackle the ongoing complication. All the Light We Cannot See is filled with compassion. It's made with love. But since this is the only feeling that registers with us, the experience can become monotonous. The emotional graph of this show mainly consists of a straight line. Given the current conditions (the Israeli–Palestinian conflict and religious tensions), the series can be considered as a white flag. It tells us to live in peace. It also tells us that there is light at the end of the tunnel. But a TV series should give us more than mere good intentions. It should have drama. All the Light We Cannot See, unfortunately, is unable to satisfy us in that respect.

Final Score- [4/10]
Reviewed by - Vikas Yadav
Follow @vikasonorous on Twitter
Publisher at Midgard Times