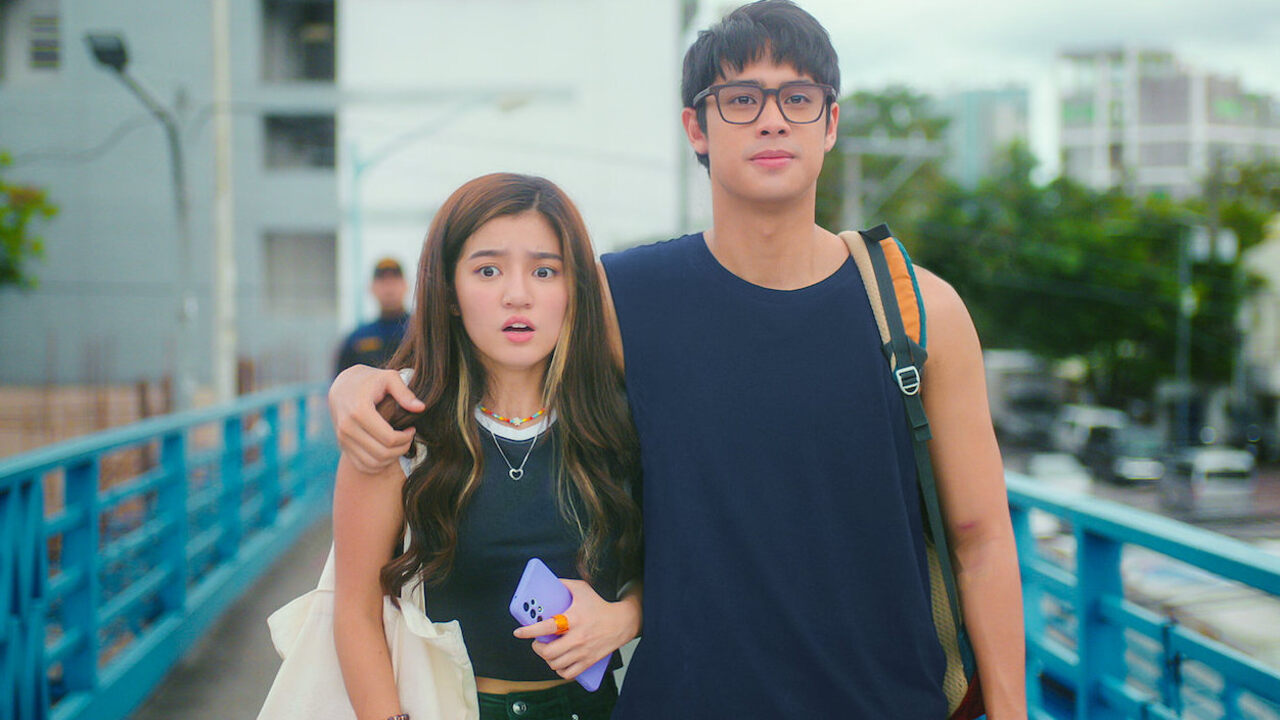 The film is based in the Philippines and opens up with a scene where workers of a company can be seen protesting against the owner, and a boy wearing a mask can be seen standing in the crowd. As soon as the Police come, Manny runs and pretends to be Ayef's boyfriend. Ayef, our female lead is a very career-driven girl. She is an animator and wishes to do an internship in Singapore. For her, her goals are everything. Ayef works in a multipurpose store as a part-timer.

The best scene of An Innocent Love would be when Ayef and Manny meet for the first time at the bridge and form a bonding instantly. Watching how they ran with colored smoke bombs in their hands formed a lovely scene.

Manny belongs to a rich family and has his own struggles. His father is a businessman whose focus has been everything but his damaged family. Everything has to be done as the father dictates, and no one has their own rights in this household. Manny's mother and father are separated. Dobs (Manny's younger brother) is mentally retarded and is passionate about art. Seeing this, reminded me of It's Okay Not To Be Okay (the Korean series) in which the leads elder brother had the same character arc.

Manny conveyed his love towards Ayef by buying things that amount to 143 bucks (short form of I Love You) so that he can hear Ayef saying it loud to him every day. Small moments like these were quite sweet. It was an innocent love for both of them and not one of inconvenience.

Ayef had been in a relationship during her high school years and that love cost her deeply. She even saw similar things happening with her parents and was very delirious about being in love. Hence, Manny and Ayef had made a contract stating that if there will be any inconvenience in their love, they'll break up immediately. Other things like no clinginess, practical love (meaning no gifts), and the 3 C's (consent, compromise, and convenience) also formed a part of this contract. A date was set meaning that there was an expiration date to this love. Just 100 days of being together, and then they'll part ways, but things don't always go as they're planned, do they?

Their initial days were great and the mid ones were rushed. From the start, it was understandable that the contract they'd made will hold no value, and they'll end up feeling deeply for each other.

In my opinion, An Inconvenient Love is a nice movie but again, nothing new is there for the audience. Those who have seen Ok Jaanu will find a lot of similarities like both the characters being career driven, writing down the ground rules for the relationship, and then finally distance being the separating factor. Adi and Tara's characters are similar to those of Ayef and Manny. It just felt like An Inconvenient Love is an adaptation of that film.

The actors did a good job playing their respective roles. This whole movie being a love story, I felt like things were kind of rushed despite the time duration of the movie being 2 hours. I just didn't understand where the time went by. It was as if everything happened too quickly to be understood.

Talking about the other aspects of the movie like the various sets that have been used, I think that the sets were beautiful including the name of the store 24 seven as it will hold a different meaning by the end of the movie. Jungkook (the BTS star) has been mentioned several times which indicates how popular this K-Pop band has become.

The plot of the movie could have included certain different things like unique twists or other angles that would make the audience feel that there's something new for them to see. This concept has become old and we hope that writers do come up with something new instead of this old same plot. However, the plot will be relatable to today's generation as Gen Z is afraid of commitments and prioritizes their profession. From a critic's point of view, we surely need something new now as many films and series have already been made on the same concept where one of the characters is afraid of love but still ends up falling deeply and passionately in love.

Final Score – [6/10]
Reviewed by - Riya Singh
Follow @_riyasinghhh_ on Twitter
Publisher at Midgard Times