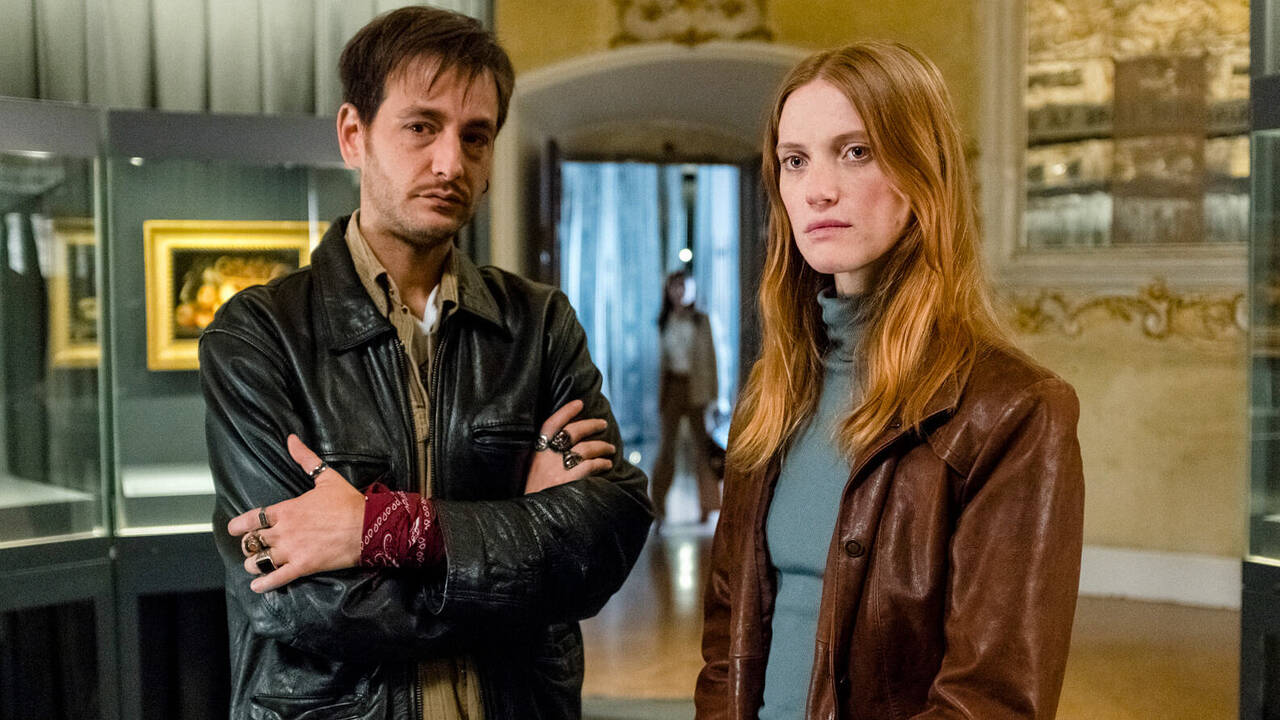 In the last episode, Tomine discovered the shocking truth about his parentage: Alexander Leger is his real father. Episode 6 of Drops of God, titled 'Legacy,' explores the fallout of this revelation and Camille's quest to unravel the second contest task. Opening with Camille and Lorenzo's decision to journey to Trento, Italy, in search of the painting's connection to wine and its Italian painter, Fede, this episode promises a captivating blend of family secrets and the pursuit of mystery.

Camille and Lorenzo's journey unfolds with a museum visit and an enlightening lecture. A stunning revelation emerges: the painting was a collaboration between Fede and her father, Nunzio Galizia. The parallel between Alexander and Camille, and Nunzio and Fede, becomes strikingly clear. In their pursuit of answers, our duo arrives in the ancient village of Besenello, seeking access to Nunzio's residence. A guesthouse becomes their sanctuary, where they encounter the enigmatic Elisabetta, proprietor, and wine-maker. With Nunzio's doors sealed, our determined duo devises a plan: embarking on a wine-tasting odyssey, hoping to find the answers they seek.

We shift our focus back to Tokyo, where a long-awaited confrontation between Tomine and his mother takes center stage. Just as anticipated, the encounter is chilling, leaving a devastating impact. Though no longer hiding behind lies, it becomes apparent that her primary concern remains the family's image. Nonetheless, a glimmer of vulnerability emerges as she grapples with a loss of composure, offering a glimpse into uncharted territory for her character.

Back in Italy, all the winery doors open for Camille and Lorenzo. But it wasn't that easy. The winemakers opened their doors in fear of getting a negative review on the Leger guide. It is then Camille gets to know the real extent of the damage her father's wine guide has done over the years - with just one negative review destroying the reputation of a winery, sending dozens of families into bankruptcy, and even ending people's life.

And this realization comes to her after a very enlightening conversation with Elisabetta, who's angered at the fact that they used the winemaker's fear of the guide for their own goals. Turns out, Alexander came to the village several times for his guide, and Elisabetta's father, Pier Fossati, and he never agreed on anything. Camille knows that she cannot take over the Leger guide, for she cannot decide the future of people she doesn't even know.

Yuriko's search for Tomine's father (not Alexander) leads her back to Tokyo, where she shares her findings with him. Tomine, for once, drops his stoic façade and reveals his true self to Yuriko. Their newfound honesty deepens their relationship, and they spend a heartwarming evening together. This breakthrough marks a significant point in Tomine's character arc, showcasing a progression beyond the reserved heir of a business empire. It's a refreshing development, offering a glimpse of hope and growth for our protagonist.

In Italy, despite exhausting their efforts by tasting every white wine in the village, Lorenzo and Camille remain without an answer. That is until a fortuitous conversation with a winemaker sparks another epiphany within Camille. He reveals how Pier used to be one of the main wine sellers in the area and his daughter, Elisabetta, was with him through thick and thin. Suddenly, it all becomes clear. The elusive "link" lies not in the ingredients of the painting but in the poignant narrative it embodies—a heartfelt story of the bond between a father and a daughter.

Overwhelmed with anticipation, Camille rushes back to the guest house and samples Elisabetta's wine. While it lacks any literal resemblance to the painting's ingredients, Camille intuitively senses that she has found the answer. She can see the narrative unfold within Elisabetta's eyes. Furthermore, discovering that Alexander held a deep respect for Elisabetta and her father's craftsmanship adds an additional layer of appreciation to the revelation.

In a twist of fate back in Tokyo, the most remarkable of coincidences occur as Yurika stumbles upon the solution to the second task within the files Tomine obtained from Alexander, his mother's former enology professor. But here's the real nail-biter: when the time comes to spill the beans, will Tomine go on to give the correct answer, knowing it would secure him the ultimate prize? Well, that's a secret you'll have to unravel by watching the episode yourself.

In the end, Italy provided a delightful change of scenery, offering a welcomed respite from the bustling streets of Tokyo and Paris. The emotional journey embarked upon in this episode truly stole the spotlight, flawlessly brought to life through exquisite writing. From the poignant evolution of Elisabetta's character, meticulously crafted within the span of a single episode, to the profound exploration of the father-daughter bond depicted within the painting, every aspect resonated deeply.

And let's not forget the remarkable character development of Tomine, as he bravely dismantles his emotional barriers and learns to embrace trust once more. This episode encapsulated the essence of Drops of God, leaving us eagerly anticipating what lies ahead.

Final Score- [8.5/10]