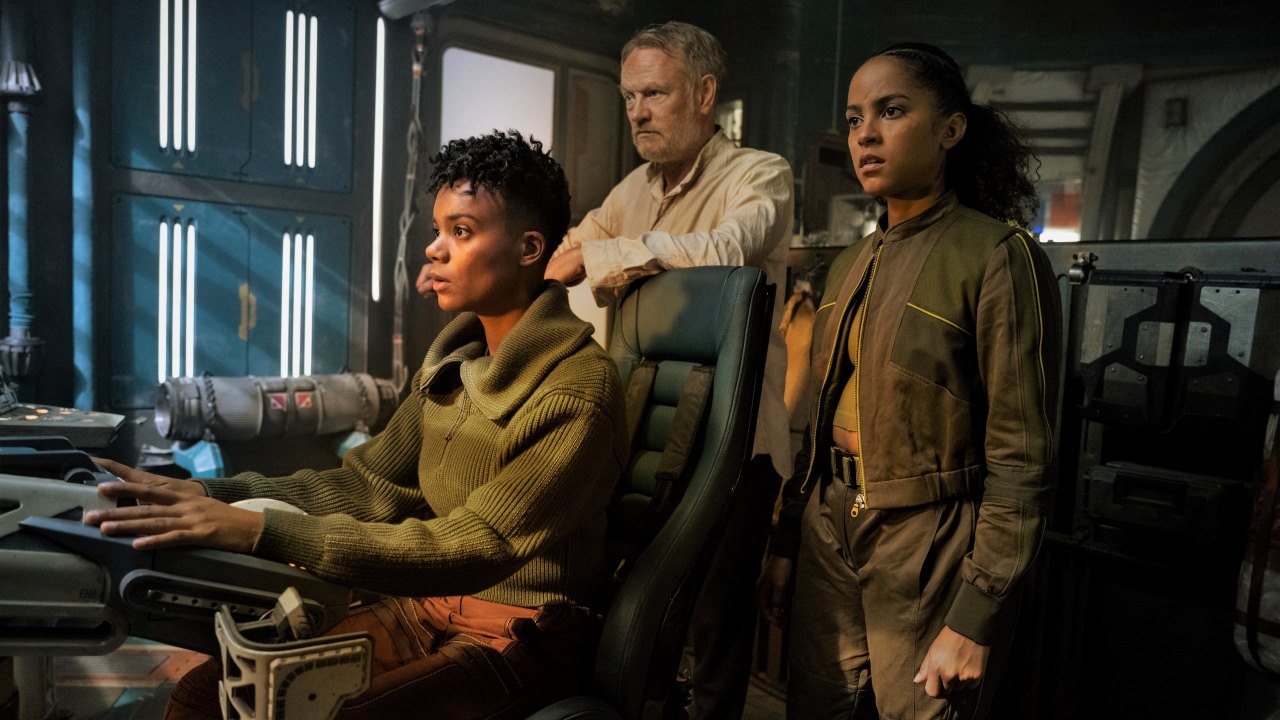 Hari Seldon came out of the Prime Radiant in the final moments of the first episode of Season 2 shocking Gaal and Salvor. However, it was Salvor's plan to get help from Hari to get their ship out of trouble.

The second episode resumes the struggle of the mother-daughter duo as they try to get their ship fly out of Water. Hari decides to help them after scolding Gaal for trapping him inside the Prime Radiant. Together by helping each other, they were able to fly out of Synnax and begin a new journey.

When it comes to Foundation, the visuals are its most impressive part and this season excels in this field leaving the first season behind. Episode 2 majorly focuses on Hari Seldon, who is the prophet and the second foundation, he hopes to connect with but is more complicated to explain than it seems to be. For instance, when Hari tells that the foundation needs to be kept in the dark regarding the existence of the second foundation, we would assume that the second foundation already exists. But when Hari shouts at Gaal telling that the second foundation was supposed to warn the Terminus regarding their upcoming war with the Empire, it seems that the second foundation was supposed to exist, but doesn't because Gaal didn't let it happen.

Meanwhile, on Trantor, Brother Day invites Queen Sareth for lunch with him and his brothers Dawn and Dusk. Day wants to create an emotional attachment with Sareth as he thinks it will be good for their alliance. As usual, Sareth doesn't mince her words in putting Brother Day in uncomfortable situations by asking surprising questions. Queen Sareth mentions the assassination attempt on Brother Day and asks if he had died in the attack, would he be replaced by this time with a similar-looking clone?

Queen Sareth is turning out to be a very interesting character so far in this season. We know that Day is completely interested in an Alliance and wants to marry her, but we don't know what Sareth's real intentions are. The upcoming episodes might give us the answers, but it is not easy to defeat and beat the Empire in his own home.

The second episode also takes us to a new planet named, Sivenna, where we meet Brother Constant and Poly Verisof, both are the true followers of Hari Seldon and are spreading the word of their prophet on this colorful planet with the help of a few tricks and illusions. But while performing a trick, they seem to receive a message that Hari Seldon is returning and they are called back to Terminus. Poly Verisof is one of the people who started his journey with Hari Seldon and has witnessed him alive.

When Verisof returns to Terminus, he was hoping that he will be the one to meet and witness Hari Seldon from close, but turns out, someone didn't inform him correctly as he was asked to be there to manage the crowd.

As I said earlier, the concept of a second foundation is complicated to understand even for Gaal and Salvor, so Gaal tries to jump into one of her visions with the help of Prime Radiant. She found out that she and Salvor are not the only telekinetics out there as there is another person named Mule in the future who seems to be way more powerful than them. What was more intriguing is that Gaal found a name Hober Mallow, which also later shows up on Terminus on the Vault, where Hari Seldon was expected to appear.

Season 2 is moving slowly and unlike the first season, we are not seeing regular time jumps with each episode. However, time works differently on each of the various planets shown in the series. So, we might see a day has been passed on Trantor but weeks would have passed on Terminus. With that, I would definitely like to see where Hari, Gaal, and Salvor are heading as they mentioned one planet within their reach that might have some answers regarding Hober Mallow, who is a big mystery.

In the end, the Prophet aka Dr. Hari Seldon was supposed to appear on Terminus, but he didn't, and Hober Mallow stole the show without any doubt.

Final Score - [9/10]