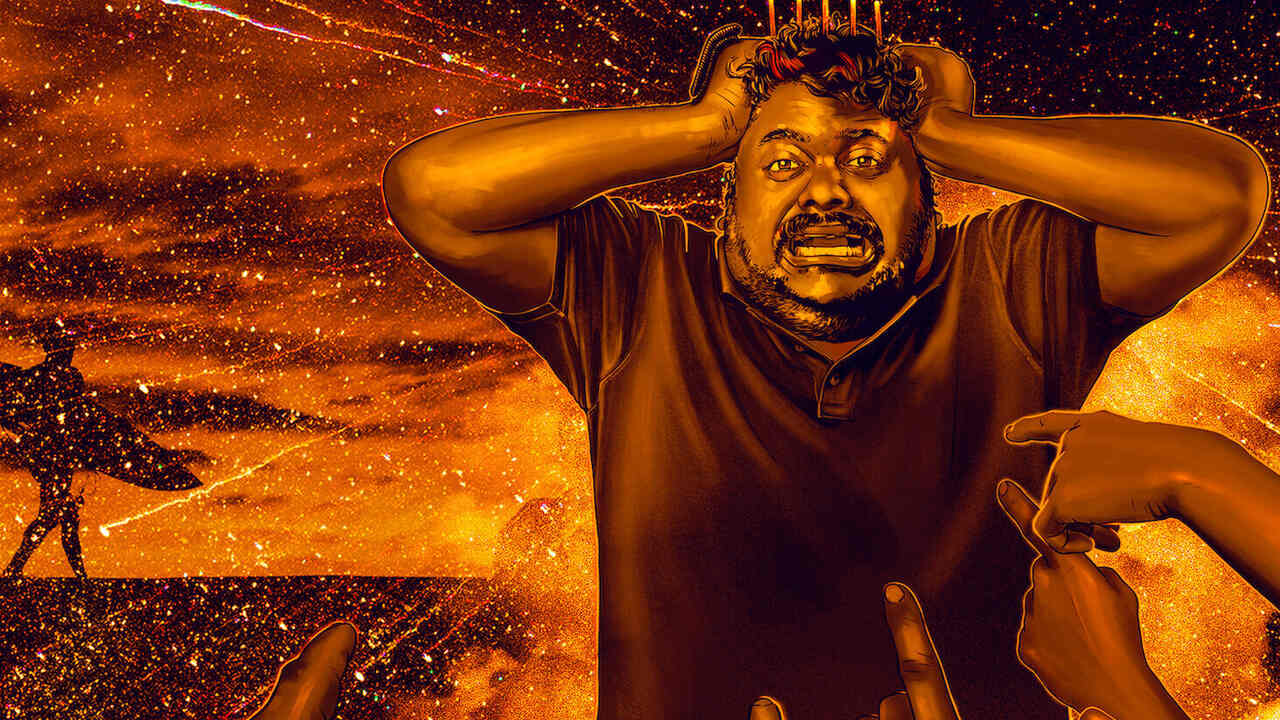 Attention Please is a Malayalam film that does wonders despite being a low-budget film that has used only three shooting locations. The twists in the film will blow your mind as they were not expected at all.

Hari wanted everyone to hear his stories and accept that he was talented. Many famous directors, writers, actors, and shows are mentioned in the film, and Hari is occasionally blamed for copying the work of others. After writing such intense stories, Hari became one of his characters.

Some social issues have also been highlighted, like how the lower castes are being made fun of and how women can't urinate in public while men can. These issues are not very often talked about in films due to the fear of being questioned and rejected by the audience. It was really brave of the writer to include these issues in a film with a completely different story.

An insect has been seen crawling, and an eerie sound plays in the background. The audience will initially guess that the story is going to take a wild turn, but the film defies all our expectations and gets turned into something great. Attention Please begins very simply where we see five bachelors who had the dream of making it big in the cinema industry. But none of them succeeded and instead took up some other jobs. Hari was the one who didn't lose confidence in his talent and kept on trying. He writes good stories, but his friends discourage him a lot, and it doesn't go well with him, although he doesn't show that.

These five bachelors live in a dilapidated home, but there's still an iMac in their home. The computer surely doesn't look new, but it also didn't fit well with the background that has been shown. This is the only point in the whole movie where the audience will feel a bit confused. One moment they're fighting about the quality of rice used, the hiding of cigarettes, and the cost of whiskey, and the next moment an iMac has been shown. In the rest of the film, there are no such loopholes that can be pointed out.

The role of Hari is played by Vishnu Govindan, Leena by Athita Kallingal, Jithin by Sreejith, Ajith by Anand Manmadhan, Yadu by Jobin Paul, and Himal by Jicky Paul. The movie proved that a film with a low budget and small cast can also be great. Jithin Issac Thomas is the writer and director of this 94 min movie that has amazing sound effects which complement the stories narrated by Hari, the lead character. It is a dark film and isn't suitable for everyone.

The pain behind Hari's eyes can not be expected to be understood by everyone. The things he does can be either blamed on his frustration or the alcohol. If the film had been released on a bigger platform with more publicity, and dubbing in other languages as well, it would have been the talk of the town. If any big Bollywood banner is remade, it's going to be a hit.

I would especially like to praise Vishnu Govindan, who played and understood Hari's character well and didn't leave any stone unturned. The storytelling by Hari captures the attention of the audience and doesn't leave them till the film gets over. Vishnu is a gifted actor, and I'd love to see him in more future projects. In my opinion, this film shouldn't be missed by anyone. Language is a barrier, but that isn't a hindrance either for the cast or the audience. After watching Attention Please, I am very confident that it'll be soon picked up by some big-budget producer for a remake.

Final Score – [8.5/10]
Reviewed by - Riya Singh
Follow @_riyasinghhh_ on Twitter