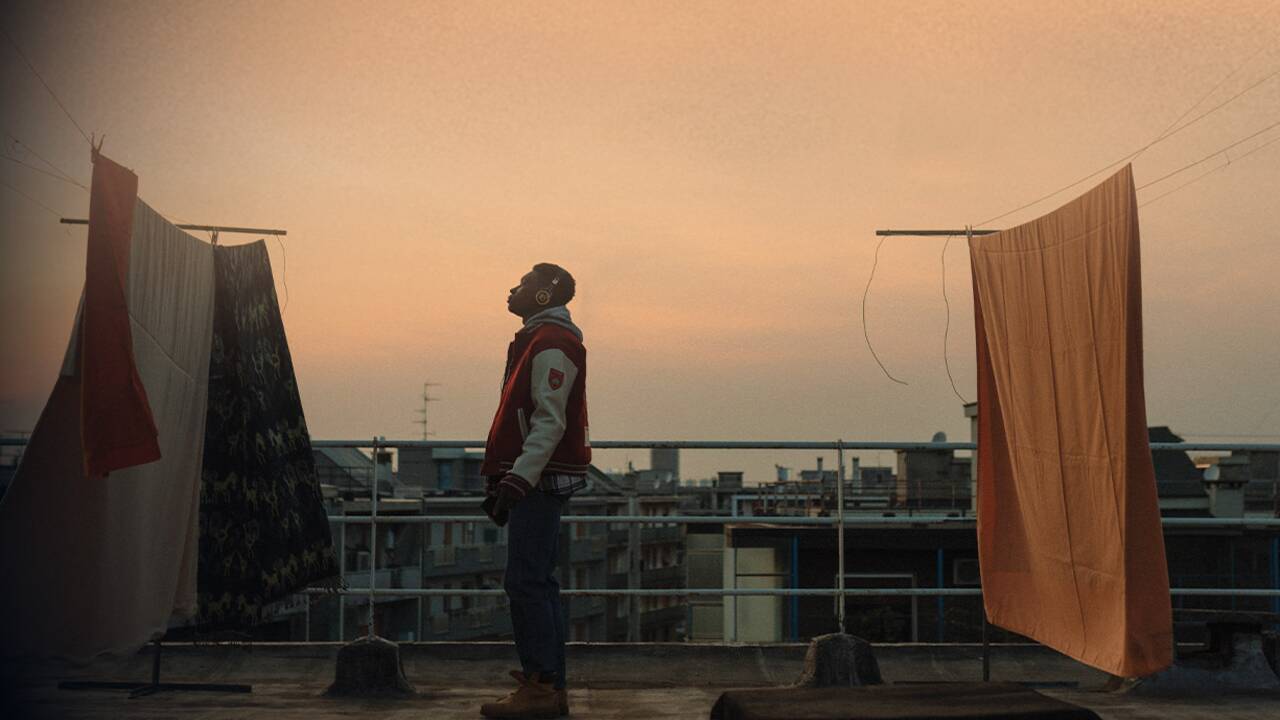 There is a scene near the beginning of Antonio Dikele Distefano's Autumn Beat where Paco (Abby 6ix), his brother Tito (Hamed Seydou), and their friend David (Dylan Magon) celebrate Paco's meeting with Guè (Guè Pequeno), a famous rapper, by rapping. While Paco and David rap smoothly, Tito struggles to keep up with them due to his stuttering. This joyous moment exudes an uncomfortable vibe and hints at the relationship between Paco and Tito. The former may attract the audience through his voice, but the latter, too, wishes he had the skill to rap in front of a gathering.

In another scene, on a bus, Tito puts on his headphones and tries to rap while Paco quietly shakes his head dismissively. He must be thinking, "Why is Tito rapping when he can't complete a sentence without stammering?" Autumn Beat contains more shots like these that convey things through their images. When a boy wakes up after an accident and sees two people sleeping together, we grasp the required information. It's one of the most painful scenes in Autumn Beat.

My description of that scene on the bus must have told you that Paco is bad. He does terrible things; there is no denying that. For instance, he tells everyone that he writes his own songs when it's his brother who pens the lyrics. He cheats on his girlfriend, Ife (Geneme), and labels it "part of the business." Paco accepts a contract from Guè, which doesn't mention anything about putting Tito's name on the cover of the album. Paco makes unpleasant choices, but he also truly loves his brother. I won't say Paco is bad. He is simply a flawed character.

Still, Tito sticks around Paco for a long time. Why? The answer can be found in a flashback. When they were kids, Paco had a difficult relationship with his mother, Grace (Juliet Joseph). He used to blame her for their poor financial condition and always seemed to be outdoors hanging out with his friends. Grace believed the world was about to end, and Paco thought "a world with her in it was unbearable." Tito, though, wanted to hold the two of them together. As a result, he got stuck between two worlds. Grace's belief at the end of the world does not stem from a loony corner of her mind. She wants the world to end because that would also obliterate all her financial and personal worries. When the earth remains safe and the new year arrives, she goes into depression as she is unable to face her complicated life.

Paco and Tito love rapping, but Autumn Beat is not a musical or a movie about rapping. These elements are present because the characters love this type of music. If they had other interests like books or swimming, the film would have included that particular activity. Autumn Beat is first and foremost about its characters and their personalities. It's attuned to their passions and minds and moves with a melancholic beat. Pay attention to the lyrics as they articulate the characters' inner thoughts. The medium allows Tito and Paco to express their feelings without making the crowd mushy. Similarly, Autumn Beat tells us all these sad things about its characters, but it never asks us to weep. The director never overly sentimentalizes the material to suck our tear ducts dry. This bittersweet drama is beautiful and a must-see.

Final Score- [9/10]
Reviewed by - Vikas Yadav
Follow @vikasonorous on Twitter
Publisher at Midgard Times