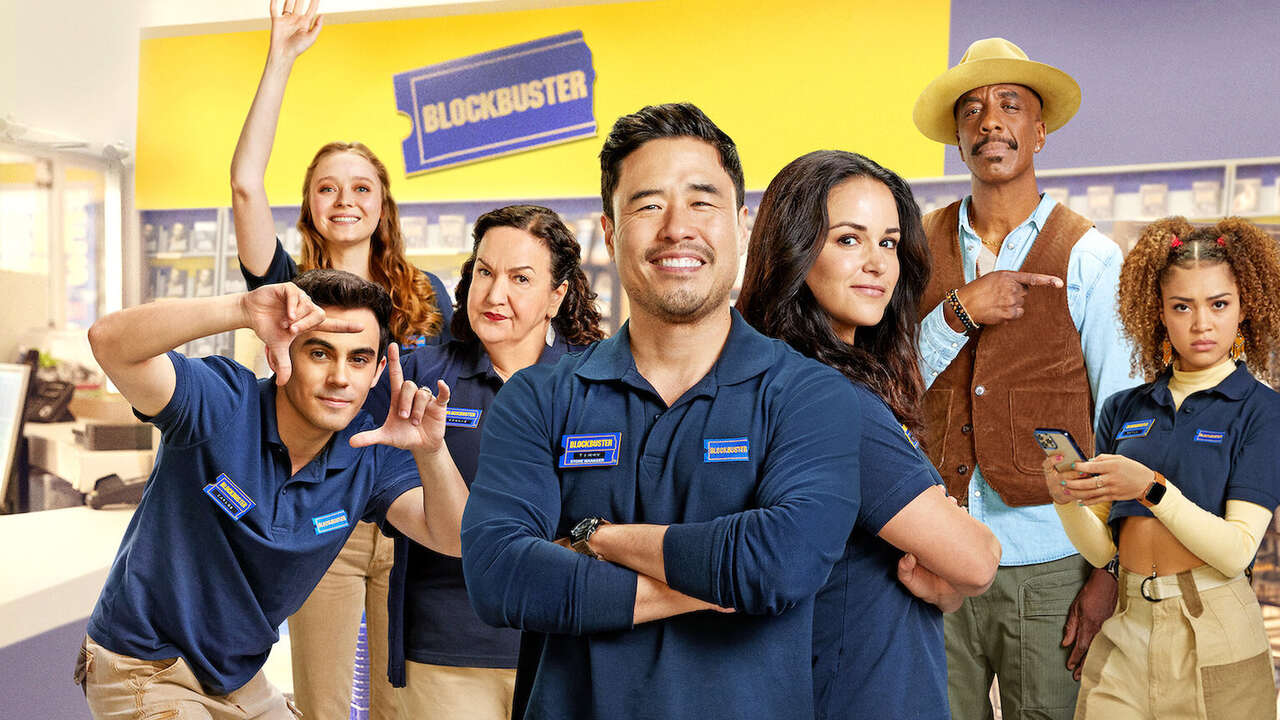 Watching a show about video stores on a streaming platform can feel ironic. After all, it's due to them that people nowadays don't buy or rent DVDs. Most people would use this line as an explanation, "Everything's online now. Why should I purchase a Blu-ray or a DVD?" I am not someone who's too nostalgic. I can see that there is merit in streaming services. However, they won't store every movie in their database for eternity. Many titles leave the online platform after some time, and some films are just not available to stream. That's why having physical media is worth it. Because that way, you can always watch your favorite movie, even if there is a solar storm occurring.

Going into Blockbuster, you expect to be reminded of the mentioned points, and the show has its moments where it highlights the advantages of having video stores and DVDs. But Blockbuster is not preachy. It's a delightful sitcom with delightful characters and sucks you into its delightful story. You don't always laugh but smile while watching this series. Like any sweet and successful sitcom, Blockbuster makes you root for its characters and makes you want to spend your life in their company. Video rental stores might have gone extinct, but I wish this show would go on for a long time. Give me a second season already.

Blockbuster begins with Timmy (Randall Park) finding out that his Blockbuster video store is the last remaining Blockbuster store in America. Fret not; that doesn't stop his store from functioning for all ten episodes in the series. Timmy somehow manages to take ownership of his Blockbuster store and becomes the Blockbuster Daddy. Let's meet his employees. There is Eliza (Melissa Fumero), who has split up with her husband but decides to give him a second chance. Timmy has a crush on her, but he is unable to express his feelings. Carlos (Tyler Alvarez) wants to be a director, and he thinks working at a video store will make him similar to Quentin Tarantino. Madeleine Arthur, who was mostly creepy in Devil in Ohio, is kind and friendly in this series. She is Hannah, and she is not really a movie geek. She also encourages Carlos to pursue his filmmaking dreams. Connie (Olga Merediz) loves discussing dating shows and soap operas with Hannah and Kayla (Kamaia Fairburn). Who's Kayla? She is the daughter of Percy (J. B. Smoove), Timmy's best friend-cum-landlord, who has no interest in working at the video store but does so anyway. Timmy cannot fire her because then Percy would increase the rent.

Timmy loves movies, treats everyone like a family, and has been working at Blockbuster for a long time. This is why he cannot just close the store and fire his employees. Timmy thinks that big corporations like Amazon (uh-huh, what about... Netflix?) are stealing the joy of human interaction that can be found in stores like these. He also mentions that algorithms cannot recommend good movies, with which I totally agree. A human will always give better suggestions than a computer because the former provides recommendations with a combination of taste and experience. And Blockbuster is all about embracing the personal over programming.

The video store, in Blockbuster, becomes a hotspot for physical interactions. Through it, people get to connect with one another. I am not talking just in terms of the employee-customer relationship, but there is something else going on here. There is a reason Percy forces Timmy to keep Kayla as an employee. You see, her job at Blockbuster means that Percy would get the opportunity to spend time with her daughter. The way this information is delivered is both sweet and affecting. This video store is not merely a building but a bridge for two people to meet.

Every episode deals with a new topic: Block party, making a decision to fire an employee, teen pranksters, award nomination, and so on. One of the episodes is about the death of a film critic named Hollywood Harold. If you closely examine this thread, you will notice that it also supports the argument of humans being greater than machines when it comes to movies. Carlos says that Harold made him fall in love with films, which is a task that can only be achieved by a movie buff/good critic. People will pour their passion, enthusiasm, and knowledge into talking about their favorite movies. An algorithm merely feeds you monotony.

But let's put aside the debate about physical media and streaming and ask, "Is Blockbuster funny?" It's not so good at handling "big" situations. When fireworks destroy a block party, the series misses the chance to mine this moment for laughs. The same can be said about a fire incident, a Thimble malfunction, and the madness that ensues at the store in the last episode. Blockbuster doesn't manage to derive humor from chaos, and you see it as a lost opportunity. There are solid gags hidden in these moments, but the series has no idea what to do or how to deal with them. Rather, it ends them on an underwhelming note. However, Blockbuster shines when it comes to "small" moments. There is a nice gag about a news reporter who is always on vacation, and the best joke arrives when Timmy goes to Round-The-Clock Car Rental and says to the receptionist, "I wanna talk to whoever's in charge."

The Timmy-Eliza love story might seem generic. It's the usual case of not saying the right thing at the right time. They make wrong decisions instead of sitting down and having a conversation. And even if they attempt to have one (like towards the end), they are interrupted. Still, you like these people and care for them. A question regarding English dub vs. subtitles becomes layered and heartwarming. Flaws and all, Blockbuster is a charming sitcom that leaves you asking for more. As I mentioned earlier, give me a second season already!

Final Score- [8/10]
Reviewed by - Vikas Yadav
Follow @vikasonorous on Twitter
Publisher at Midgard Times