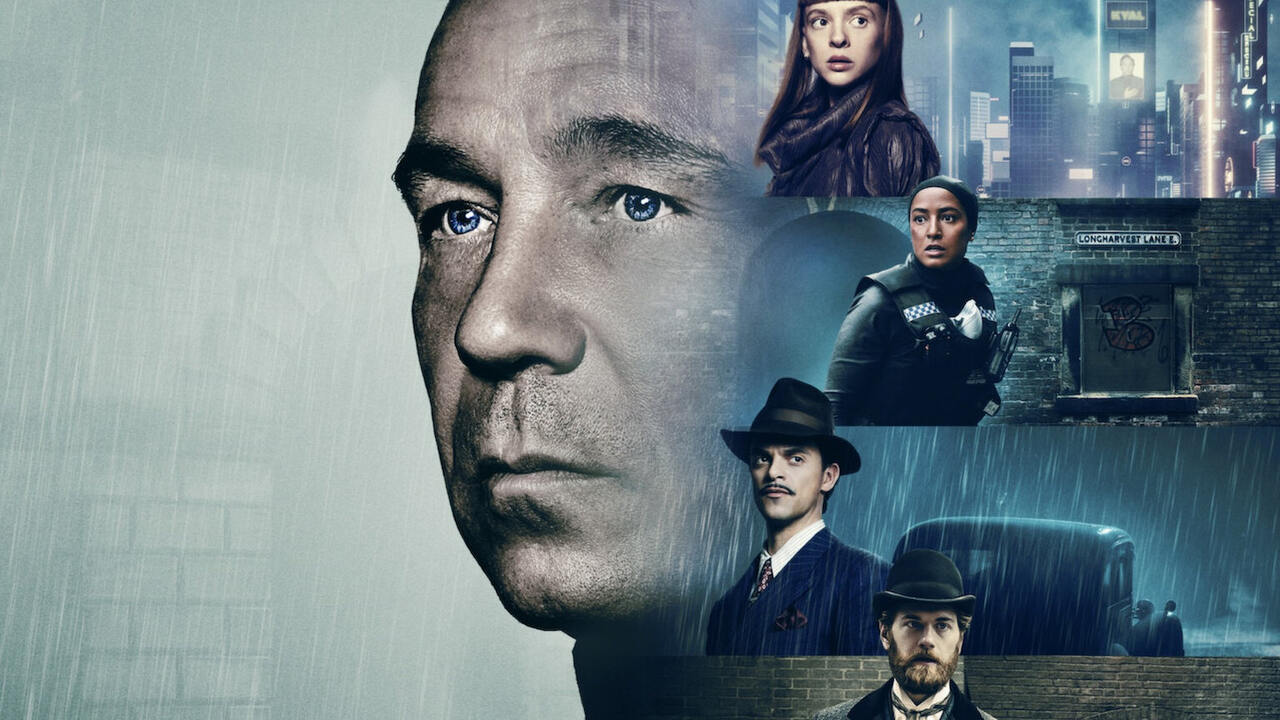 Four detectives, four different timelines, and four dead bodies. Written by Paul Tomalin and Danusia Samal, Bodies opens with one of the most fascinating episodes I have seen this year on Netflix. We start with the year 2023, where Detective Shahara Hasan (Amaka Okafor) runs after a young boy, arrives at Longharvest Lane, Whitechapel, and finds a naked dead body. The show then turns the calendar to 1941, and we meet Detective Charlie (Jacob Fortune-Lloyd), who is asked to pick up a naked corpse from Longharvest Lane. Cut to 1890, and another detective named Hillinghead (Kyle Soller) comes across a nude dead body at the same spot in London. The excitement is further raised by the fact that the corpse belongs to the same person. What's more, there is a gunshot wound on the head of the body, but no bullet is found during the postmortem. It's as if the bullet simply vanished into thin air. I have only mentioned three detectives. Where is the fourth one? In the year...2053. Her name is Iris Maplewood (Shira Haas).

Before discovering the corpse, all four detectives observe flickering lights and a lamp explodes just before the appearance of the naked body. One can easily pass their time by spotting common things between the four detectives. For instance, Hasan and Hillinghead break the trust of the people who put their faith in them (a suspect shoots himself in front of Hasan, and his sister gets angry with her, and a journalist gets disappointed with Hillinghead when he is arrested after being asked to give a statement). Charlie and Iris work for a higher authority for personal benefit (he receives cash, while she is given an item called SPYNE, which allows her to stand on her feet). But these characters are not just connected through these events. They are also linked on an emotional level. All four officers go through the same motions of pain and happiness and even seem to be expressing themselves within the same spectrum. But the emotions come later. Because Bodies, at first, captures your attention through its plot. Before unfolding like a drama, it moves like a thriller. Thankfully, both sections are equally enjoyable.

In Bodies, you are never fully sure which character can be trusted. A person can turn out to be a friend as well as a foe. Anything is possible. This ambiguity paves the way for a multitude of captivating twists that elicit genuine surprise. In one scene, a character posits the notion that everything within their world is predetermined, negating the existence of free will. As the story unfolds, our intrepid detectives stumble upon a disconcerting revelation: they are ensnared within an unyielding temporal loop, and in one of the episodes, we see that the loop has been running for a very long time with no change in the pattern. So, we basically watch the characters make the same mistakes over and over again. It seems they cannot do anything about their complication. There are moments where we also step into their shoes, like during that scene where we realize the identity of a woman sitting with a little girl. Like Charlie, we, too, feel powerless as we are unable to change the fate of this girl at this particular moment.

The series is wonderfully edited. It flows from one scene to another. The world here is alive; you believe people live in those modern/futuristic apartments. Given Bodies is about characters trying to break the time loop and save their loved ones, it reminds you of another Netflix show named A Time Called You. Another common thing between the two shows is that they focus on love. In the South Korean series, a woman attempts to reconnect with her lover. Here, a man desperately searches for the warm embrace of love. What he doesn't realize is that his selfish quest separates many characters from their loved ones. A father is separated from her daughter. A mother is separated from her son. Two men don't even get the chance to start a relationship with each other.

The emotional angle sneaks up on you and hits you with strong images, like that sad gaze with which a man looks at a woman after being betrayed by her. The last episode contains more emotionally charged moments, and my favorite among them is one where an old man looks at his wife from his window, knowing very well that this is going to be his and her last day on the planet. Who says time travel is all fun? We also finally understand that "Know you are loved" is not just a cult slogan. It doubles up as an assurance for someone that he will find love. I liked Bodies very much, but the last shot really spoiled my mood. It's a gotcha moment designed to be clever or something and leaves doors open for the future. Why don't these limited series give us a complete, satisfying conclusion? Why do they come with a "to be continued" label? Someone take a time machine and tell the writers to remove the cliffhanger.

Final Score- [8/10]
Reviewed by - Vikas Yadav
Follow @vikasonorous on Twitter
Publisher at Midgard Times