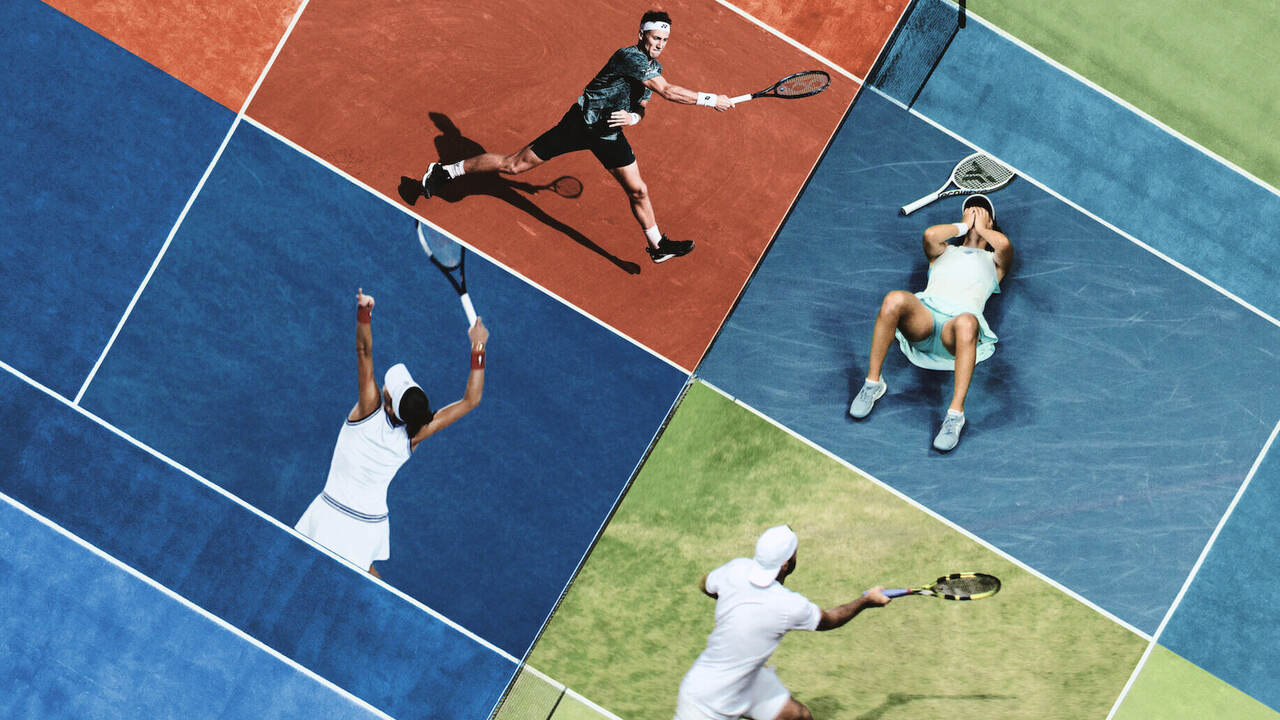 I have recently started to avoid most of the documentaries that release on Netflix. The problem is that they all lack creative zeal and merely serve as surface-level fact-dispensing machines. Sometimes, there is no distinction between a Wikipedia page and a Netflix documentary. If you have seen one, you have seen them all. You know the drill. The people look at the camera and talk about the subject. There are times when we see them walk to their chairs and take their position, which is the documentary's way of spicing things up. Meanwhile, the visuals simply act as a manipulative device. They are used as an extension of the words being spoken by the interviewees.

Break Point, the new Netflix documentary series, follows some of the most talented tennis players as they sweat and swing for awards and glory. Players like Nick Kyrgios, Matteo Berrettini, Paula Badosa, and more talk about the stress and arduous training one goes through while aiming for Grand Slams. Everyone wants to win, but only a few are able to reach the top. Break Point makes one thing absolutely clear: Hard work won't always give you that precious prize or medal, but without it, you also don't have a shot at success. In Break Point, we watch the players giving their best. However, not all of them make it to the finals or win the Grand Slam. But if they give up and drop out of the race, they won't ever be able to win Grand Slams.

All that sounds fine and pleasing. But the issue with Break Point is that it doesn't have anything new to say. We are told that these tennis players face a lot of pressure and how it's frustrating when you are close to winning and then lose the match. But we knew that! Of course, being a professional tennis (or any sports) player is not child's play. Any profession that gives you fame is bound to come with extreme challenges. An amateur doesn't have a fan following or gets to be on national television. To achieve those accomplishments, you must work harder than an ordinary man. And yes, that will result in burnout and mental pressure.

Break Point tells us that a tennis player is like a common man. They, too, suffer from anxiety and depression, and their glossy social media life is different from their real one. Well, duh! Tell us something we don't know. For instance, Nick's mother informs us that he went through unhappy times. What happened? Instead of diving into specific details, Break Point gives us news headlines calling Nick a "bad boy." That's something we are told before this moment, so it adds nothing new to the table. Similarly, Maria Sakkari's mother mentions that her daughter sacrificed a lot, but we are not told about those sacrifices. The tennis matches are edited with such a breakneck pace that they gradually numb our senses.

Ultimately, you are left with only a handful of pleasures, like that scene where Nick apologizes to her girlfriend for being sweaty or the one where Matteo and Ajla Tomljanović watch a movie. A sweet bit of information comes from Ons Jabeur's side as we learn about her husband doubling up as a fitness coach for her. We are also told about the sponsorship problem - How it becomes a disaster for a player coming from a small country. And we find out that it's difficult for women to come back to tennis after having kids (their body undergoes a change). But even these delightful pieces cannot entirely remove the ennui that sets in while watching Break Point. The series is basically a collection of tennis match footage masquerading as an eye-opening documentary.

Final Score- [3.5/10]
Reviewed by - Vikas Yadav
Follow @vikasonorous on Twitter
Publisher at Midgard Times