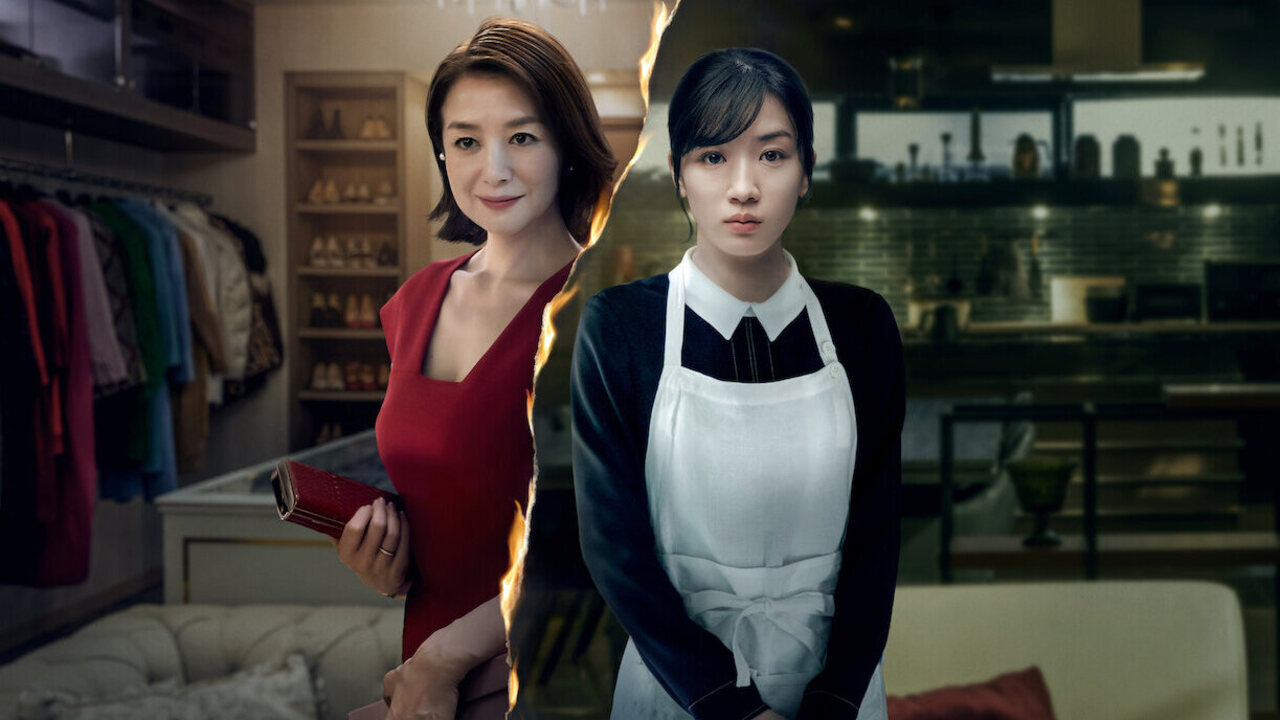 If Burn the House Down were a person, it would have been dumb and overconfident. The series presents its Jejune brain as something filled with ideas and intelligence. Burn the House Down is so desperate to shock the audience that it ends up pulling the rug from beneath its own feet. It thinks it's leaving you open-mouthed with so-called twists. Your mouth opens all right, but only because you yawn a lot while watching this series. There is no room for surprise in this dopey story because the plot twists are unsubtly delivered to us before their entry.

Take that moment where we are told that Yamauchi Shizuka is Anzu (Mei Nagano), and she has entered Makiko Mitarai's (Kyoka Suzuki) house as a maid to seek the truth regarding a tragedy. A "cool" tune starts playing in the background to underline how unexpected this revelation is. Of course, only Burn the House Down believes it's hitting us with a surprise. Because we quickly realize Yamauchi's real identity and motive. Similarly, when Shinji (Taishi Nakagawa) follows Anzu at one point, we instantly recognize that she knows he is tailing her and that she must have been tipped off by Kiichi (Asuka Kudo).

Burn the House Down overly relies on plot conveniences. When, after many years, Kiichi goes outside his home, he just comes across an old friend who delivers information about a past incident. In another scene, Shinji randomly meets Yuzu (Yuri Tsunematsu) on a bridge. These encounters feel ridiculous, but wait till you see how conveniently things just sort of happen here. A nurse is initially shown as Makiko's spy, but she changes sides when she catches Anzu at a hospital. When a girl leaks a recording online, she is blackmailed through some compromising pictures (of course, she visited a businessman at a hotel, or else the show wouldn't have been able to move forward). Even more ludicrous is the way the characters suddenly remember a particular incident. The laziness of this show is palpable.

I guess Abbas–Mustan would be happy with Burn the House Down. The show, after all, contains their trademark trick. Create a complication or raise "intrigue" through an event and then resolve/explain it with a convenient (see lackadaisical) flashback. After the nurse confronts Anzu, we jump forward in time and watch Anzu as Makiko's assistant. The show then clarifies itself by going backward and showing us how the nurse was always cheering for Team Anzu. What all this means is that Burn the House Down has an inelegant structure. It fails to smoothly segue from one scene to another. It's all very off-putting and dull.

The series attempts to cover up its flaws by appearing sensational. One of the episodes ends with the words, "Can you handle the truth?" Why so dramatic? Such "exciting" promises are instantly broken when you watch the next episode. The cliffhangers are nothing but a lame device to keep the audience from checking out. However, once you notice the show's thinness, you lose interest. I wouldn't have watched the entire show if I were not professionally obligated to do so. It's not like there is a delicious revelation waiting for you at the end of the tunnel. The final twist is horrible, nonsensical. You can sense that the series is merely trying to be unpredictable. Nothing makes sense, and you feel stupid for wasting time on something this fatuous. I can safely say that, along with the house, the show puts its brain on fire.

Final Score- [3/10]
Reviewed by - Vikas Yadav
Follow @vikasonorous on Twitter
Publisher at Midgard Times