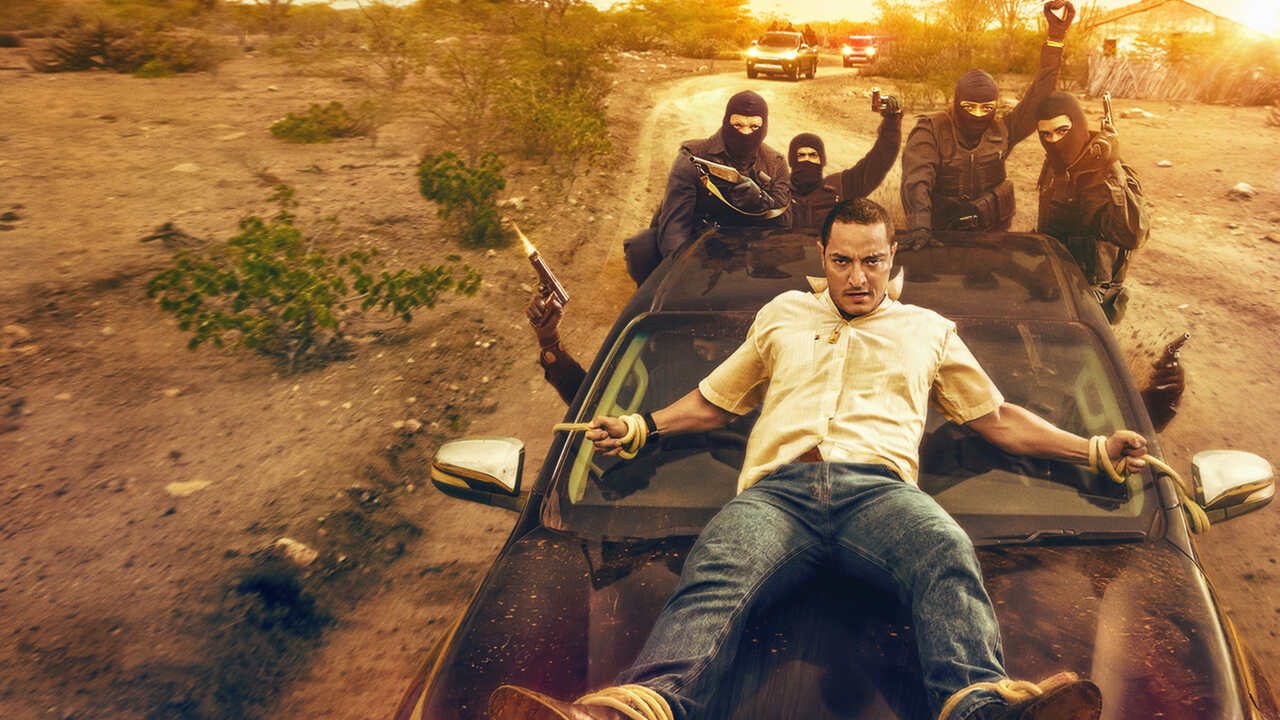 Cangaço Novo is about Ubaldo who went back to Cratara, his hometown to get some money for his father's treatment who is currently on a ventilator and in the ICU. As he is out of a job and has no money left for her father's treatment, he heads back to his hometown to sell the land. However, there is a twist here. The land has other beneficiaries too who aren't ready to sign it off so easily.

Dinorah and Dilvania are Ubaldo's sisters. The sisters thought of him being dead. This raises suspicion in the minds of the audience as to why would they think that. Though Dilvania was happy to see her brother, Dinorah didn't take a minute to kick him out of the house herself. She is a badass and you can see it in the scene when she goes to loot ammunition. When the owner of the house which she was raiding attacks him, she tells him her name and says that she isn't scared of him. Dinorah's character is good but it needed other elements like fighting and anger.

I didn't find Cangaço Novo to be appealing. It has more guns than the plot. The story initially seemed to have something in mind but, it's all guns and no luster. The series has a total of eight episodes with each being 45 to 60 minutes long. This approximates almost eight hours which to me seemed like a waste of time. By the end of the first episode, I found this to be a very boring show as there are just fights and frankly no one can enjoy it for eight hours straight.

The readers might be thinking that I'm just talking about fights and guns well, you can see for yourself once you start watching the series. At the beginning of the show, the background story was shown in black and white and men were shown riding horses, which made the show appear to contain something substantial.

I don't understand why Dinorah has just one mood throughout the series i.e., anger. She is shown doing crazy things like spitting in the meal someone was going to consume and then mixing it with her fingers.

For people who like good action shows, this one is not for you. People are crazy about this one. There is a village shown and the normal sight in this place is cars burning, guns, and robberies. You might even wonder at one point why the authorities or people aren't doing anything. When it comes to logic, the series falls flat on its face. The graph of the show falls progressively in terms of plot. The actors tried to do their best, however, it was a wasted effort.

The makers had good vision in mind like how they started things using black and white backdrop. Their efforts would have proven to be good had the plot been any better. Also, the gang doesn't have any attitude that can at least make their actions look attractive. In all, it's a total no if you were thinking of watching it this weekend.

Final Score – [2/10]
Reviewed by - Riya Singh
Follow @_riyasinghhh_ on Twitter
Publisher at Midgard Times