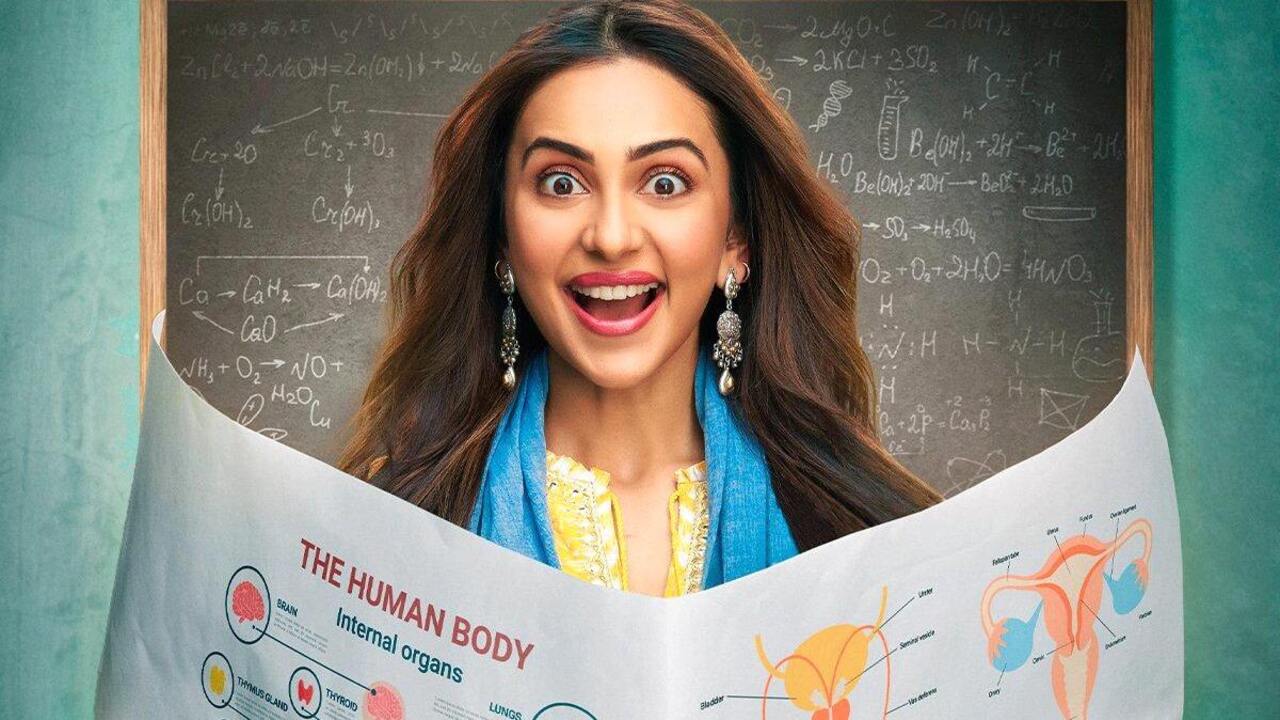 There are many similarities between Janhit Mein Jaari and Chhatriwali. In Jai Basantu Singh's film, we got a scene concerning a seat on a bus. In this Tejas Prabhaa Vijay Deoskar film, we get a similar scene set inside a bus. There, Nushrratt Bharuccha's character was initially confused about her job as a condom salesperson, as she thought she was hired to work with umbrellas. Here, Sanya (Rakul Preet Singh), too, initially misunderstands her job offer (she thinks she is being hired to tutor someone's son) and ends up pretending to be a quality tester at an umbrella company. In both movies, the main female character forces her husband to read a file on safe sex. Moreover, she packs up her bags and leaves her husband's house as soon as the truth regarding her job comes out.

Chhatriwali, then, can be considered a remake of Janhit Mein Jaari. In fact, one of the compliments you can offer to this film is that it's more tolerable than the 2022 film. But that bar is so low it almost disappears from sight. Any passable movie can easily step on it, crumble it, and cross it. Chhatriwali lies somewhere between abysmal and mediocre. Filmmakers make these kinds of films believing they can instill morality into the audience. They want to change orthodox mindsets. In their single-minded pursuit, they fail to do the job they were hired to do in the first place: Make a film. But for directors like Deoskar, Chhatriwali might very well be a work of art. They, and the actors involved in these projects, can easily cover up their inept product by hiding behind the wall of "good intentions."

What's laughable about Chhatriwali is that it believes it has the power to bring change into the real world. Hence, you get those final scenes where a voice-over mentions a chain reaction. It's just the film congratulating itself for doing an excellent job. This quality extends to the writers who come with a heavy dose of self-congratulation. They not only make Sanya say something like, "Na maano toh stationary, aur maano toh pooja ka samaan," but also append a cheerful, "Waah, kya baat kahi hai!" line to this dialogue. It's just a textual representation of writers high-fiving themselves. They are celebrating because they have come up with plenty of rhyming dialogues, like, "Kyun mujhe pension ke dino mein tension de raha hai," and "Mujhse karna hai pyaar, toh condom ko karo sweekar."

The writers might have enjoyed writing such lines. Nobody cares about the fact that they sound utterly artificial and calculated. One can still digest them during the comedy portions, like when a boy says, "Yeh dori hai ya IIT ka entrance? Toot nahi raha." But when lines like, "Mai showroom ka samaan set kar rahi thi, lekin problem toh godown mein hai," are used during serious moments, they ruin the emotions. The words "Young generation ki yehi baat mujhe bahut pasand hai" become tiring from the beginning. Only the "Baravi fail toh mai hun, par aap unpadh reh gaye" scene lands successfully. Unfortunately, Chhatriwali doesn't have any other moment like this.

Chhatriwali makes you ask many questions. For example, when Sanya brings a condom, Rishi (Sumeet Vyas) gets nervous and hides the packet in the bedroom. In the next scene, he goes to a shop to buy a condom. Why though? He could have first used the one brought by his wife, no? The end credits inform us that many women proudly work in condom factories. So why is Sanya the only female worker in the Cando Condoms factory? And why do so many people come together and protect Rishi and Sanya from downpour? Where did they come from? One can explain this scene by contrasting it with an earlier scene where Sanya uses an umbrella to protect herself from the water dropping from the ceiling. During the earlier scene, Sanya is seen alone because, for the most part, she ends up struggling alone. Later, when we see her being protected by many umbrellas, the movie signals that now she will not have to fight solo. But I am only trying to make a flat scene appear attractive. If Chhatriwali were a condom, it would have been defective.

Final Score- [4/10]
Reviewed by - Vikas Yadav
Follow @vikasonorous on Twitter
Publisher at Midgard Times