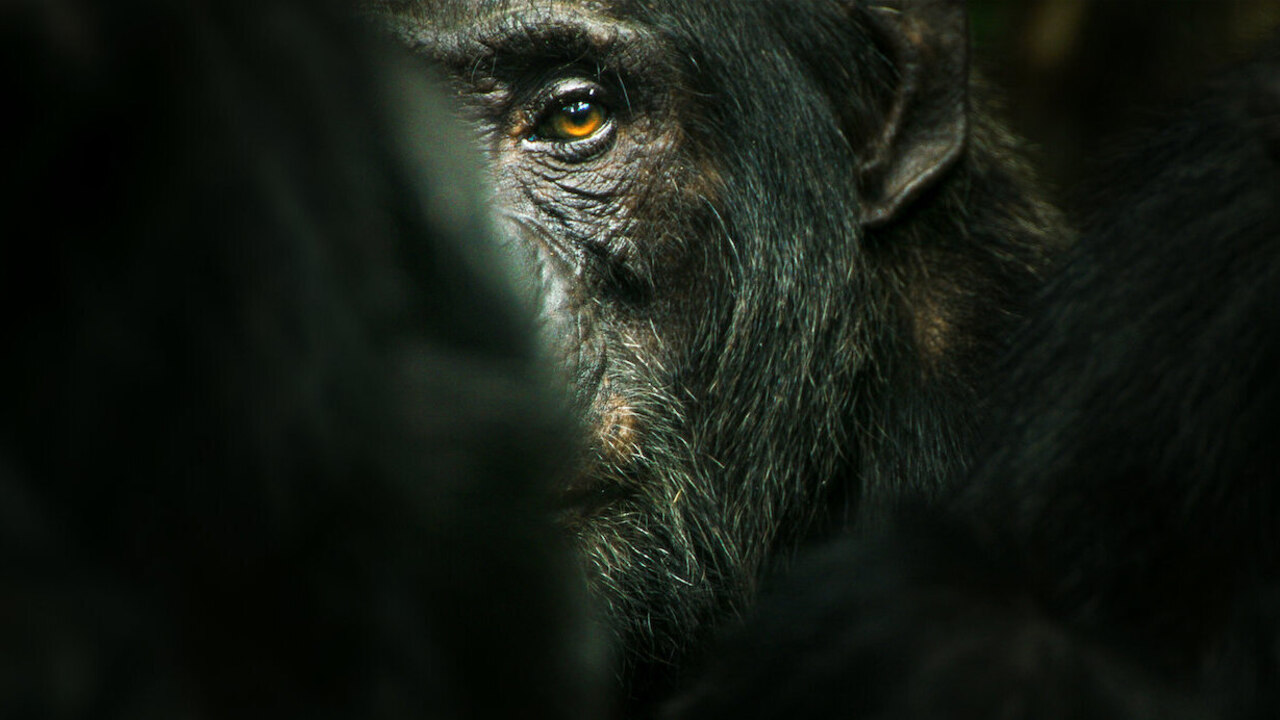 Chimp Empire is the latest wildlife Netflix Documentary Series directed by James Reed, the Academy Award winner. Narrated by Mahershala Ali, also an Academy Award Winner, this four-episode series gives us an insight into the flourishing population of Chimpanzees in the Ngogo Forest of Uganda.

Chimp Empire starts by showing us a mother tending to her child. There are talks about evolution and how the world of chimpanzees is so similar to ours. The wildlife in Ngogo Forest, situated in Uganda has been captured beautifully. The scene of a mother kissing her child feels so intimate and when the cameraperson zooms in on the eyes of the baby chimp, it feels so surreal. Ngogo Forest is vast and has a thriving society at its heart. Various chimps are seen playing, and we are told how they're very emotional and intelligent. A normal chimp lives till 60 years and goes to similar stages of life as humans. It's not like they don't have any goals just, each one of them has its personality and ambitions.

Just like these details, the makers introduce us to two different groups of chimpanzees: the one residing in the central part of the forest and the others living in the western part. A fight breaks between the two after the latter group kills a chimp of the former group. How the whole story is narrated is fabulous. We're first introduced to the central residents and told how they're a group of 120 compared to a normal size of 60 chimpanzees. They patrol their borders and guard their own. The Westerners have limited resources and hence intending to expand their territory, they kill Pork Pie (a central group chimp).

It was absorbing to watch how every group has its alpha chimp and he needs to display his power constantly to maintain that control and power. Grooming is an important part of chimpanzees as through this all the plotting, scheming, and planning is done. Chimps only groom those with whom they have a special bond. Grooming forms alliances that further create power, also your grooming partner tells a lot about you.

In the western group, there's a chimpanzee who lost his hand after coming across a poacher. It was heartbreaking to watch him struggle, but unlike the normal scenarios, he didn't back down. This chimp flourished and still influences his group. Through this, we learn the power of perseverance.

The Netflix Documentary Series Chimp Empire will teach you several things, like how being observant can help in critical situations. Another thing you get to watch is how motherly love is universal and no one can protect you better than her. Through the Westerners, you get to take in the message that there is strength in unity. Though they were small in number, to get the food to live, they dared to go against a big group.

It was fascinating to watch all four episodes which are 50 minutes long each. Each episode covers different phases. We are introduced to several chimpanzees which have been named by the makers. As baby chimpanzees often don't make it till one year, some have not been named.

Although I'm not a big follower of wildlife documentaries, Chimp Empire made me get lost in the rainforest of Ngogo. The narrator makes you believe that you're a part of that world. How Mahershala Ali describes and narrates the events is intriguing. Coming from a non-follower of this genre, trust my words when I say that this is something you'd love to watch and make you feel closer to the world of the wild. All the political conflicts, fights for the territories, and being an alpha make you wonder how chimpanzees reflect human behavior in many ways. Sharing 98% of human DNA, these animals are our closest relatives and have similar habits. Just like we mourn for the dead, fight for our own, and form social allies, they do the same.

Final Score – [8/10]
Reviewed by - Riya Singh
Follow @_riyasinghhh_ on Twitter
Publisher at Midgard Times
Note: All 4 episodes are screened for this review.
Premiere Date: April 19, 2023, on Netflix