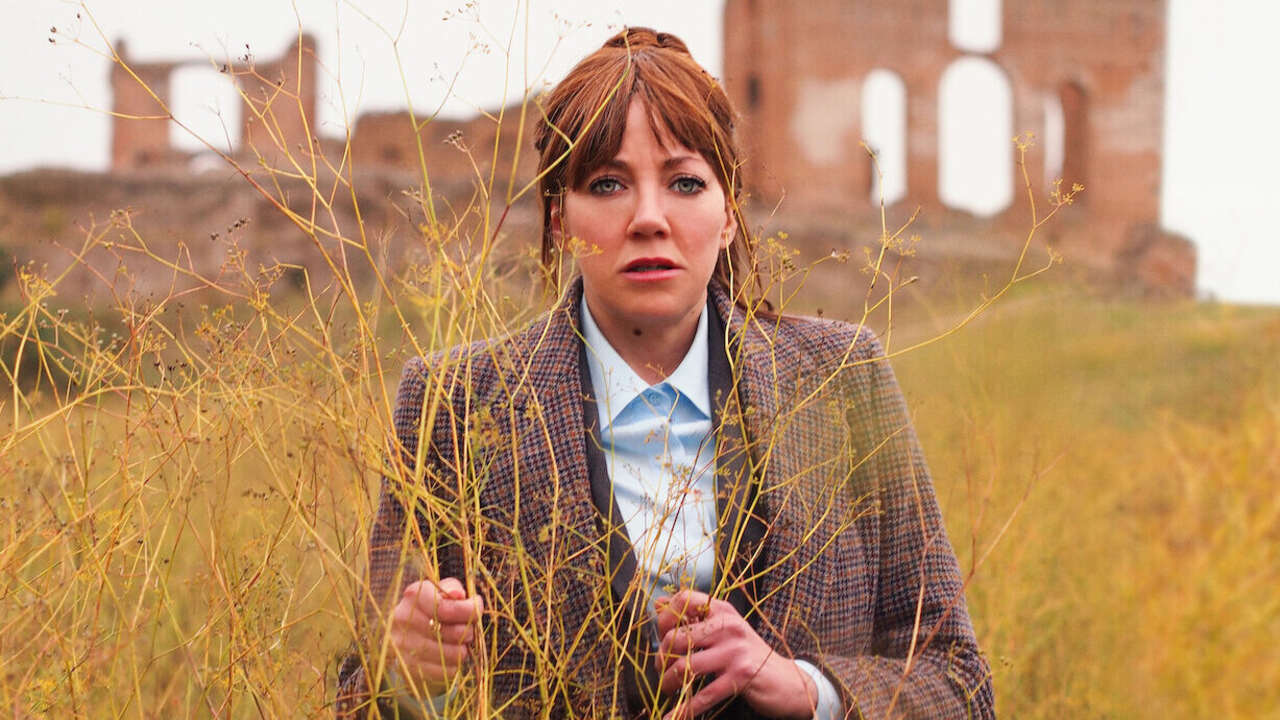 "We domesticated dogs for companionship. And cats for whatever reason."
(Referring to the Egyptian writing system)-"They told whole stories in hieroglyphic code, it's like a more coherent Marvel comic.
"I'm entering a cave, not by mistake or because I'm a wolf, but because I have been specifically asked to come here by the producers."

These are just some of the lines that left me laughing my head off and all of them come in just the first episode of this stunning series where you won't know what Philomena's next line is going to be. This show, interspersed with ironic and dramatic recreation, is the embodiment of the internet slang 'Never let them know your next move," because whatever you think the host is going to say next, it certainly isn't that.

There are plenty of words to describe 'Cunk on Earth' and all of them are synonyms of magnificent and what-the-hell. With just 5 episodes in season 1 and each clocking in at about 25 to 30 mins, I was left wanting more as our host Philomena Cunk took us through the history of human civilization in her trademark dry humor tone. But this series isn't new to me.

Anyone who has scrolled through the garbage heap that is Youtube Shorts will be familiar with bite-sized pieces of her mockumentary. Thankfully, the only good thing about Youtube Shorts has been released on Netflix in all of its glory so that we can all watch this show taking jabs at everything and everyone. No one is exempt from the sarcasm, not even the host or producers themselves.

The show begins with Philomena asking an expert if human beings walked on 4 legs and escalate from there to the question of Romans bleaching their nether bits, all in the span of one short episode. Episode 2, is about the dreaded topic of religion. And you know that the episode is going to be amazing when one of the first lines uttered by the host is "When Christ was born, he had a magic flaming circle on his head (the halo) which would have set fire to all the hay and pubes as he came out. Don't worry I am doing Islam later."

Let me quote another line, "Apparently, Islam can be a sensitive topic, and the producers say if I don't follow this script to the letter, there's a chance I'll cause a serious international incident. (script flies off)." So it's clear that the series doesn't take itself seriously and neither should the internet keyboard warriors. And it doesn't matter which part of the world you are from or which religion you subscribe to, the show has got you covered.

But the series doesn't stop there. It moves on to discuss the Renaissance, the Enlightenment, and the development of machines. All of it is told with its tongue firmly in the cheek. However, it's not all sarcasm because intersected with the mocking, Philomena asks a tonne of genuine questions to the experts. The one about existing in a simulation interested me immensely. In the end, there's a hint of more to come and I for one sure hope we get a season 2 somehow.

Overall, 'Cunk on Earth' is a refreshing mockumentary, the likes of which we haven't seen for a long time. It's innovative in its sarcasm, but never mean-spirited or hateful. It's the kind of brilliance that even famous stand-up comedians can't come up with. So give this show a watch so that Philomena Cunk can return with her dry humor and sarcasm to talk about the world again.

Final Score – [9/10]
Reviewed by - Ishita Chatterjee
Follow @dracone619 on Twitter
Publisher at Midgard Times