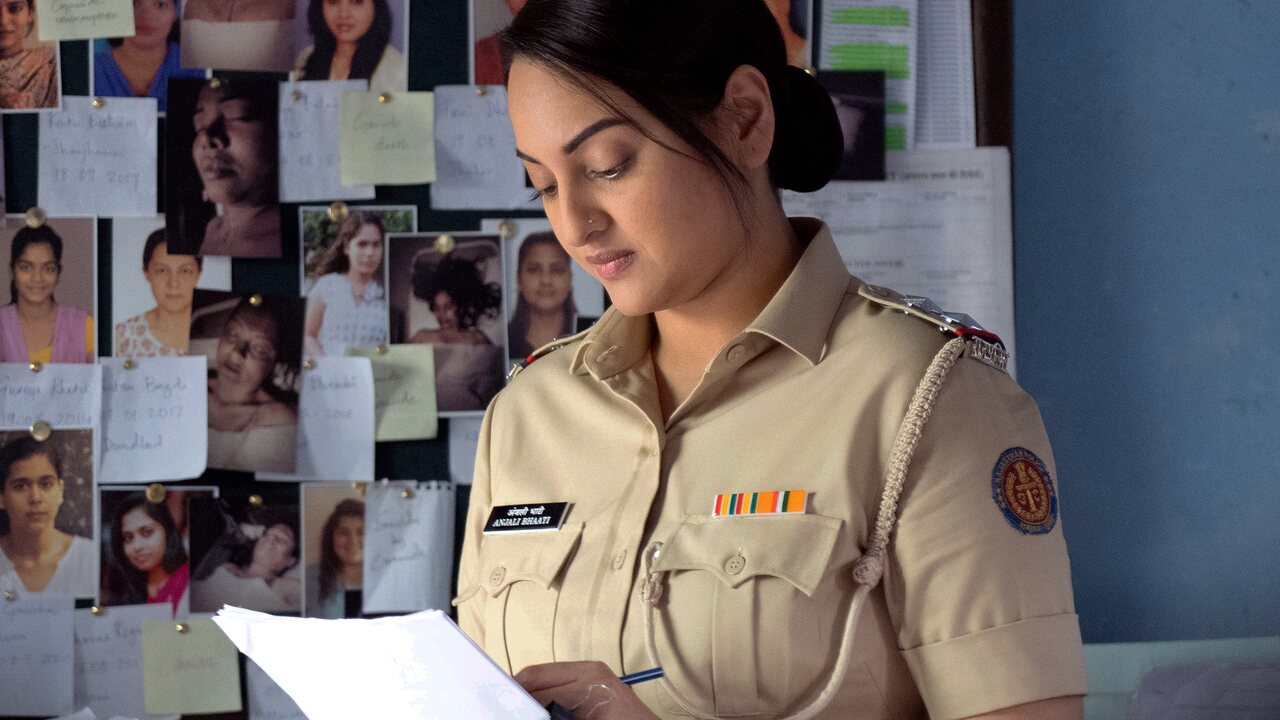 You know what kind of show Dahaad would turn out to be from that scene where a student gives a different interpretation to a poem by saying that no one is inferior when it comes to love. What's special about this scene is that it comes after the one where characters express their disgust over a Hindu-Muslim couple. Dahaad, through that student's explanation, suggests that things like caste and religion have no place in the realm of romance. Love is all about equality, and lovers should treat each other as equals. The same applies to the moral police, who like to shame interfaith couples. You admire the intention, but something seems off. I couldn't shake off the feeling that Dahaad was trying to underline its smartness. My suspicions were soon confirmed when a politician named Mahipal (Naresh Malik) disappeared from the show. His party (and those yellow flags) are solely used to comment on the current political climate, after which they are tossed away from the story. They are not characters; they are "samples."

Now take SI Kailash Parghi (Sohum Shah). He becomes unhappy when his wife gets pregnant because he thinks this world is filled with monsters and doesn't want his child to grow up in this hell. This is a childish character who initially fails to see that police officers like him are part of the problem. Kailash implicates an innocent man to gain promotion. He gets a beautiful arc where he ends up accepting his flaws and makes the right decision by concealing the identity of his co-workers. However, he is sidelined after this moment and only follows orders from his superior. He looks like a pawn, and it becomes impossible to see that he was once under the spotlight and had a life of his own. That's one of the issues with Dahaad. It uses characters like tools to achieve a task and then disposes them into the corner (or, in the case of Mahipal, disconnects them from the narrative).

Dahaad easily (perhaps, too easily) solves certain problems. The dispute between Kailash and his wife is resolved when the former shows up at the hospital. Considering the cause of their argument, this solution seems too neat; too simple. Dahaad also blunts some of its points through speeches. SI Anjali Bhaati (Sonakshi Sinha) admonishes an old man when he stops her from entering his ancestral home, and she lectures her mother when she shows her a boy's picture. The thing is that these speeches don't have anything new to say to us. The series presents everything to us before arriving at these moments. As a result, there is nothing fresh in Anjali's passionate remarks.

These elements are irksome because Dahaad - created by Reema Kagti and Zoya Akhtar and directed by Kagti and Ruchika Oberoi - has so much potential. It mostly brims with excellence. Take its characters, for instance. Anjali is first seen in a gym, where she high-fives her coach. A man asks her why doesn't she touch guru ji's feet like other men, and she states that she doesn't bend in front of anyone. This is a determined woman with a no-nonsense attitude and stern demeanor. Sinha's expressions mostly stay within a limited range, and she remains consistently watchable. But the main attraction is none other than Vijay Varma as Anand Swarnakar. In Darlings, Varma scared the living daylights of you by being a toxic husband. When he dragged his lunchbox on the stairs, it looked as if he was carrying a rod. He almost appeared like a serial killer. In Dahaad, Varma indeed steps into the shoes of a serial killer. It's chilling how he mixes his politeness with something poisonous and comes across as a natural-born killer. I was very disturbed because there were moments when I felt Varma wasn't playing a fictional character. Instead, he was openly displaying his toxicity in front of us.

Anand is an interesting serial killer. He is not so strong and quivers when a girl threatens to go to the police station. He is a teacher who preaches good values to his students and commits crimes during weekends. One can draw parallels between him and some politicians who talk about good things in front of the public but indulge in nefarious businesses. Carefully observe the scene where Anand sees a phone at a police station. For a second, he looks shocked, as if someone has caught him red-handed. But he quickly covers up his vulnerability and acts innocent. It's a cliché, but Varma is a great actor.

Dahaad is filled with sublime touches. Take the relationship between Anjali and Kailash. They are competitive, but they also give a lift to each other. Look at Anand's victorious face when he mentions IVF treatment to his brother. Here is someone who can stoop to the lowest level. I chuckled when a police officer combed his hair and mustache and said, "Come in," by putting on a loud and heavy voice in Anjali's presence. And I really liked the scene where Devi Lal's wife is stunned when her husband (Gulshan Devaiah) refers to her as "backward."

When a show is as promising as this one, you are bound to get disappointed when it slips here and there. I can digest that Anjali's love interest is regarded as insignificant, but Dahaad becomes incredibly underwhelming when it reaches the finish line. Anand's explanation and Anjali's decision to change her name do not significantly impact us. It's all rushed. It seems as if the show suddenly realizes this is the last episode, so it quickly wraps everything up. Hence, threads like the one concerning the attraction between Anjali and Devi Lal are left dangling in the air. After so many hours, you come out a little pleased and a little dissatisfied. Dahaad doesn't exactly roar. It gives loud purrs instead.

Final Score- [7/10]
Reviewed by - Vikas Yadav
Follow @vikasonorous on Twitter
Publisher at Midgard Times