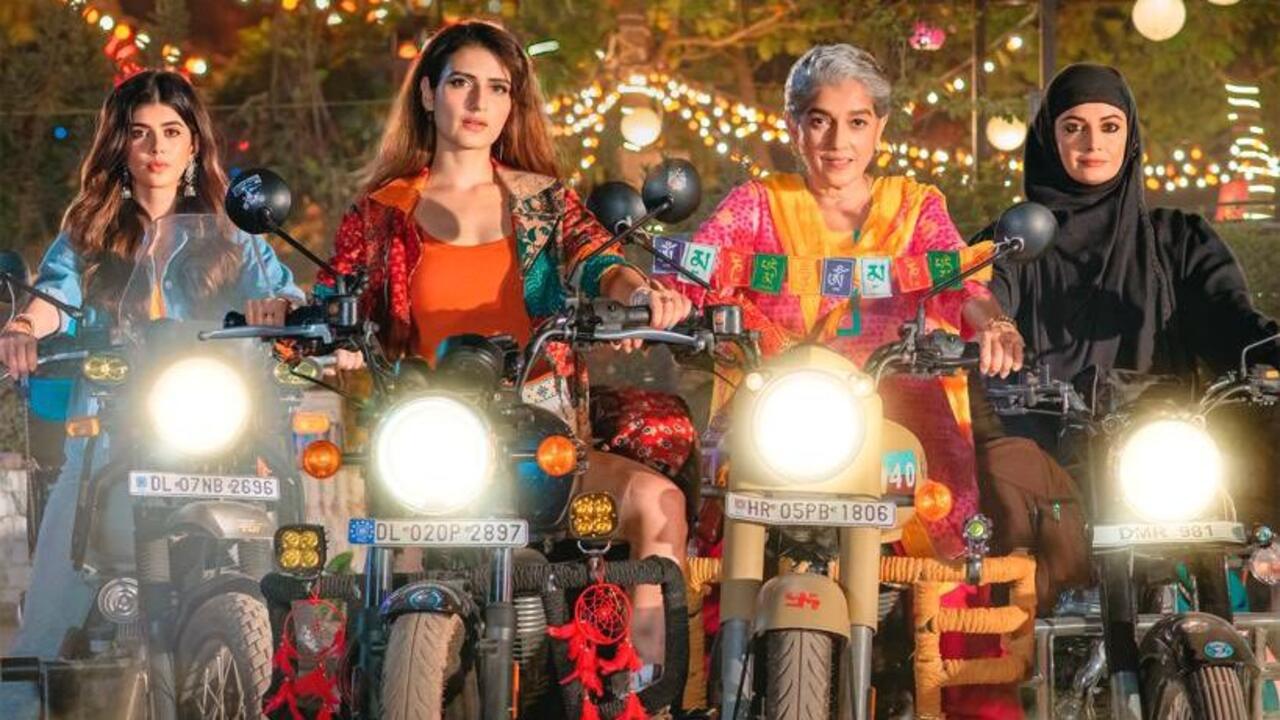 Dhak Dhak is about Sky and how she gathers three other women on an all-women's bike trip to the beautiful location of Khardung La. Before this journey starts, we are introduced to each character and the problems they face in their life.

Sky makes videos about her biking experience. One day, her boyfriend leaked her nude pictures, and since the majority of her viewers saw the images, they started leaving cheap comments on her posts. Sky wanted to go to the Barcelona Auto Expo, but for that, she needed to bring something substantial for the sponsors. Then, she comes across Manpreet, Uzma, and Manjari eventually. It is Manpreet and Uzma's story that touches my heart.

How disappointing it is that a movie that is about finding your soul lacks the soul itself. The makers showed us four women traveling to Khardung La with different motives. While Sky (Fatima Sana Shaikh) was there to rebrand her image, Manpreet (Ratna Pathak Shah) was there to fulfill her lifelong dream, Uzma (Dia Mirza) was there to understand that she too is capable of taking control rather than giving it to her husband, and Manjari (Sanjana Sanghi), well I still don't understand why she was there. However, Manjari did learn to grow out of her mother's shadow.

I am not a bit convinced by the plot of the film as it tries to portray a lot of things but leaves many topics too. Like, in many instances I felt that while the movie should have taken time to discuss certain things, it opted for a fast transition. What required proper screen time was these four women sharing things like Sky sharing about her leaked nude photos. In that scene, what is rather shown is very inferior writing and acting skills.

Only Ratna Pathak Shah and Dia Mirza felt like they connected to their characters. Many powerful scenes were also given to Sanjana Sanghi and Fatima Sana Shaikh yet what they delivered was a weak performance. In the scene where Sky tries to tell about the incident, Shaikh fails miserably. I didn't expect that she would deliver such a dull performance.

Talking about Sanjana Sanghi, her character leaked depth. It was more like a character added just to complete the group of four. There was no depth to this character and what it is seen doing is dumb things. Manjri is a character that the movie didn't require yet had spent a lot of time justifying its existence. As Manjri, Sanjana Sanghi was a faux pas. With good facial expressions and body language, Manjri could have changed the game for the film.

Portraying the badass character of Sky, Shaikh needed to deliver a tough performance because it occupied a lot of screen time. After watching Dhak Dhak, I'm in awe of Ratna Pathak Shah as she pulled off Mahi's character fabulously.

In my opinion, Dhak Dhak shouldn't be on your list if you want to watch something refreshing. It feels like the plot of the film was written by the writers based on one of their personal experiences, but what they forgot was that if it is going to be made into a movie then it needs to be attractive for the audience.

The film takes the audience to the journey of four women going to Khardung La by bike yet, I couldn't understand why there were no amazing shots. The shooting locations have been highly underutilized and much better work could have been done in every aspect of Dhak Dhak.

Final Score – [3/10]
Reviewed by - Riya Singh
Follow @_riyasinghhh_ on Twitter
Publisher at Midgard Times