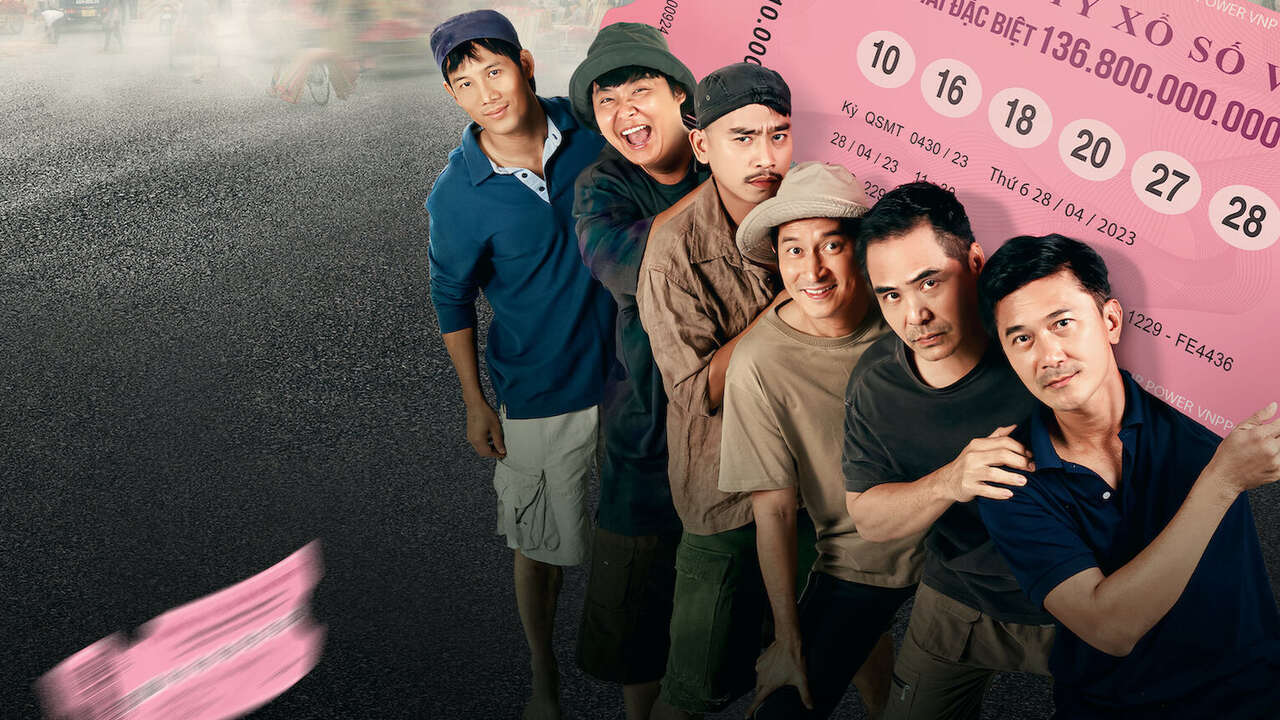 Face Off 6: The Ticket of Destiny is the sixth installment of the Vietnamese action thriller series that began in 2015. Directed by Ly Hai, the film follows six friends who win a billion-dollar lottery, but soon find themselves in a deadly game of betrayal and greed. The film stars Quoc Cuong, Trung Dung, Huy Khanh, Thanh Thuc, Diep Bao Ngoc, and Tran Kim Hai as the main protagonists.

The protagonist of the film is Phương, played by Quốc Cường, who is a humble mat maker and a devoted father to his daughter. He is struggling to make ends meet, as he faces problems with his landlord and his business. He is also the most compassionate and loyal of the six friends, who have been together since childhood. The other friends are Loc, who is addicted to gambling and owes money to loan sharks; Khang, who is aggressive and impulsive; Toan, who is lustful and dishonest; and Phat and An, who are both expecting fathers with different family issues.

The film starts slowly as it introduces the characters and their backgrounds, and shows their daily lives and struggles. The film also shows how they celebrate a death anniversary together, which is a Vietnamese tradition to honor the deceased. The film then shifts gears when Phương discovers that one of the lottery tickets he bought for himself and his friends is the jackpot ticket that could make them rich. However, before he can share the good news with his friends, a terrible accident happens that causes the ticket to be lost. This sets off a chain of events that involves the friends trying to find the ticket and claim it for themselves, while also dealing with other enemies and obstacles. The film becomes more engaging and suspenseful as the friends turn against each other for the money, and reveal their true colors and motives.

The film is a fast-paced and entertaining ride that kept me on the edge of my seat. The action sequences are well-choreographed and executed, with impressive stunts and explosions. Though it is a low-budget film, the cinematography and editing are also commendable, creating a sleek and stylish visual appeal. Despite the bad dubbing, the film also had some humorous moments that lighten the mood and provide comic relief.

The film also suffers from some flaws that undermine its quality. The plot was as per my expectations predictable and clichéd, with many twists and turns that are easy to guess. The characters are not very well-developed or likable, and their motivations are often unclear or illogical, or maybe the bad subtitles make them seem dumb. The dialogue is also cheesy and corny at times, with some lines that sound unnatural or forced. The film also relies too much on coincidences and conveniences to move the story forward, making it seem unrealistic and contrived.

The film is not meant to be taken seriously or analyzed deeply but rather enjoyed as a popcorn flick that offers some mindless fun and excitement. It is not a masterpiece or a groundbreaking work of cinema, but it is not a complete waste of time either. It is a decent and watchable film that delivers what it promises: action, suspense, and drama.

Face Off 6: The Ticket of Destiny is a film that will appeal to fans of the genre and the series, but may not impress or satisfy others who are looking for something more original or substantial. It is a film with its strengths and weaknesses but ultimately falls short of being memorable or remarkable.

Final Score – [6/10]
Reviewed by - Arpita Mondal
Follow @ArpitaMond33387 on Twitter
Publisher at Midgard Times