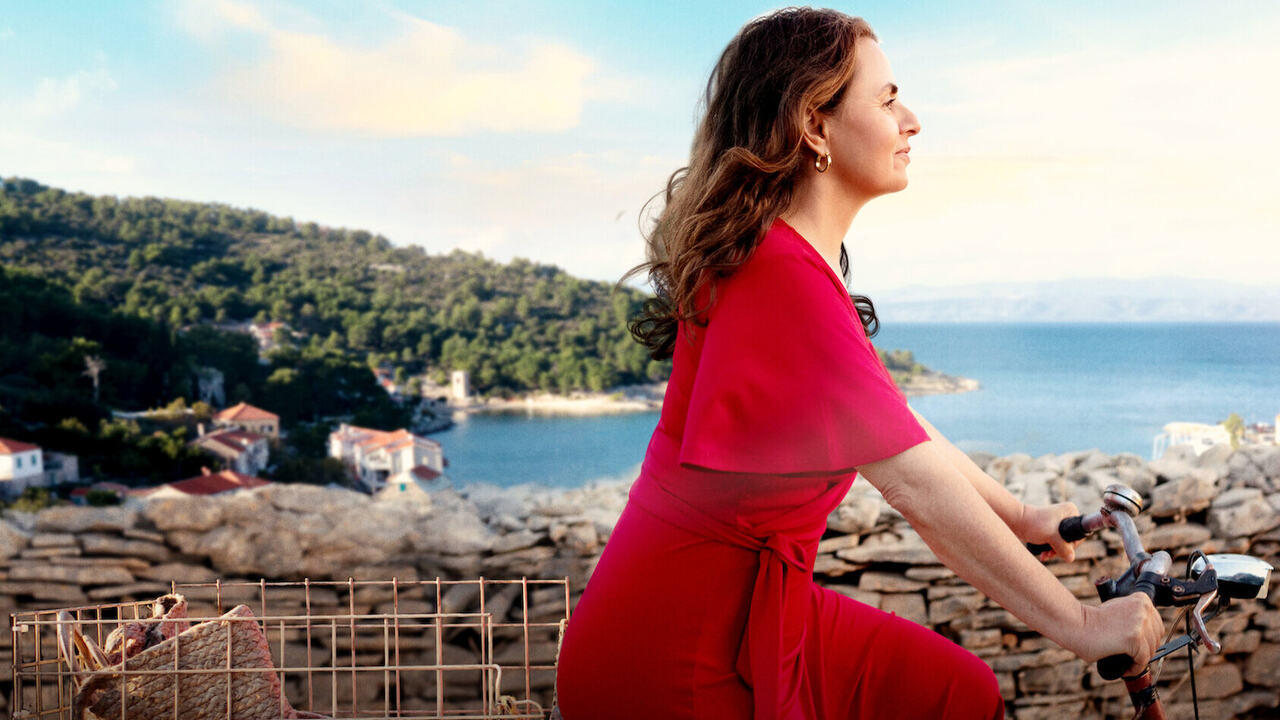 Faraway is a 2023 Netflix release directed by Vanessa Jopp, it is a romantic comedy that deals with the life of Zeynep (Naomi Krauss) as she embarks on a journey to Croatia when she inherits a house over there after her mother's passing. She discovers the new joy that was missing from her life as the film builds across a scenic Croatia. It was written by Jane Ainscough & Alex Kendall. It is a heartfelt film that has a runtime of 1 hour and 49 minutes.

The film begins with a death in the family, Zeynep's mother. Her entire family is introduced as a circus. With an uncaring, senile father, a daughter who is very self-indulgent, and a husband who instead of being at his wife's funeral is in his kitchen flirting with a young girl. It is depressing and saddening for Zeynep. Hence when she gets the opportunity to make a spur-of-the-moment journey to a home bought by her mother as a gift in her will, she decides to go for it. When she reaches there she meets someone that has already been residing over there. Josip. A man who claims that Zeynep's mother bought the house from his family, and let him live there rent-free until someone came.

The rest of the film deals with her experience there and her relationship with Josip as she tries to initially set up an Airbnb at the place. I'd say I quite enjoyed the film. It isn't anything that is exceptional in its premise or the places it goes to tell the story it tells but it still felt fresh to me.

The characters and the town are really charming and fun to watch. Zeynep and Josip's interactions were especially interesting to watch. The acting feels natural and doesn't come off as plastic. We've seen characters like Josip before. He is blunt, and doesn't like the fact that his childhood home will be exploited, as he puts it "by sad people who want to post on Instagram". His ideal way to live is that of an islander, working with nature rather than against it. He doesn't believe in machines for comfort, failing even to pronounce refrigerator, he believes in an older way of life. Another star of the show, however, has got to be Zeynep who does it all independently away from her selfish and narcissistic family with warm smiles.

The film really reminded me of the Indian films Queen and English Vinglish as it touches upon themes of independence, freedom, and rediscovery while highlighting women's leads. The fact that it was released on women's day is no coincidence I believe.

Additionally, the film is gorgeous. Croatia is very pretty to look at by itself and this film gives us a surface-level view into it that still managed to leave me curious and enthralled somewhat. The only thing the film faltered at was the tightness of the script and certain character motivations. Regardless of that, it is a perfectly delightful film that managed to make me smile. It has a good vibe and keeps it light-hearted throughout while dealing with coming-of-age themes. The resolution Zeynep has with her family is also very justified and made me like the ending.

If you're feeling especially down and want to enjoy a casual happy film with a vibrant color palette and good vibes, this film should be right up your alley.

Final Score – [7/10]
Reviewed by - Aayush Chaurasia
Follow @AayushC44 on Twitter
Publisher at Midgard Times