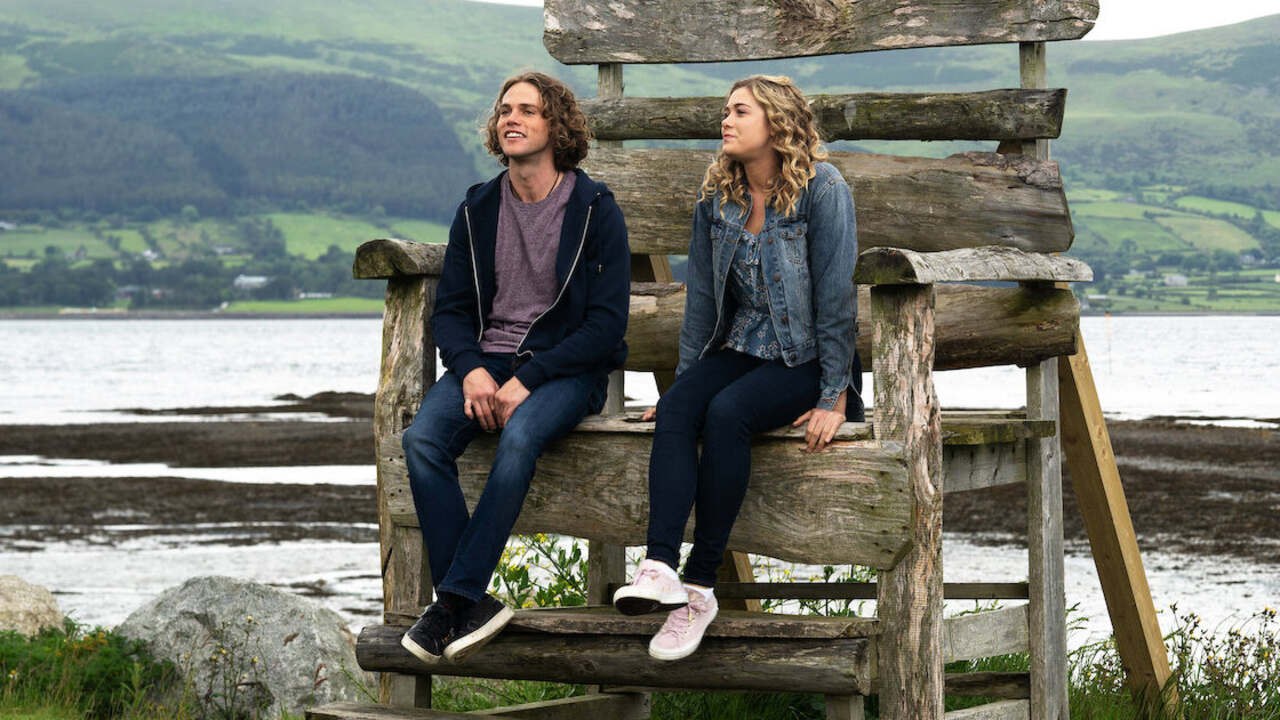 "Finding You" is a delightful romantic drama film that manages to be both charming and refreshing in its portrayal of a young woman's journey of self-discovery. Directed by Brian Baugh, the movie follows Finley, a talented and ambitious young violinist played by Rose Reid, as she embarks on a semester abroad in Ireland to study music.

As Finley arrives in the picturesque coastal town of Galway, she finds herself quickly drawn into the local culture and the vibrant music scene. She meets a charming and handsome movie star named Beckett (Jedidiah Goodacre) who offers to show her around and help her acclimate to her new surroundings. Despite their initial differences, the two soon find themselves falling in love.

The film's plot might seem like a well-worn formula for a romantic drama, but what sets "Finding You" apart is the depth with which it explores its characters. Rose Reid delivers a nuanced and affecting performance as Finley, capturing both her vulnerabilities and her strength of character. Similarly, Jedidiah Goodacre shines as the charismatic and sensitive Beckett, creating a believable and engaging chemistry with Reid.

One of the movie's biggest strengths is its stunning setting. The lush landscapes and vibrant colors of Ireland are captured beautifully on screen, immersing the viewer in the film's world and adding to its sense of magic and wonder. The film's use of music is similarly effective, with its evocative soundtrack complementing the onscreen action and helping to convey the emotional depth of the characters' experiences.

Undeniably being a romance at heart, "Finding You" also manages to explore some deeper themes and issues. The film's central conflict revolves around Finley's struggles to find her place in the world and to pursue her dreams in the face of societal expectations and pressures. It's a theme that will likely resonate with many young viewers, especially those who are struggling to find their own path in life.

However, while this film is certainly well-made and enjoyable, it's not without its flaws. Some viewers might find the film's pacing to be a bit slow at times, and there are a few moments where the dialogue feels a bit contrived or clichéd. Additionally, the film's focus on Finley's romance with Beckett occasionally overshadows some of the other interesting subplots and relationships that the movie introduces. However, these criticisms are relatively minor in the grand scheme of things and don't detract significantly from the overall quality of the film.

"Finding You" is a film that manages to strike a balance between romance, drama, and self-discovery, while also delivering an immersive and captivating experience for its viewers. With its gorgeous scenery, beautiful music, and strong performances, the film is a true feast for the senses that will transport audiences to another world.

While it may not be a groundbreaking masterpiece, it is a refreshing and heartfelt addition to the genre that is sure to leave a lasting impression on those who see it. If you're in the mood for a charming and uplifting story about finding love, following your dreams, and discovering yourself along the way, then "Finding You" is a movie that is not to be missed.

Final Score- [8/10]
Reviewed by - Anjali Sharma
Follow @AnjaliS54769166 on Twitter
Publisher at Midgard Times