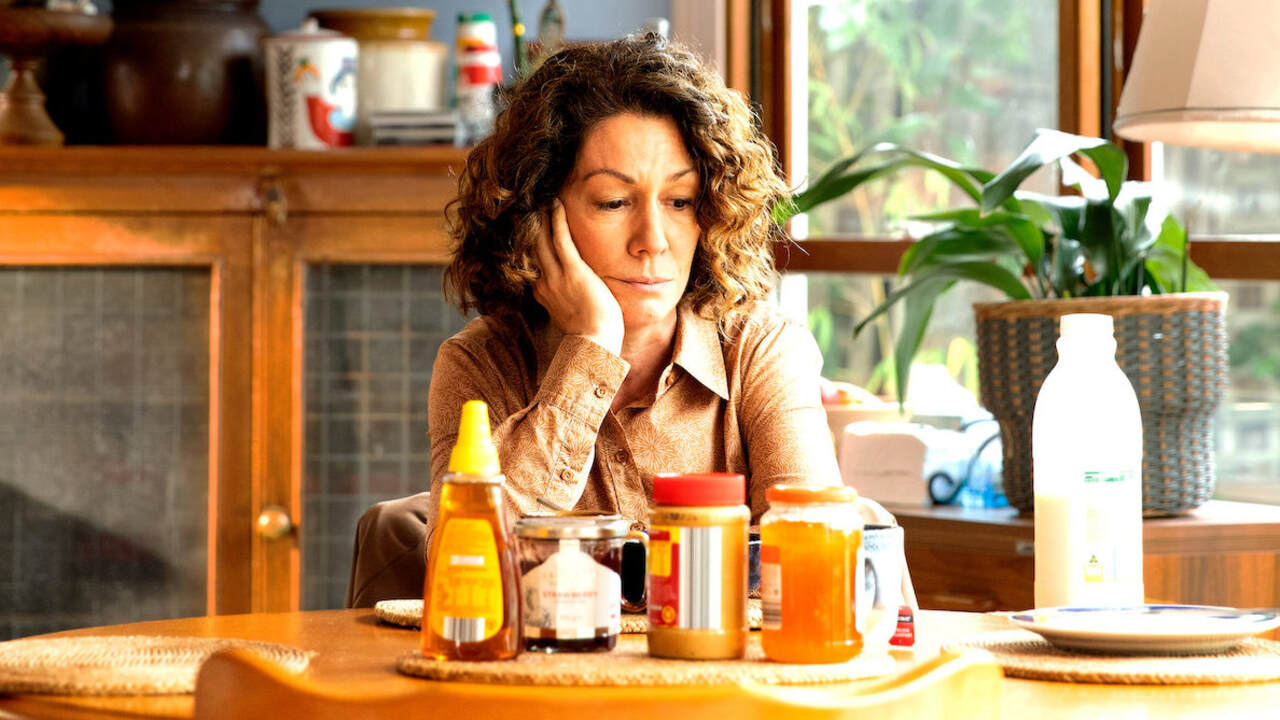 Fisk, written by Kitty and Penny Flanagan, is one of the most enjoyable shows I have watched this year. It's genuinely funny and will surely put a smile on your face. While watching the show, I was either grinning or laughing like a drain. Every joke, every moment, lands with great enthusiasm. The pace here is delirious as if the show is too eager and excited to deliver boffolas. Fisk knows it has an excellent sense of humor and confidently invites us to have a good time in its company.

I just realized that I don't have much to say about Fisk. What else can I tell you apart from the fact that I laughed a lot and loved every minute of this series? Perhaps, I can start by mentioning some of my favorite bits. I liked how Helen (Kitty Flanagan), a lawyer, explained things to her clients. She uses food and a knife to describe how vasectomy would lead to losses and does mathematical calculations to prove how a wife deserves more shares of her husband's ashes. The characters, too, are quirky and charming. An old woman (Colette Mann) simply grabs objects and says, "Finders Keepers." Graham (George Henare) and May (Debra Lawrance) get too enthusiastic about Veloxa (an Alexa-like device) and command it to send text messages to Helen's phone even when she is there with them in the same room. The most hilarious character, however, is a man who paints with his penis. The scene where he paints Roz (Julia Zemiro) had me in stitches.

The surroundings of the characters are also used to make punchlines. A board in Helen's office containing words like "Butterscotch," "Soup," and "Tea" is mistaken for a food menu when it's actually supposed to be, well, inspiring. There is a secret switch that is labeled with question marks, and its purpose, when revealed, becomes the cause of much hilarity. Moreover, notice the cup in which Ray (Marty Sheargold), at one point, pours coffee. It has "World's Greatest Lawyer" written on it. What turns out to be an unexpected, amusing surprise is how the show uses a cat in a hilarious promotional video. Fisk isn't always in a hurry to tickle your funny bone. Some of the setups have a payoff later in the story. For instance, Gruber & Gruber is renamed Gruber & Associates, and this new name reveals its jokey motive during an award function in Episode 6.

Fisk mines humor from every direction. Not a single scene here comes with a weak pulse. The show is high and exciting and light-hearted. If it had been a character, it would have dodged or hit every ball thrown in its direction by Peggy (Bessie Holland). Speaking of Peggy, her awkward, childish humor generates embarrassment as well as giggles. In Fisk, even the awkward moments are designed to be rib-tickling (notice how uncomfortable everyone gets when Helen says she cherishes her father). And yes, how can you forget about that book meeting where a man insists that a discussion be held on sex-in-the-car scenes? My only gripe is that just the first season of Fisk is currently available on Netflix. After completing all six episodes, you feel a strong desire to watch the second season. When will the streaming service scratch this itch?

Final Score- [8/10]
Reviewed by - Vikas Yadav
Follow @vikasonorous on Twitter
Publisher at Midgard Times