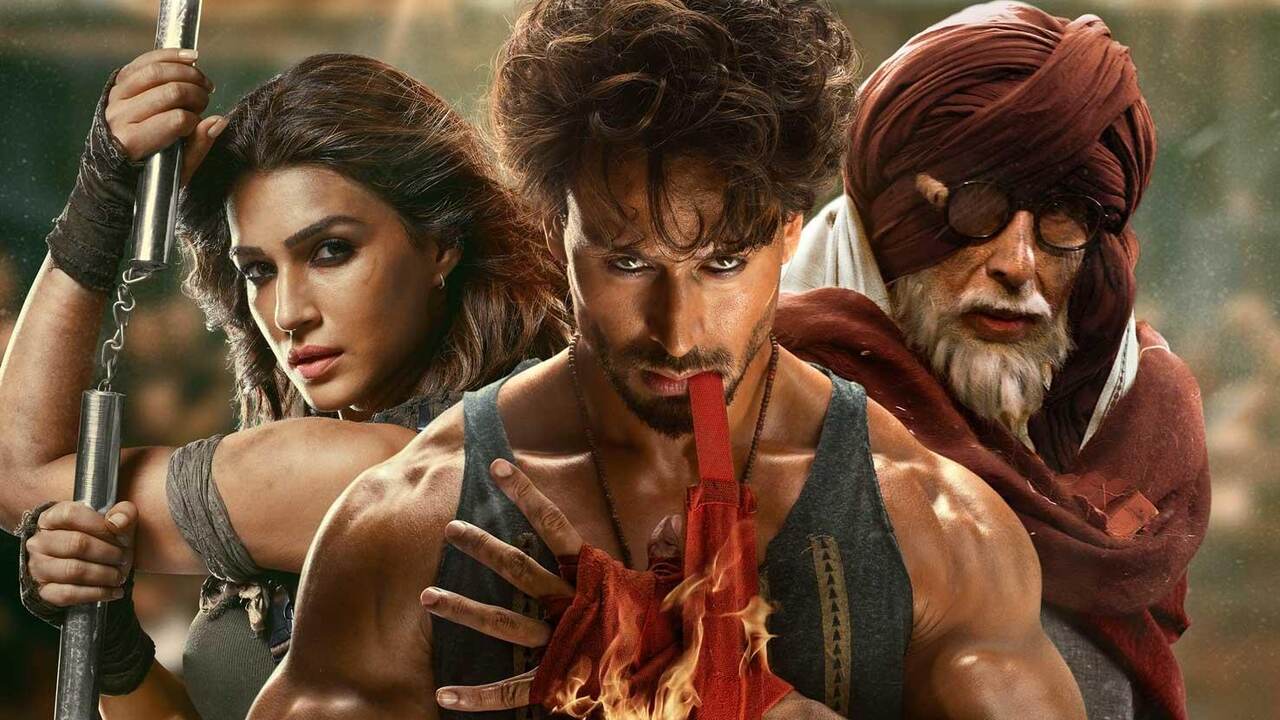 How is it possible that every new Tiger Shroff movie (except for War) manages to be worse than the previous Tiger Shroff movie? His latest, Ganapath, is so appalling that it makes the audience scream, and their cries turn out to be louder than those of the people watching the new The Exorcist on another screen. At the end of the day, what's Ganapath, if not a horror movie disguised as a sci-fi? The jump scares don't come through creaking doors or flickering lights. Rather, they emerge from Shroff's attempt at acting. The CGI work here is exceptionally shoddy, as the buildings of Silver City look so terribly fake that Dushyant's kingdom in Shaakuntalam appears more believable and lived-in. Still, the terrible graphics turn out to be more expressive than Shroff's expressions. You go into a Tiger Shroff or Vidyut Jammwal movie to see them perform insane acrobatics. No one expects them to do...acting.

But director Vikas Bahl makes the stupid decision of giving Shroff dramatic/comedic beats to work with. Before the interval, Shroff tries to be romantic and funny, and post-interval, he tries to be broody and sly. The audience is basically forced to shift uneasily in their seats. We lower our eyes due to embarrassment and feel sorry for the "actor" on the screen. Sure, Shroff gets a lot of opportunities to show his incredible flexibility, but his talent is undermined by unexceptional stunt work and choreography. Bahl has no idea what to do with this rubber body. He merely settles for mediocre punches and flips. After a while, Shroff's elastic exploits fail to register as impressive. Blame it on mind-numbing repetition, as Shroff mostly fights in a ring after the interval.

As I mentioned before, the rich people in Ganapath live in Silver City. There is a club named Club Bad People because everyone parties and drinks alcohol on the premises. There is also a restaurant called Dragon's Den, and if you go inside it, you will find a poster of Bruce Lee (because he starred in a movie titled Enter the Dragon?). Oh yes, one of the fighters here is named Bloodbath, and he is covered in blood. Why are all these names so literal? I am almost convinced Ganapath was written by a five-year-old baby after he had watched too many action B-movies. In fact, Ganapath is a kindergartener's interpretation of fantasy. That would really explain why there are so many half-witted twists and turns in the film. Sample this: Guddu (Shroff) is thrown out of Silver City because he is caught in an intimate position with his boss's girlfriend (Elli AvrRam). To be clear, she forces herself on him. And what inspires Guddu to take things seriously? The kidnapping of his love interest, Jassi (Kriti Sanon). If Ganapath were a competent film, we could have defended these developments with arguments like, "The man is so obsessed with women that he is moved forward and changed through them." But given the quality of Bahl's amateurish vision, everything comes across as childish.

It's funny that the poor people continue to wait for their savior when a far more appropriate Chosen One is already with them. I am talking about Jassi. Sanon achieves the impossible task of looking more spectacular than Shroff in action scenes. Her body is lethal as well as seductive. It's a deadly combination, but Bahl is busy objectifying the female characters in the film. They are, in the end, sex objects meant to be nothing more than eye candy. Sanon is also better than Shroff in terms of acting. In an ideal world, she would have been the protagonist of Ganapath, and the movie would have been well-written and directed. However, the Ganapath that is currently playing in the theatres is excruciating. At one point in the film, Guddu tells people to smile so that they can improve their facial muscles. While the characters were grinning on the screen, I found myself weeping in my seat. Oh, how I wish I had not forgotten to take my handkerchief with me.

Final Score- [2/10]
Reviewed by - Vikas Yadav
Follow @vikasonorous on Twitter
Publisher at Midgard Times