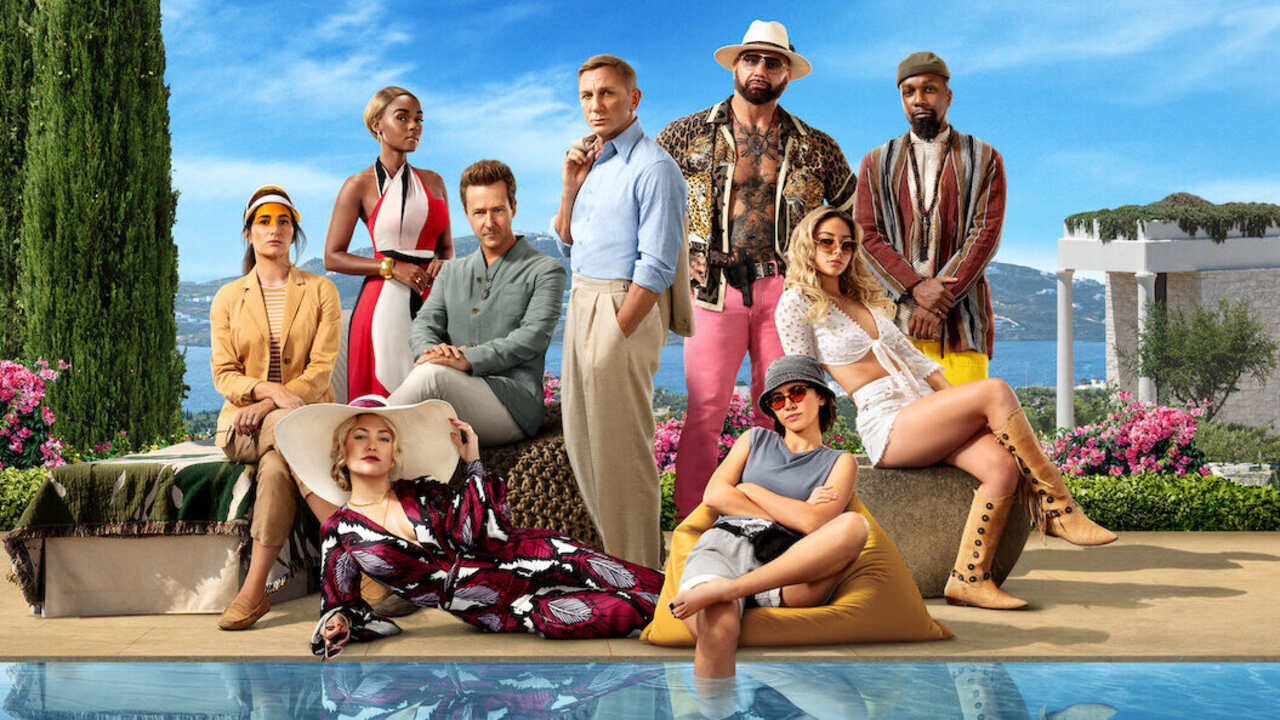 "Glass Onion" opens with a box. 4 people who know each other are sent a box from someone called Miles. At first, the box looks like a perfect block of wood. But it turns out there's a unique way to open the wooden box. Once everyone opens it, inside it, there are more puzzles. After solving it all, they find an invitation from Miles. He invites them to his island to solve his murder. This is the opening sequence of the film and it drew me in like none else. As the group readied to journey to Miles' mansion, I rubbed my hands and thought, yes! finally, a great mystery movie!

When Knives Out graced theaters in 2019, audiences were enthralled by the perfectly setup murder-mystery story. Glass Onion (2022) is its sequel, but the only connecting thread between the two is Benoit Blanc, Daniel Craig's suave detective. As for whether it's a perfect follow-up to its predecessor or not, I can confidently say it is.

If you were wondering why the movie is called "Glass Onion", know that you don't have to wonder much as it's explained within the first 40 minutes of the film. The movie tries to incorporate this metaphor into its plot by creating a murder mystery with layers and yet one where the culprit is in plain sight. But, it doesn't quite succeed in that. However, this doesn't detract from the delightfully concocted murder-mystery story that also tries to incorporate social justice themes.

Rian Johnson's movie is stylistic and suave. The lavish mansion of Miles Bron (Edward Norton), the beautiful ocean, and the intricate puzzle that starts off the movie draw you in from the very first minute. The plot moves fast as we follow fashionista Birdie Jay (Kate Hudson), her assistant Peg (Jessica Henwick), tech scientist Lionel (Leslie Odom Jr), MRA Duke (Dave Bautista), his girlfriend Whiskey (Madelyn Cline), and politician Claire (Kathryn Hahn) as they become murder suspects.

Joining them is the sore thumb of the gang, Cassandra (Janelle Monae). But why is she the odd one out, and what's actually going on? That's the central mystery of the film. You see, eccentric tech billionaire Miles Bron invites his friends on a weekend getaway to solve his murder. But Rian cleverly makes that a red herring and focuses on another murder, the actual one in the film. However, the way the murder gets solved by Blanc is where you will have to suspend your disbelief a little.

However, Glass Onion is still a cleverly constructed easy watch that will keep you guessing. The layered characters, smart dialogues, as well as name-dropping of various Hollywood stars, keeps the film crisp and fun. In a movie landscape populated with superhero tentpoles, Glass Onion offers a breath of fresh air that deserves to be seen. Even though it has a 2 hr 21 min runtime, time will fly by as you try to solve the mystery with Blanc.

Final Score – [9/10]
Reviewed by - Ishita Chatterjee
Follow @dracone619 on Twitter
Publisher at Midgard Times