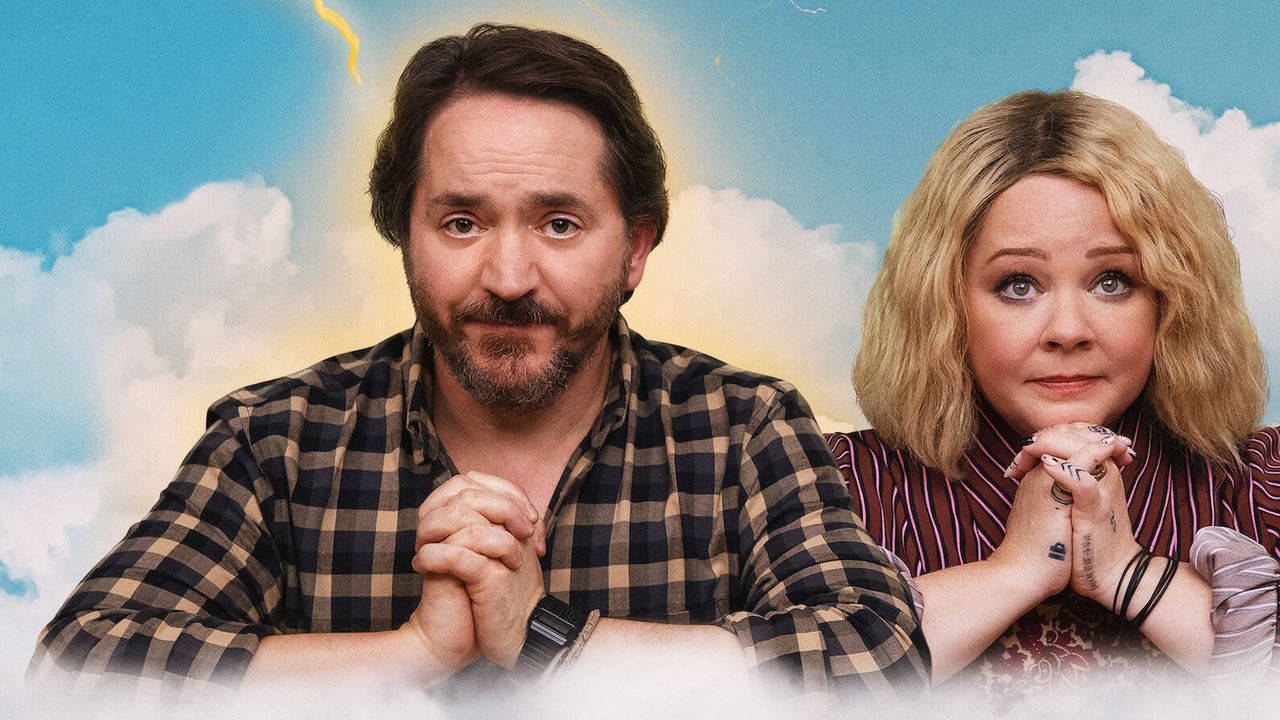 Created by Ben Falcone, God's Favorite Idiot sees Melissa McCarthy playing the role of Amily Luck and Falcone plays Clark Thompson. The series is about a Mid-level Tech support employee Clark, who finds love with co-worker Amily at exactly the same time when he miraculously becomes the unwitting messenger of God.

In the first episode, we see that Clark is a simple man with a plain life. Nothing much happens in his day-to-day routine. One day he gets struck by thunder and gains magical powers. He glows! Soon, his colleague Amily discovers this while visiting her office late at night. She came in with her scooter. Yes, a scooter! That too inside her office! She discusses what she saw with her colleagues.

No one believes her until he actually glows in the office. The reason why no one believes her is because she is an alcohol addict and takes drugs. When Clark gets filmed in a restaurant while he was glowing, people get divided into two groups. One thinks that he is a messenger of God and others think, he is just a charlatan. Then an Angel is seen descending from the sky with white wings and tells Clark that he has been selected by God as he'll prove instrumental in saving the world.

The world needs saving because Lucifer has attacked Heaven once again, and there should be someone on Earth who can stop the evil from spreading. This is the gist of the series. The character of Amily is great to watch. She doesn't think much before saying anything and is a carefree woman who can often be spotted drinking at her workplace. Talking about their workplace, till the end of the first season it wasn't even revealed what do they do at work. The office seems like a place where anything can happen, and nobody even raises a finger.

After Amily's characters, it was Tom whom I liked the most. He's a dramatic guy who claims that he has transformed after he saw how holy Clark is. After being given superpowers, Clark can be seen doing magical things and can speak almost all languages that are present on the globe. Overall, it is a funny series that will be able to cheer up your mood.

In my opinion, this is a great series, and you'll laugh a lot while watching it. Angels with white wings are descending from the sky, Satan is seen performing some cheap tricks, and then obviously we have Amily being very energetic and positive. She calls people based on their characteristics, like Frisbee, who also happens to be an Angel but with chicken wings. The actors have performed well, and Clark gives one surprise after another. The chemistry between the lead roles is good, they also happen to be husband and wife in real life. The ending is unclear and incomplete. Maybe we can get more episodes or another season in the future.

Final Score – [7.5/10]
Reviewed by - Riya Singh
Follow @_riyasinghhh_ on Twitter