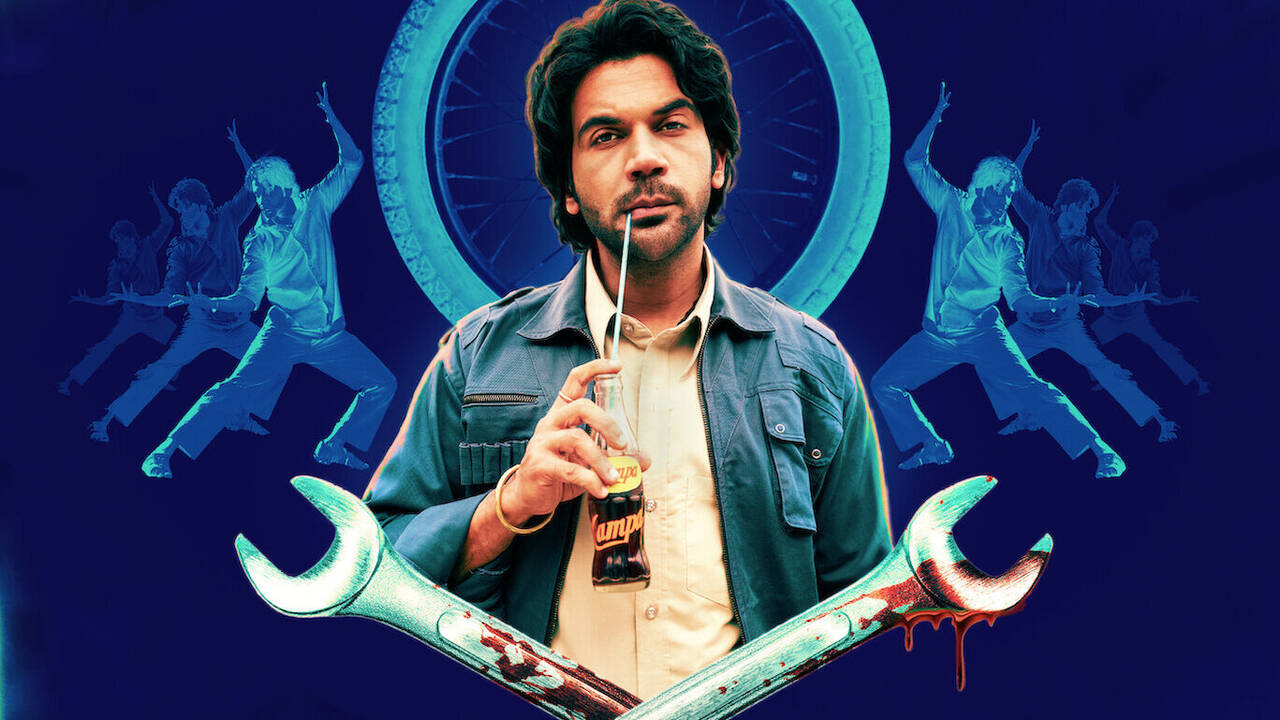 Guns & Gulaabs opens with shots of flowers while a chase takes place in the background. At the same moment, two kids foolishly attempt to prove that their love is incomparable. A few minutes later, an old man takes a puff on his cigarette and goes to meet his maker. These scenes instantly announce that we have entered the eccentric world of Krishna D.K. and Raj Nidimoru (Raj & DK). In this universe, fathers are considered authority figures by everyone except their sons. That old man who dies after smoking a cigarette turns out to be Babu Tiger, the father of Tipu Tiger or just Tipu (Rajkummar Rao) since the son is not (yet) ready to become like his father. A gangster, that is.

During the funeral, Tipu finds it difficult to shed tears for his dad and has to force himself to look sad. On the other hand, we have Jugnu (Adarsh Gourav), who knows he won't be able to live up to his father's expectations, and yet, he does whatever he can to win his approval. His pop is Ganchi Sr (Satish Kaushik), and he, too, has a solid reputation. Both Tipu and Jugnu carry the burden of living up to the status achieved by their fathers. The only difference between them is that Tipu doesn't care much about proving himself, while Jugnu gets too desperate. Gourav initially threatens to stick out like a sore thumb. But once you understand that his character is basically maintaining a superficial facade, his forced gestures start to make sense.

Before his death, Babu Tiger whispers something to a boy, but that message doesn't immediately reach Tipu's ears. Ganchi Sr goes into a coma and thus isn't able to reveal his plan. The words of dads are treated as insignificant. They are used as material for jokes and are not given any weight. It's not like the characters are dying to know what these fathers said or wanted to say. Tipu is busy chasing a girl, Lekha (T.J. Bhanu), and wants to open his own garage (Tipu Motors). There are moments where Jugnu wishes Ganchi Sr had told him his plan before going to the hospital, but he also wants to make his own decisions and show his father that he is more than capable of handling the family business without any help.

Jugnu, however, is not very competent. Forget about running the business; the incapable son is not even able to prevent the news regarding Ganchi being in ICU from spreading like wildfire. Everybody casually dismisses Jugnu, which is why it seems as if he's trying to feel powerful in front of his only friend by asserting his dominance over him. He ogles this friend's wife and touches her hand. But when you consider Jugnu's feminine shades, you see his relationship with his friend in a different way.

Raj & DK familiarize us with the routines of the characters and the show's rhythm and then slowly try to subvert our expectations. For instance, when someone keeps on making phone calls to Arjun's (Dulquer Salmaan) personal landline, we, like Arjun's wife (Pooja Gaur), think a boy must be trying to get in touch with Jyotsana (Suhani Sethi), their daughter. However, as soon as we hear a woman's voice mentioning Arjun's name, we suddenly realize that our first impression regarding this narcotics officer may not have been accurate ("Don't judge a book by its cover," says a character).

We see him as an honest officer and a good family man, but then we notice those scandalous pictures. Turns out Arjun had an affair with Yamini (an underutilized Shreya Dhanwanthary), and now he is being blackmailed. Guns & Gulaabs works best when it offers us such unexpected pleasures. When Jugnu suspects that a doctor might have leaked the news about Ganchi Sr's condition, he goes to his office, breaks a jar, and the broken glass pieces accidentally become a tool for murder. When Tipu and his friend run away from Sherpur, one of the men fires his gun at them, though this man himself ends up getting injured. This moment finds its echo in the last episode when a boy shoots Atmaram (Gulshan Devaiah), a bogeyman. These moments explode more joyously than the ones where the outcome is easily predicted by us. Consider the scene where Ganchi Sr scolds a worker for suggesting to him which wood is better for the staircase. This setup and its payoff get slightly undermined due to their unsurprising nature.

Let's go back to Atmaram, who apparently has eight or ten lives. Devaiah plays this character with just the right mixture of absurdity and seriousness. He looks scary when he buys a locket and says it's for style, not protection. The locket is purchased from a showman who asks for Rs. 2000 for his item but is given Rs. 100 instead, an amount he accepts without any protest. Elsewhere there is a pandit who sells lockets to Tipu, and their price is based on their "duration." Guns & Gulaabs is filled with such colorful characters who keep the show light-hearted. Raj & DK never allow the tone to become too melodramatic and dull. Even during Tipu's best friend's funeral, we get a joke involving twins and a picture. I liked how Atmaram had to whisper to intimidate a police officer and how a boy kept on mishearing the lyrics of an English song. And I was pleased to see that an issue regarding a love letter was solved in the second episode instead of unnecessarily stretching it longer.

What's astonishing about Guns & Gulaabs is that it is the kids whose actions feel more bitter compared to adults. Gangu's (Tanishq Chaudhary) decisions, like replacing a love letter or writing those obscene words on a wall, sting you more than anything the men do to inflict harm on each other. Guns & Gulaabs is incredibly entertaining, though I wish it hadn't ended with a suggestion regarding a second season. I am tired of shows and movies setting themselves up for sequels. It's all ubiquitous and currently, for me, a big turn-off. However, I am also sure that in the hands of these capable directors, even a second season would not fail to win you over with its charm and humor.

Final Score- [8.5/10]
Reviewed by - Vikas Yadav
Follow @vikasonorous on Twitter
Publisher at Midgard Times