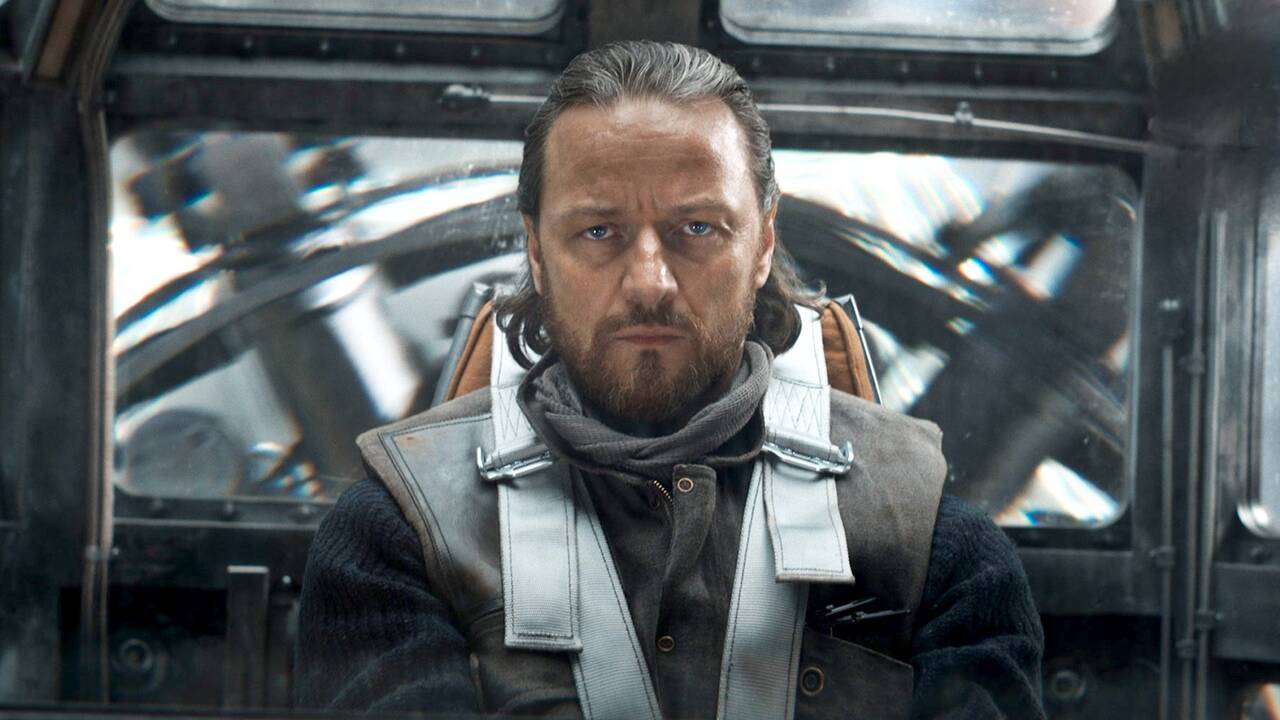 HBO has revealed the first look images of the third and final season of 'His Dark Materials,' via EW today. HBO has confirmed that 'His Dark Materials' Season 3 will release on December 5, 2022. The trailer and release date will be officially revealed on October 6 during NYCC 2022 panel.

Season 3 will see the angels take on more physical forms. Actors Kobna Holdbrook-Smith, Simon Harrison, and Chipo Chung will play Balthamos, Baruch, and Xaphania, three of the story's notable rebel angels. The third and final season will see Dafne Keen (Lyra) and Amir Wilson (Will) along with James McAvoy (Lord Asriel), Ruth Wilson (Mrs. Coulter), Ruta Gedminstas (Serafina Pekkala), Simone Kirby (Mary Malone), Will Keen (Father McPhail), and Jade Anouka (Ruta Skadi). The new cast joining Season 3 are - Adewale Akinnuoye-Agbaje as Commander Ogunwe; Jamie Ward as Father Gomez; Sian Clifford as Agent Salmakia; Jonathan Aris as Commander Roke; and Amber Fitzgerald-Woolfe as Ama.

Today's images reveal us a new look at James McAvoy's Lord Asriel. After a short appearance in season 1 and much less in season 2, James McAvoy will make a more substantial return as Lord Asriel in His Dark Materials season 3 – and angels will play a significant role. Asriel is fighting the Authority, which is basically God. He perceives this celestial ruler to be more of an authoritarian who has enslaved humanity, and he raises his own army (including rebel angels) to oppose that regime.

HBO and BBC fantasy series "His Dark Materials" is based on The Amber Spyglass, the final Novel in His Dark Materials trilogy by Philip Pullman, as Lyra and Will travel through different worlds to find each other. The Amber Spyglass is set in several worlds dominated by the Magisterium, a theocracy that actively suppresses heresy.

"His Dark Materials" Season 3 story also involves 'Gallivespian Spies,' Gallivespians are tiny humanoids who evolved in their native universe's earth. The eight-episode third and final season is likely to premiere sometime in 2022.

Season 2 of "His Dark Materials" concluded with the angels pledging their support for Lord Asriel in the imminent war against the Authority in a desolate world. Will returns to find Lyra missing, having been kidnapped by Mrs. Coulter. Coulter pledges to defend Lyra, who looks to be drugged and is locked inside a trunk aboard a ship. During a post-credit scene, we also see Roger and Lyra calling to one another at an unknown location.

"His Dark Materials" is produced by Bad Wolf in association with New Line Cinema for BBC One and HBO. Executive producing the series are Jane Tranter, Dan McCulloch, Joel Collins, and Julie Gardner for Bad Wolf; Philip Pullman, Jack Thorne, Tom Hooper; Deborah Forte, Toby Emmerich, and Carolyn Blackwood for New Line Cinema; and Ben Irving for the BBC.

"His Dark Materials" returned for its seven-episode second season on November 16, 2020. The series follows Lyra (Dafne Keen), a seemingly ordinary but brave young woman from another world. Season two begins with Lyra, saddened about her closest friend's death, embarking on a journey through a strange and mysterious abandoned city. There, she meets Will (Amir Wilson), a teenager from our world who, like her, is fleeing a traumatic past. Lyra and Will discover their fates are intertwined with reconciling Will with his father, but their route is continuously obstructed as the battle rages around them. Meanwhile, Mrs. Coulter (Ruth Wilson) goes on the hunt for Lyra, determined to bring her daughter home by any means necessary.