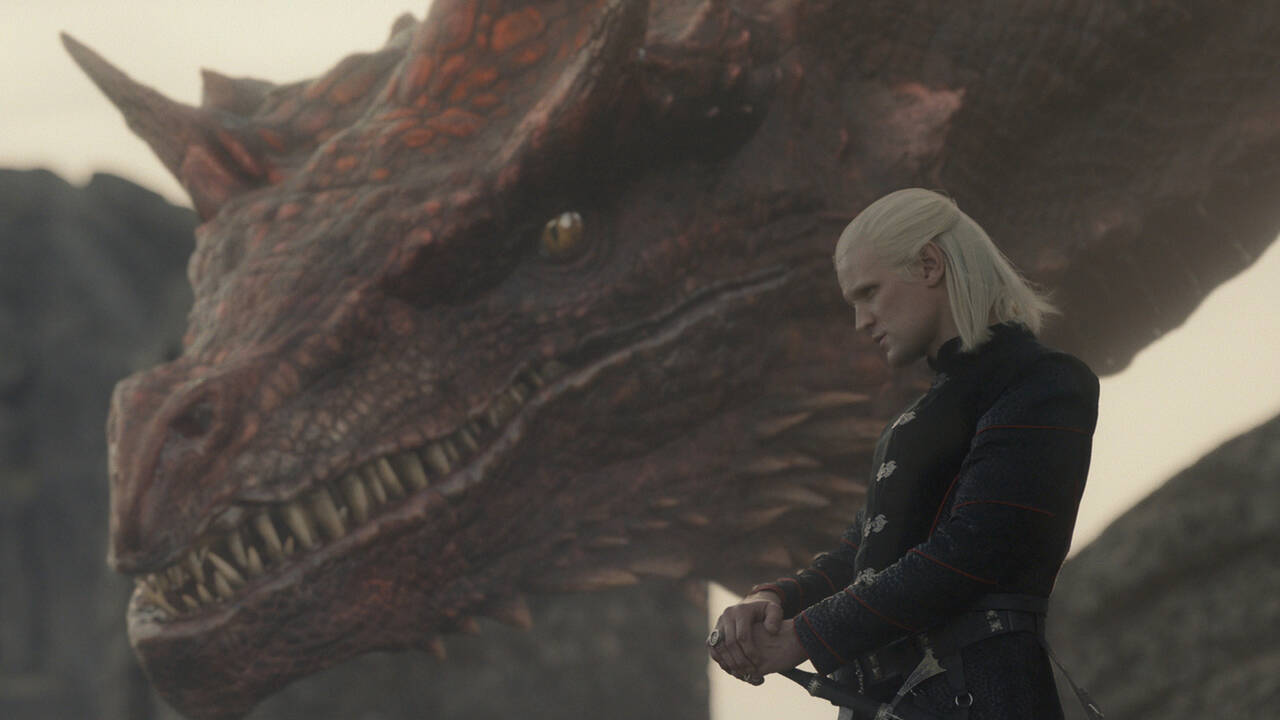 I have just finished watching the tenth and the last episode of House of the Dragon Season 1, and I simply cannot stop screaming and smiling. I am also a bit frustrated because I really wanted the episode to go on for a bit longer. There should be a punishment for ending a season on such a high note and then making the audience wait for one or two years for the next season. Frankly, I am happy that I decided to give House of the Dragon a chance. If I were not involved in reviewing this show, I would not have watched any of its episodes (who wants to be underwhelmed again after Game of Thrones?)

The tenth episode opens with Princess Rhaenys breaking the news of Viserys' death and Aegon's new position on the Iron Throne to Rhaenyra and Daemon. Daemon gets consumed by rage while Rhaenyra goes into labor. Her screams are heard in the background when Daemon plans a strategy for the war, which accentuates that this man prioritizes power over love. I was not surprised. We have seen Daemon lusting for power in the previous episodes (especially earlier ones).

Since everyone expects to be attacked by the Greens, plans are made to fend them off. Rhaenyra wants to know who is on her side and who is not. Amid all the planning and plotting, Otto Hightower arrives with an offer. He brings a peace offering from King Aegon, offering the following terms: Acknowledge Aegon as king and swear obeisance before the Iron Throne. In exchange, his grace will confirm Rhaenyra's possession of Dragonstone. The possession will be passed to Jocerys, her true-born son, after her death. Lucerys will be confirmed as the legitimate heir to Driftmark and all the lands and holdings of House Velaryon. Furthermore, Rhaenyra's son, from Daemon, would be given places of high honor at court.

Of course, Daemon quickly dismisses the offer. "I would rather feed my sons to the dragons and have them carry shields and caps for your drunken usurper cunt of a king," he says to Otto Hightower. Rhaenyra, too, has no interest in this deal. In fact, she comes towards Otto, removes his badge, and throws it away with disgust. Here, Daemon and Rhaenyra might be on the same page, but overall, they display contrasting thoughts when it comes to handling the ongoing situation. Their closeups are charged with tension and discordance as they face each other from the opposite direction. Daemon wants to win the war with dragons, but Rhaenyra opposes the notion. She does not want to rule a kingdom of ashes. She prefers an option where she could win the war without killing many people.

It's not just Rhaenyra who gets a recap of the events. Rhaenys informs Lord Corlys about his brother's death. He accepts that heedless ambition has always been a Valarian weakness. Furthermore, he pledges allegiance towards Rhaenyra and says they can cut off all seaborne travel and trade to King's Landing.

In order to secure more swords against King's Landing, it's suggested that the support of Winterfell the Arian Storm's End would be beneficial. As ravens are ordered to prepare for the message, Rhaenyra's sons step in and suggest using dragons. You know, dragons can fly faster and are more convincing. Rhaenyra agrees and orders Prince Jocerys to fly north first to see Lady Jane Allen, Rhaenyra's mother's cousin, and then to Winterfell to seek support from Lord Cragan Stark. Prince Lucerys is asked to fly south to Storm's End and treat with Lord Boros Baratheon. Rhaenyra tells the kids to go as messengers, not warriors. She makes them swear under the eyes of the seven.

Its dark clouds and thunders when Lucerys reaches Storm's End (the place lives up to its name). This whole scene is equivalent to a horror movie. The nervousness kicks in as soon as we spot Aemond's dragon. He still wants an eye for an eye and throws a blade in Lucerys' direction. Boros does not wish for any blood to spill in his court and orders his guards to escort Lucerys to his dragon. Aemond is not a person who gives things up easily. He follows Lucerys on his dragon, and we get a very chilling dragon chase. Aemond's laugh is enough to fill the atmosphere with terror. The sight of his dragon flying over Lucerys highlights the former's power over his opponent. The chase ends with Lucerys' death, which at once both shocks and seems natural. Any other conclusion would have ringed false. Rhaneyra is informed about the tragic incident, and her face excites our senses, and you eagerly wait to see her next course of action. And this is where House of the Dragon hits you with a whip and fills you with frustration as the end credits begin to roll. I, for one, want a season 2 as soon as possible.

Final Score – [9/10]
Reviewed by - Vikas Yadav
Follow @vikasonorous on Twitter
Publisher at Midgard Times