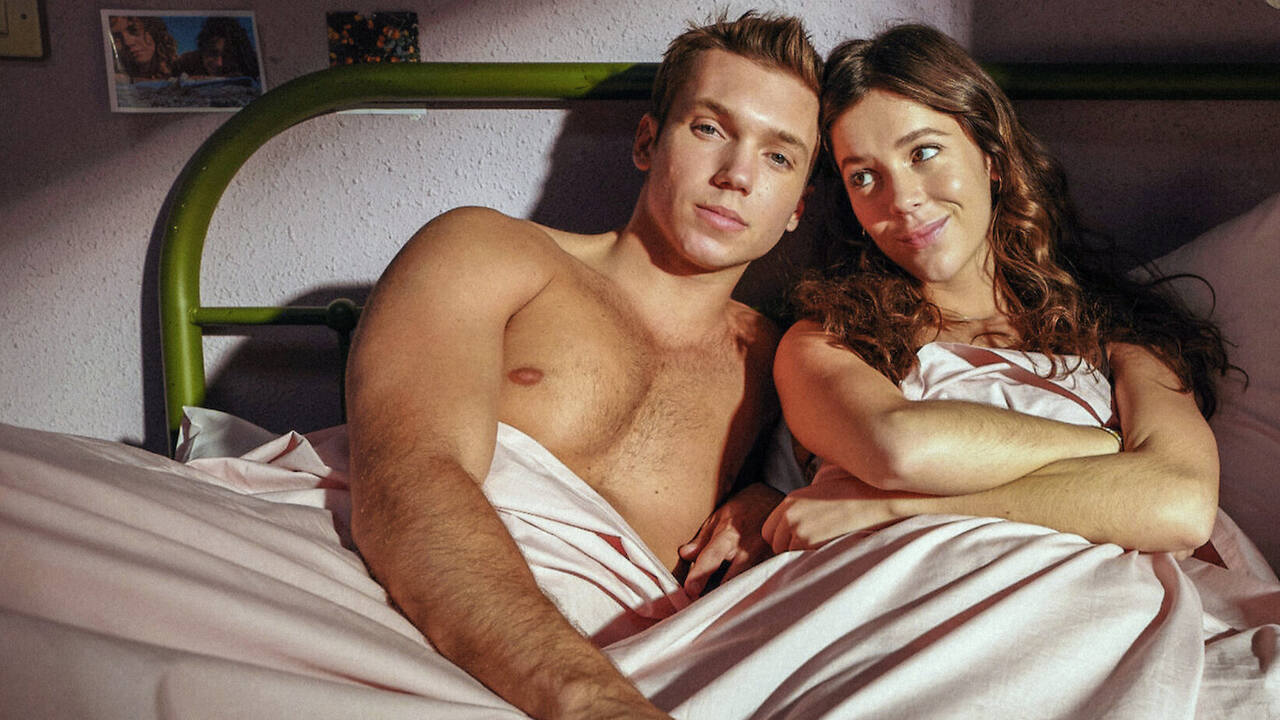 When I read the official Netflix synopsis of the show, I rolled my eyes and thought this show is going to be another one of those sappy and corny romantic shows that populate Netflix. Dejected and having accepted my fate, I pressed Play. But the show exceeded my expectations. It was definitely sappy and corny, but it was also meta and comedic. In fact, the opening lines of the show answered the exact question I had. Irene types that we might have guessed what the story is about or we might not have and there might be surprises in store.

Spanning two decades, the narration of the film will take you on a rollercoaster ride of friendships, breakups, aspirations, and love. We begin with Irene (Georgina Amorós), an aspiring film director who goes to Madrid to attend university. She leaves behind her boyfriend Fer (Albert Salazar), and her parents in her little town. In University, she meets her friends, Da (Carlos González) and Jimena (Blanca Martínez), who become her roommates and partners in crime. During the search for an actor in her short film, she meets Julio (Franco Masini). But he isn't an actor, instead, he's a law student.

The first thing that will instantly make you love the series is how meta it is. Throughout the show, it seems like Irene is writing the script of the show itself and in the series, there are various movies that characters in the show direct to showcase the relationships and incidents they got entangled in. It's delightfully self-referential and has no qualms about it. The comedy is gold when it's just Irene and her friends. When Irene goes to Da and Jimena's apartment to see their spare room, Jimena indicates the fridge and says no one is allowed to eat others' food. She opens the fridge to find her yogurt missing and looks at Da. He closes the fridge door and begins lecturing Irene to divert attention away from him.

This keeps the show coasting along even as we witness the ups and downs in the lives of the characters. However, the show doesn't really have anything substantially intriguing to offer. Even though the narrative tries to make things interesting by jumping across various points in time within two decades, that doesn't work.

In fact, it manages to somehow make the story and incidents duller since it takes away any intrigue of what happens in the lives of our characters. Irene and Julio also simply don't have enough natural chemistry to keep the show afloat through mediocre writing. Also, no amount of Da's quips and comedy can save it as well.

The relationship beats between Irene and Julio are utterly predictable as well and in fact, feel like they were written by a teenager writing fanfiction. For example, the show states that the first time Irene and Julio break up (even though they are not in a relationship) is because he sees Fer visiting her in the hospital and feels dejected since he thinks that his feelings aren't reciprocated. Such corny dialogues and scenes make up the bedrock of the show and unfortunately, no amount of comedy can cut through this overpowering saccharine sweetness.

Overall, with eight episodes in season 1 and each episode clocking in at about 40 minutes, "In Love All Over Again" does test your patience. Whether you want to watch it or not will depend on how much you love romantic movies and their tried and tested tropes.

Final Score – [5/10]
Reviewed by - Ishita Chatterjee
Follow @dracone619 on Twitter
Publisher at Midgard Times