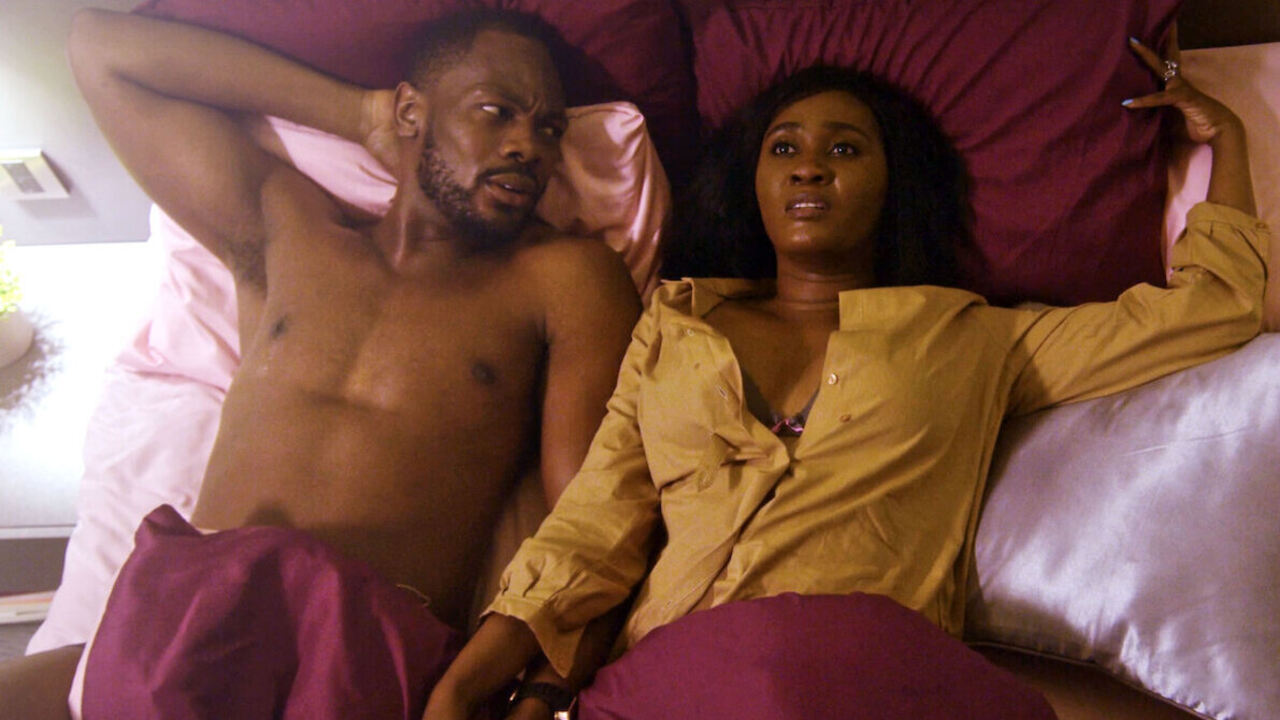 There is nothing jolly about Walter Taylaur's Jolly Roger. It's so inelegant it makes you want to avert your eyes. The movie is devoid of charm and cinematic adroitness. The scenes unfold mechanically and are not held together by an emotional thread. You see things but don't feel anything. Jolly Roger is created with high levels of blandness. It's funny how the movie considers itself to be very important. I would have laughed if I had some energy left in me while watching this drab mess.

Jolly Roger moves between two threads - one takes place in the past and the other in the present. The former is about a childless couple and dips its toes into the superstitions practiced by African mothers. It's a battle between science and old wives' tales, and it causes some rift between the couple Najite (Toni Tones) and Brume (Daniel Etim Effiong). In the present timeline, two corrupt police officers are captured and tortured by two men (Brume and his best friend, played by Deyemi Okanlawon).

Jolly Roger touches on many topics, like superstition, police brutality, infertility, unfaithful spouses, and other scientific means of getting pregnant. Instead of diving convincingly into any of these aspects, it merely uses these subjects as plot devices. It doesn't help that the characters look like cardboard cutouts, as they seem to have no past, present, or future. They simply follow the words written in the screenplay. When you look back at Jolly Roger, you have a hard time remembering the profession of Brume and Najite. Was this ever mentioned? Do we care?

For the longest time, Jolly Roger hides the connection between past and ongoing events. But you can guess what's in the store, which is why the revelation is barely surprising. Don't look for subtext here. Everything exists on the surface, including the performances. The police officers are nothing more than generic bad guys giving generic villain-like expressions. When one of them kicks a pregnant lady in the stomach, you are not disgusted. Rather, you nod as if expecting something like this from such stock figures. The filmmaking is pretty banal, and you almost chuckle when the movie attempts to be stylish through split screens that seem to be inserted out of nowhere.

Jolly Roger is the kind of film where a character says something about a Champagne packing a punch before punching someone. As soon as a character discusses the content of a novel, you immediately predict that it will somehow tie into the overall narrative. Unsurprisingly, your prediction turns out to be correct. It's sad how Najite connects her pregnancy to a love affair instead of telling the truth to her husband. The movie might just be exposing the terrible situation of African women. But the impact of the message is diluted. And all you are left with is a film that moves between two timelines without generating momentum.

Final Score- [3.5/10]
Reviewed by - Vikas Yadav
Follow @vikasonorous on Twitter
Publisher at Midgard Times