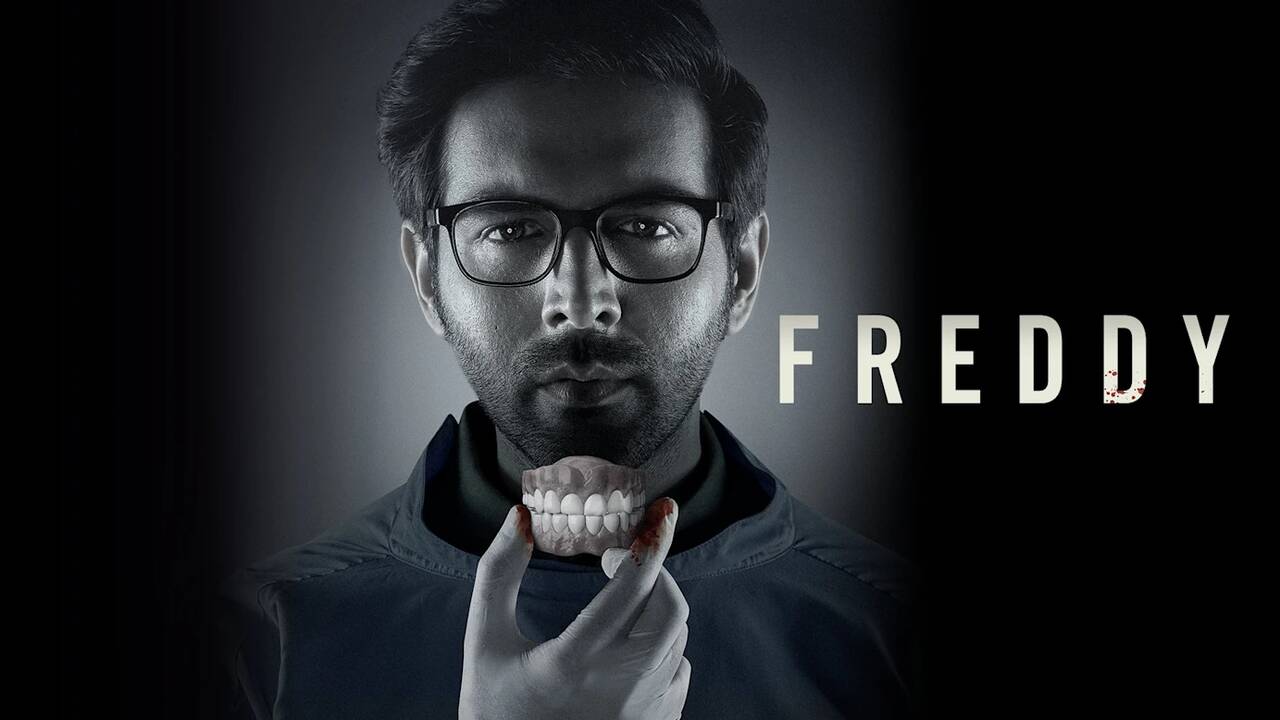 My heart goes out to Kartik Aaryan. Here is a man who hopelessly wants to impress. His performance is defined by excess. Every twitch or smile, or eye movement goes overboard to convey a particular emotion. While watching him, I am urged to take him to a corner and tell him to relax. Just calm down, enjoy your work, and stop putting so much extra effort into your performance. Act for yourself. Act because you love this profession. Stop trying to desperately dazzle the audience. As one of the members, I can assure you that your exertion does us no favors. Your overreaction takes us out of the material.

In Freddy, Aaryan plays the titular character. He is a dentist with a tortoise as a pet (his name is Hardy). Why tortoise? Because Freddy is slow with women. He doesn't know how to approach them and have a conversation. Moreover, Freddy is unable to read them. In the opening scene, he is unable to see that his date is going horribly wrong. The woman leaves by making a work-related excuse and tells him she will call him later. And what does Freddy do? He says he will wait for her call. Even the waiter who serves them notices that she is not into him. It's just Freddy who is slow when it comes to these matters.

Or take the scene where Freddy finds a man with Kainaaz (Alaya F acting at just the right pitch). We quickly grasp what's happening here, but Freddy takes time to comprehend the situation. This moment serves as a twist, but fret not. This is a very predictable film. In the film's first half, Freddy is the tortoise who saunters in the race, while Kainaaz is the rabbit. In the second half, Kainaaz underestimates Freddy (the rabbit takes a nap), which is why she gets defeated.

Kainaaz's fault is that she doesn't say sorry to Freddy after using him to kill her husband. An ugly game ensues because of her arrogance. I was reminded of Maneesh Sharma's Fan, where so many problems occurred simply because a superstar refused to give five minutes to a fan. I liked that film, and I even liked this one. Freddy is an entertaining B-movie that doesn't let predictability become a major issue for itself. Sure, I would have loved to be on edge, not knowing what would or could happen next. But whatever does happen here, it's truly enjoyable to witness.

Freddy has a creepy habit of looking at women's breasts. You think he might be having dirty thoughts in his head. But all Freddy thinks about is starting a family with a soulmate. He imagines himself with his wife and a kid, living happily together. When Kainaaz betrays him, we see him crying in a fetal position. He once again becomes as feeble as that child who could not save his mother from domestic violence. He grows up after realizing that only he can complete himself and that there is no such thing as soulmates. But oh boy, his coming-of-age story is bloody as hell. There is so much emotional hurt and psychological games. I know the process of growing up is not supposed to be easy. However, this one doesn't exactly leave you with a grin. But then, no one wants to see a toothless smile. It's definitely not a charming sight.

Final Score- [8/10]
Reviewed by - Vikas Yadav
Follow @vikasonorous on Twitter
Publisher at Midgard Times