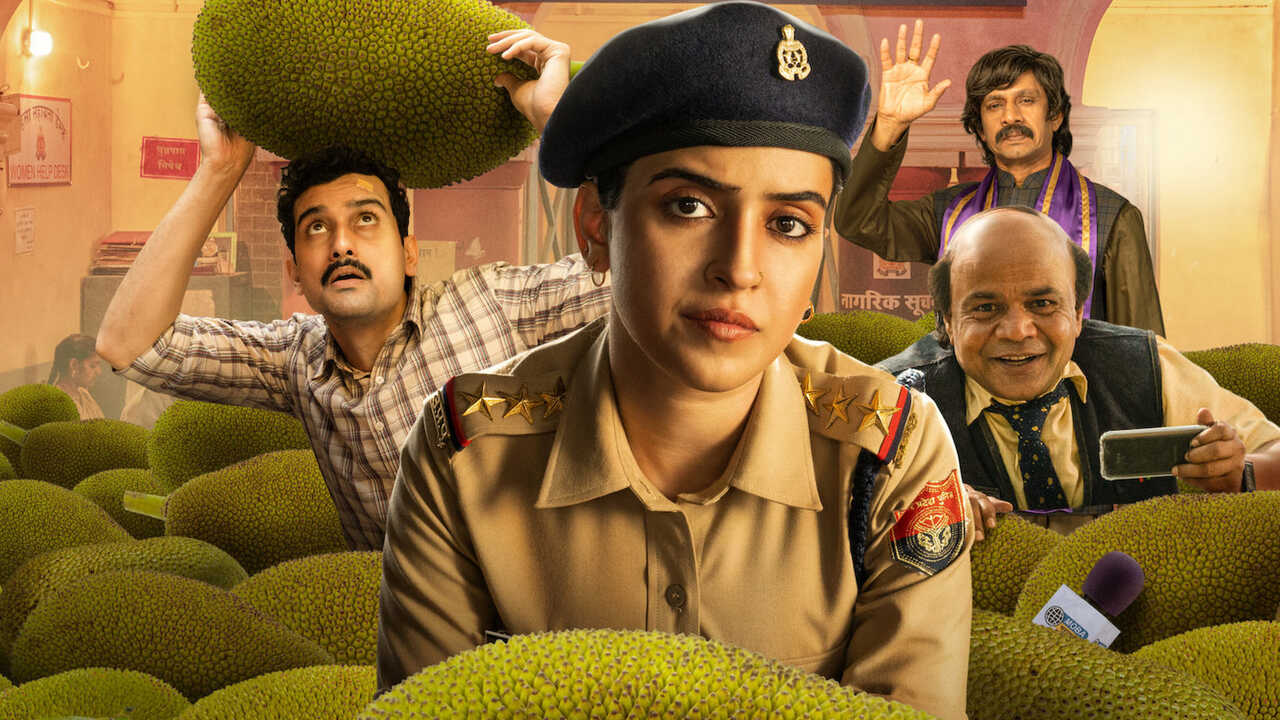 In Kathal, director Yashowardhan Mishra tries to raise the "quirky meter." The movie, after all, is about an investigation of a stolen...jackfruit. And it's not just any jackfruit. Its name is Uncle Hong. This is imported stuff, and the local MLA, Pateria (Vijay Raaz, excellent as usual), is proud of them. That's why he raises hell when two jackfruits disappear from a tree in his garden. Who's the culprit? Is it the gardener or his daughter? Pateria looks at his son-in-law with suspicion and never misses an opportunity to pass a snarky remark on him. Their squabbles give rise to some amusing moments, like when the son-in-law confronts a dog in the garden.

Kathal certainly is packed with amusing moments. During a chase sequence, a police officer sits on a faulty cycle. An SP remains unsure about a criminal's charges during a press conference. The crooks throw vegetables at the cops during the final confrontation. A man wears a fake Nike T-shirt named Naik. In this waggish world of Kathal, inspector Mahima Basor (Sanya Malhotra) brings in some amount of sensitivity and seriousness. She is surprised by the attention everyone gives to jackfruits and shows empathy towards an old man who comes to file a complaint at the police station. Now and then, Mahima breaks out of the quirky mode and displays fiery behavior. When she notices a cop beating some poor people, she screams, "Vardi mili hai, maarne ka license nahi."

Kathal takes its tonal cues from Mahima. Like her, the movie often takes a short break from comedy routines and puts on a solemn demeanor. Hence, the scene where a father begs the police to find his daughter and the one where Mahima questions Sourabh (Anant Joshi) whether he doesn't feel the pain of the helpless individuals. The latter has an unsubtle blocking as both the characters are separated by a door, and one of them mentions that there is a wall between them. Kathal struggles when it attempts to be "meaningful." The light-hearted scenes tell us that we shouldn't take any of this with seriousness. But then, we have these humorless moments that try to make the mood sober. During such instances, Mishra looks uncomfortable, which is why it's such a relief that he quickly moves on to the next jokey event.

Mahima might remind you of Anjali Bhaati from Dahaad. Both are strong and competent police officers belonging to a lower social status. On the other hand, Malhotra's presence reminds you of Pagglait. In that movie, this actor was surrounded by names like Sayani Gupta, Sheeba Chaddha, Ashutosh Rana, Raghuvir Yadav, and Rajesh Tailang. In Kathal, she is in the company of actors like Vijay Raaz, Rajpal Yadav, Neha Saraf, and so on. What's so appealing about Malhotra is that she doesn't steal the spotlight from these other actors. She integrates herself amidst other cast members and works like a team member (someone else might have used their "bigness" to appear more prominent). Malhotra has such a lovely presence. Her voice here exudes maturity as well as childish enthusiasm. Observe how she displays frustration when a man asks his wife to do all the household chores or a character constantly brings up his stolen vehicle. She doesn't overly exaggerate her expressions.

I liked what happened with that stolen car and some other moments. However, not all the jokes work in Kathal. Wait, let me reframe that sentence: Not all jokes leave an impression. A zany material like this requires a steady supply of solid zany humor. Kathal only sporadically satisfying in that respect. There are times when it uses its "carefree" tone to come up with lazy developments, like that scene where Sourabh comes across the "stoner forensics guy," Srivastav (an underutilized Brijendra Kala), outside a cyber cell headquarter. Kathal works best when it doesn't try to preach or underline its points. A "Mathura mein rehna hai toh Radhe Radhe kehna hai," line from a song is not so different from the "Bharat mein rehna hai toh Jai Shree Ram kehna hai" chants that have become popular in today's climate. And it's so nice that a lawyer is not given a speech regarding his sexism. Instead, we get a scene where a girl tears her jeans and goes out to play with other children. The movie subtly (and gently) seems to be saying, "Do what makes you happy and don't care about the idiots." It's a very sweet message.

Final Score- [6.5/10]
Reviewed by - Vikas Yadav
Follow @vikasonorous on Twitter
Publisher at Midgard Times