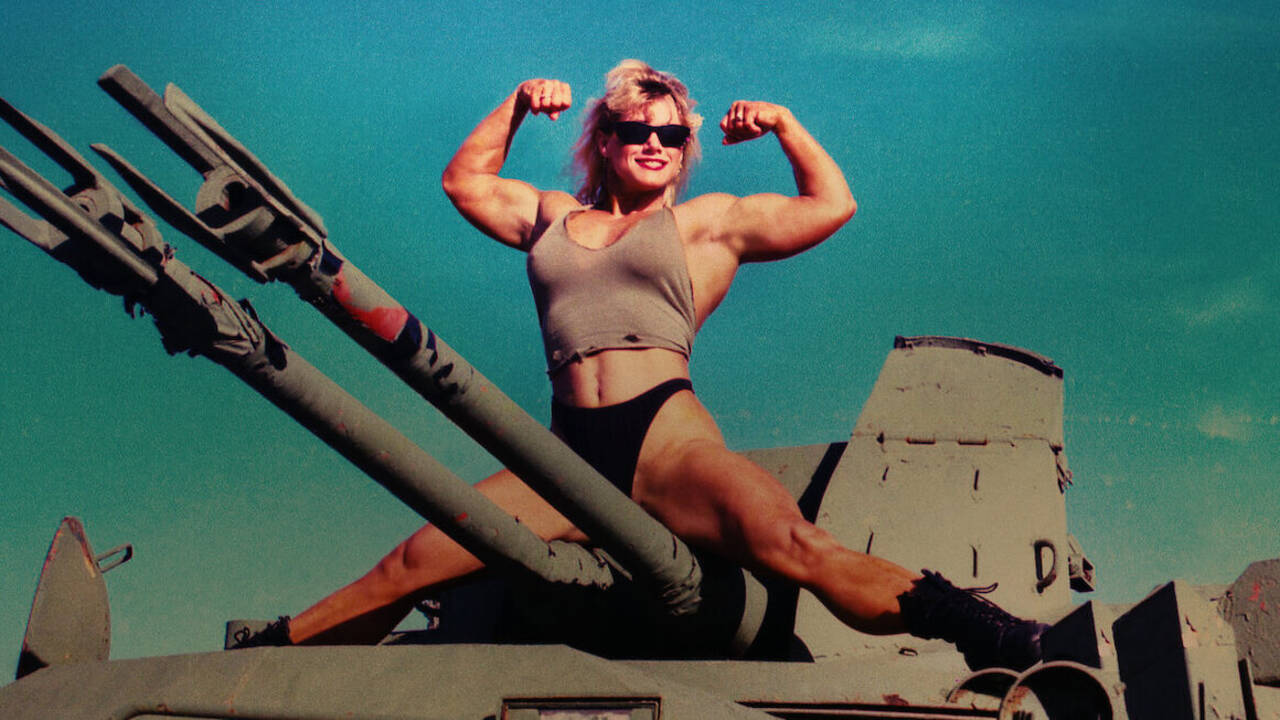 Killer Sally, the three-episode docuseries on Netflix, fixes itself on Sally McNeil, a bodybuilder who shot her husband, Ray (also a bodybuilder), on Valentine's Day in 1995. The documentary follows a formulaic template. It starts on a happy note, talks about the subject's life, reaches the main point, and then reveals that the story might not be as plain and straightforward as it initially seemed. So many documentaries (many of them on Netflix) follow this similar method of storytelling. What made Killer Sally a little special for me was the fact that I got to learn a few things about the world of bodybuilding.

For instance, bodybuilders need to strike some eight poses during competitions. The main contest, however, is Mr. Olympia, which is described as the Super Bowl for muscular people. Arnold Schwarzenegger apparently brought this craze for developing a beefy physique into the mainstream. The field of bodybuilding has its dark sides. Everyone loved gazing at brawny men, but no one (or very few people) wanted to look at muscular women. Since most of the guys were disinterested in seeing well-built females, the girls attracted less crowd, and that meant they weren't paid much. A seven-time Ms. Olympia winner says she was given $27,000 while a man was rewarded with $1,50,000.

Bodybuilding is an expensive hobby. Most of the money goes into steroids; yes, every top 5 contestants took pills to enhance their body. But some women, like Sally, found ways to make money. They could either act in wrestling films or do private sessions for men who liked to be handled by women. Sally did both gigs. She even started her own company and made films like Snow Job (I would very much like to see it). Sally's daughter, Shantina, mentions that she didn't want her mother wrestling with creeps, but Sally didn't mind because she earned a lot of money. And money outweighed all the other things.

Sally's love story starts with lust at first sight. At first, we are told how much the couple loved each other and how Sally gave everything to their relationship. The kids say their parents were goofy and attracted attention due to their unusual appearance. Slowly, the image of perfection cracks, and out comes the horrors of an abusive relationship. Ray not only had affairs with other women, but he also used to beat his wife and his kids. Sally calls him a monster, while his best friend describes him as a gentle giant with a short fuse. Sally confesses that she encouraged the abuse by not doing anything to prevent it ("I had got used to a certain amount of violence"). Then one day, she got furious and scared and frustrated with this 260-pound weapon (and his affairs) and killed him with a shotgun.

But is the story as simple as that? Did Sally act out of self-defense? Killer Sally tries to introduce contradictory viewpoints, but those people appear like villains. Despite what's written in the title, the documentary sees Sally as a victim, not a killer. The point then of inserting other angles seems like the documentary's way of saying, "Hey! I can listen to different opinions." Of course, listening to it does not automatically translate to embracing any of it. Ray's friends and that lawyer come across as "bad guys." From the beginning, we are attached to Sally's side, and Killer Sally prevents us from accepting any idea that paints her as a villain. Then again, it could just be me, as you might end up watching Killer Sally with a neutral lens, which is how I expected (and wanted) to view it.

Anyway, let's put aside the matter of guilty/not guilty and consider other aspects of Killer Sally. A 911 call and CCTV footage of Sally with her kids at the police station look like manipulative devices. One of them attempts to intrigue us, while the other makes an effort to move us emotionally. Since you can clearly notice the intention behind these choices, they fail to achieve their objective. But I won't deny that I smiled during Sally's wedding at the end. It's always nice to see someone happy, and I am glad she found someone to spend her life with.

Final Score- [6.5/10]
Reviewed by - Vikas Yadav
Follow @vikasonorous on Twitter
Publisher at Midgard Times