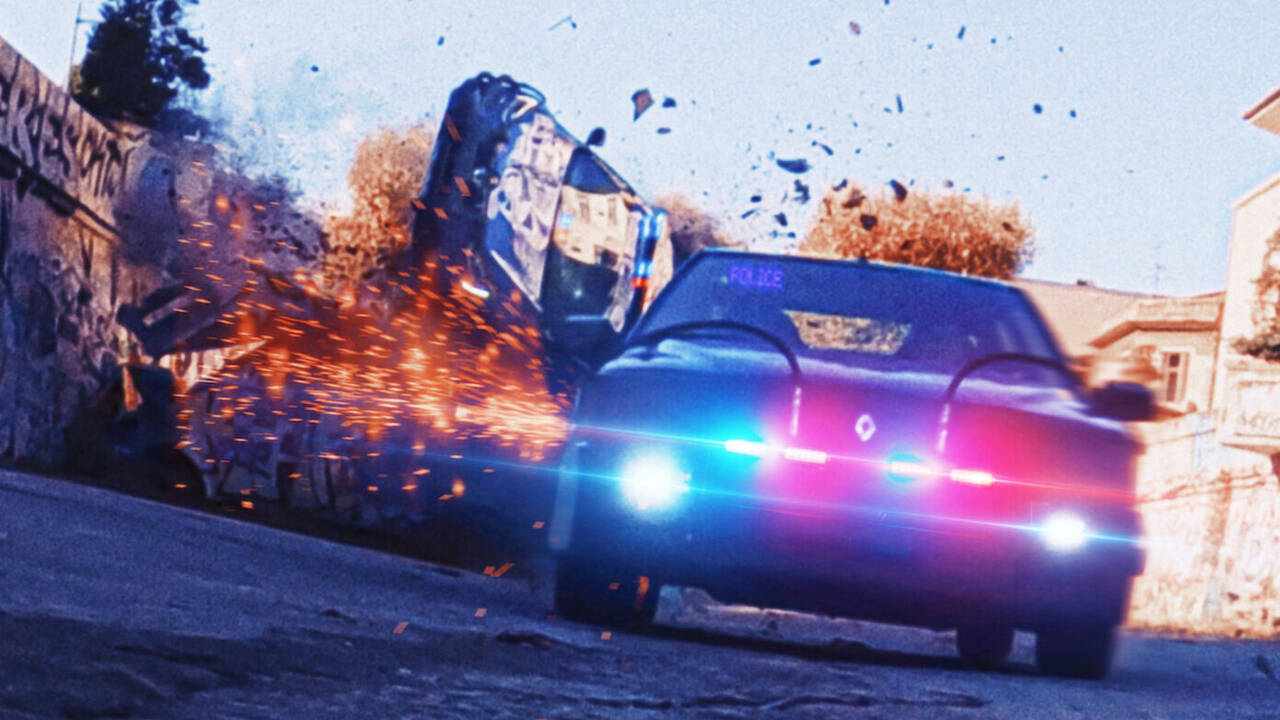 Perhaps, director Guillaume Pierret wasn't so sure that he would get to make a sequel to Lost Bullet, which is why he ended the first film with Julia (Stéfi Celma) and Lino (Alban Lenoir) giving a farewell to Charas' car and walking out together.

Lost Bullet 2 changes that climax and starts with Lino in the hospital (he crashed through a windshield at the end of Lost Bullet). The other threads remain the same. Lino's brother is dead, Areski (Nicolas Duvauchelle) has run away, and Marco (Sébastien Lalanne), who was handcuffed by Lino, has got himself a deal with the police. That last point is hidden from Lino, as Moss (Pascale Arbillot) doesn't want him to go after Marco.

During the opening scenes of Lost Bullet 2, Lino is haunted by the events of the first film and tails Areski's wife every day, hoping that Areski will make contact someday. He may not appear for his wife and daughter, but some men do break into the wife's house one day. Luckily, Lino is present at the scene during the break-in. He punches the masked men to death and saves the wife and her child from an ugly incident.

Notice the way Lino beats up the bad guys inside the house. While punching one of them, he looks at the other two men standing at a distance as if teasing them. Pierret is a very talented action director. He does not merely orchestrate violence but finds a way to deliver emotions through them. During a car chase, Lino stops his car as soon as Julia's vehicle crashes. Later, Julia does the same when Lino's car dismantles. It tells us that no matter what the situation, these two will always care for each other.

But the action is not just about conveying feelings to us. Pierret uses cars like a kid using a toy. He loves playing with four-wheeled metals, and his joy becomes palpable when cars blow up like firecrackers (Lino hooks them with metal claws and fulminates them with electric currents). Pierret knows that people who liked Lost Bullet would come again for the action sequences. Well, he really understands the art of crafting chaos and violence. He doesn't go too over the top a la Fast & Furious because he knows extravagance does not equal excellence.

One of the memorable scenes from the first film had Lino breaking out of a police station by defeating many police officers. Something similar can be seen here again; this time, Pierret increases the number of officers attacking Lino. This doesn't mean the movie constantly tweaks and repeats the formula of the first film. It has its own cars to blow and a story to tell. Of course, the story is nothing but a rope on which the action is hanged. However, that should not make you conclude that everyone merely sleepwalks here. While the director organizes violence, the actors commit to his vision with vehemence. Lino does look grief-stricken, and Julia does look like a fighter because both Lenoir and Celma act and not just goof around to collect their paychecks. Pierret might not have been sure if he would get to make Lost Bullet 2, but he is confident he will make Lost Bullet 3.

Final Score- [7.5/10]
Reviewed by - Vikas Yadav
Follow @vikasonorous on Twitter
Publisher at Midgard Times