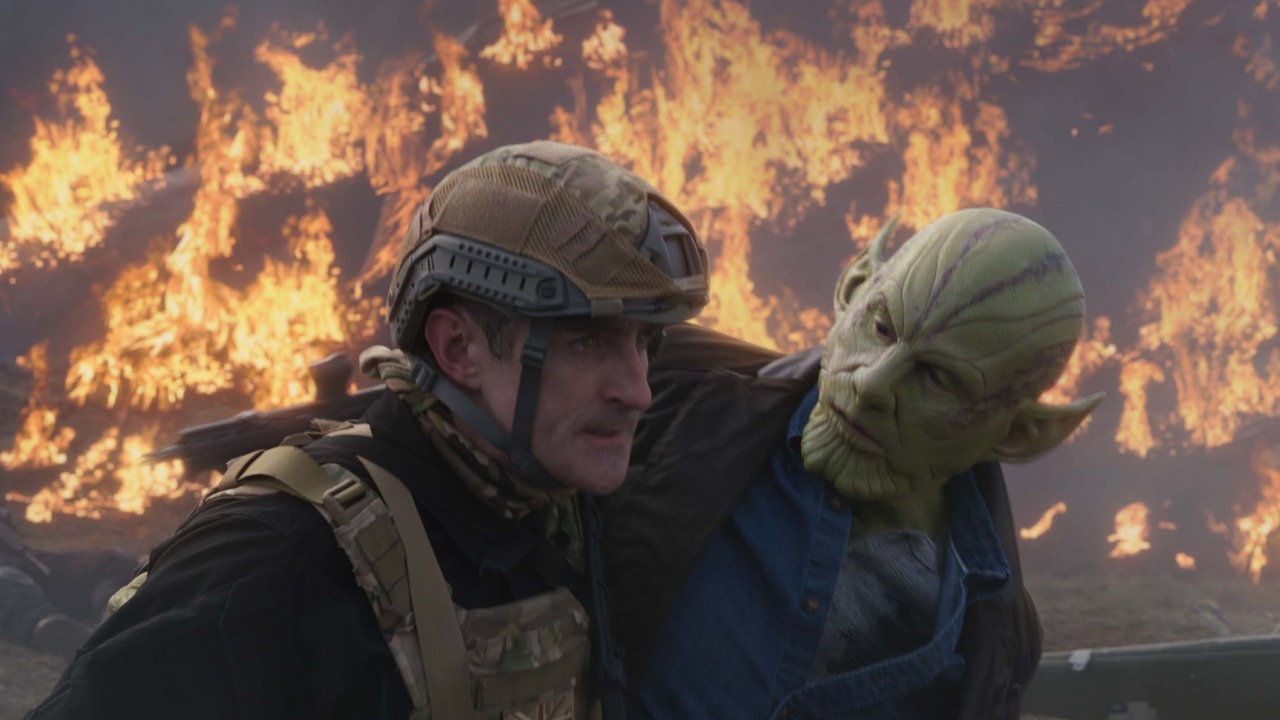 The fifth episode of Marvel's Secret Invasion is about to drop on Disney Plus, and fans are eagerly waiting to see what will happen next in the thrilling series that pits Nick Fury and Talos against a rogue faction of Skrulls led by Gravik. The series has been full of twists, turns, and surprises, as we learned that some of our favorite characters are actually Skrulls in disguise. Here's a preview of what to expect from Secret Invasion Episode 5, as well as some rumors and theories about the show.

The fourth episode of Secret Invasion was a roller-coaster ride of emotions, as we witnessed some shocking revelations and heartbreaking deaths. G'iah, the daughter of Talos, turned out to be alive and a Super-Skrull, but she was not on board with her father's plan to seek amnesty for the Skrulls. She was still loyal to Gravik, the leader of the Skrull rebellion, who wanted to conquer Earth by any means necessary. Priscilla, Fury's partner, was also a Skrull working for Gravik, but she had a change of heart and spared Fury's life.

However, she also made herself a target for Gravik's wrath. Fury discovered that Rhodey was a Skrull too, and a female one at that. He planted a tracker on him and followed him to an assassination attempt on President Ritson, who was also involved with the Skrulls. Fury and Talos were able to prevent Ritson from being killed, but Talos appeared to die in the process.

Secret Invasion Episode 5 will be released on Wednesday, July 19 at 8 am GMT, exclusively on Disney Plus.

The fifth episode of Secret Invasion is the penultimate one, and it promises to be a thrilling one. We can expect some major developments and cliffhangers in the story, as well as some answers to our burning questions. What will happen to Scilla? She has betrayed both sides and has nowhere to go. Will she try to redeem herself by helping Fury or G'iah, or will she go down fighting when Gravik or his agents come for her? How will G'iah react to her father's death? She was already a radical, but this might push her over the edge. Will she join forces with Gravik or try to take him down herself? Will she confront Fury or Talos (if he's alive) and blame them for her father's death? When will Rhodey's Skrull identity be exposed? Fury knows about it, but he hasn't revealed it yet. How long can Rhodey keep up his act? When did he become a Skrull and what does this mean for his character in the wider MCU? How long will Ritson remain President? He survived the previous episode, but his tenure might be short. Will he be impeached or assassinated by another Skrull agent? Will he reveal some secrets about his involvement with the Skrulls or S.W.O.R.D.?

Secret Invasion has been generating a lot of buzz and speculation among fans, who have been coming up with various rumors and theories about the show. Is Talos really dead? He seemed to die in the previous episode, but fans think he might have faked his death to fool Gravik or infiltrate his base. Is Maria Hill also a Skrull? She has been working with Gravik all along, but she might be hiding her true identity. Is Everett Ross secretly working for S.H.I.E.L.D.? He has been trying to help Fury from behind the scenes, but he might have ulterior motives. Will the series end with a massive Skrull reveal? It might change everything we know about the MCU as per the showrunners.

Below is the teaser trailer for episodes 5 and 6 of Secret Invasion: