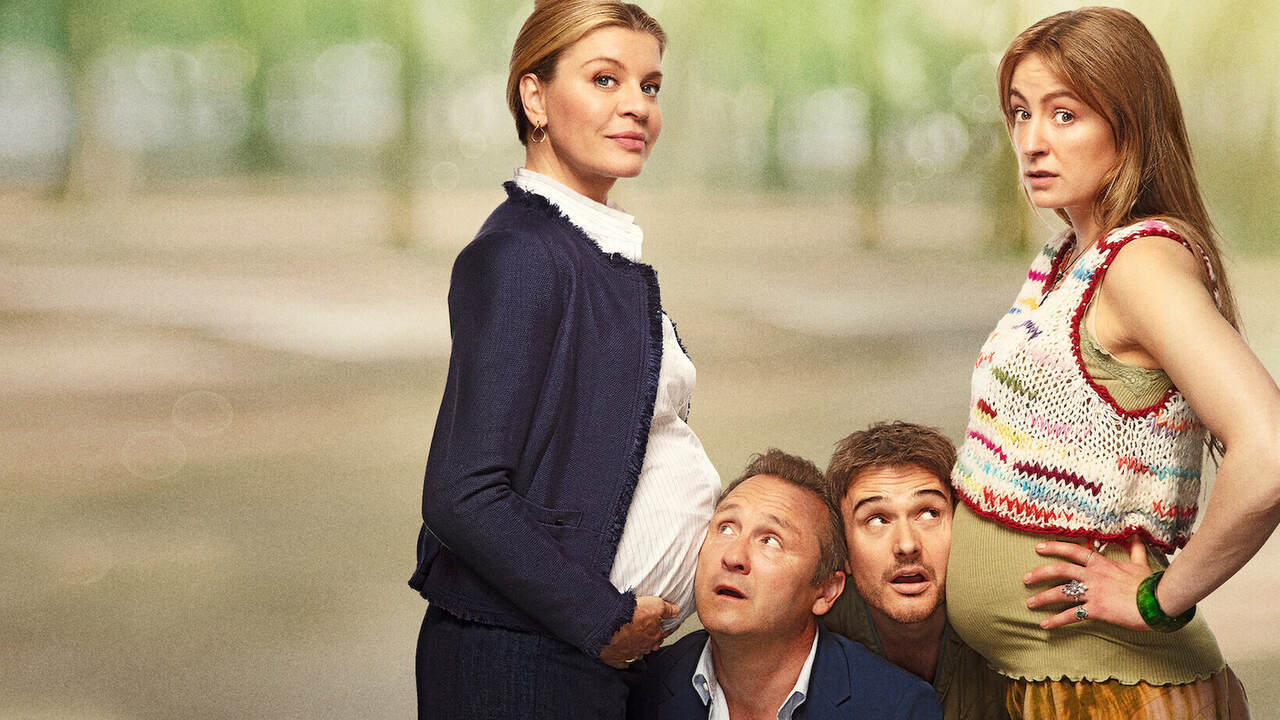 "Maybe Baby" walks a fine line between being a comedic gem and a head-scratching journey through the world of fertility mix-ups. Directed by Barbara Topsøe-Rothenborg and released in Denmark on March 16, 2023, this film is like that of one relative at family gatherings who are simultaneously entertaining and exasperating.

In the realm of fertility comedies, "Maybe Baby" joins the ranks of its predecessors, but it doesn't necessarily stand out as a trendsetter. The Danish film scene has been serving up similar concoctions like "Lykkelige utsunden" and "Esker dig for tidden," and now we have "Bytte byte baby." While it's commendable to strike while the iron is hot, it's equally essential to bring something fresh to the table. Unfortunately, "Maybe Baby" leans heavily on the tried-and-tested formula, making it feel like a familiar, albeit slightly worn-out, sweater.

The characters in the film, portrayed by Danica Curcic, Amanda Collin, Rasmus Bjerg, and Julie Agnete Vang, do their best to infuse life into the story. Yet, despite their efforts, the characters lack the depth and nuance that could have elevated the film to a higher comedic plane. It's as if they're trapped in a sitcom where their quirks are dialed up to eleven, leaving subtlety at the door.

However, the brilliance of "Maybe Baby" lies in its ability to use comedy to highlight the conflicts and prejudices that arise from cultural differences. Young versus old, rich versus poor, highly educated versus artisans—it's a potpourri of societal divisions. The subdued men versus the strong women dynamic plays out hilariously, as does the clash between vegans and meat eaters. This film creates a surreal world where everyone, from the colony garden dwellers on Amager to the mansion owners on Strandvejen, can relate.

"Maybe Baby" is a calculated genre piece aimed squarely at those with baby fever. If you've ever found yourself in that category, you'll find plenty to relate to here. However, if you're not part of this demographic, you might feel like an outsider at a baby shower where you're the only one without a cute onesie to gift.

Now, let's not forget our newcomer, Pia Konstantin Berg, and her first writing credit. She does inject some fresh humor into the mix, and her contribution is a glimmer of hope in an otherwise familiar landscape.

In the end, "Maybe Baby" is a film that doesn't quite deliver on its comedic potential. It's a well-intentioned attempt at exploring the chaos of pregnancy mix-ups, but it often feels like it's going through the motions. So, if you're in the mood for a lighthearted comedy with a side of baby mania and don't mind the occasional déjà vu, then "Maybe Baby" might just be your cup of tea. Just be prepared for a film that, while entertaining, leaves you wondering if it could have been a tad more inventive and daring in its comedic pursuits.

Final Score- [4.5/10]
Reviewed by - Anjali Sharma
Follow @AnjaliS54769166 on Twitter
Publisher at Midgard Times