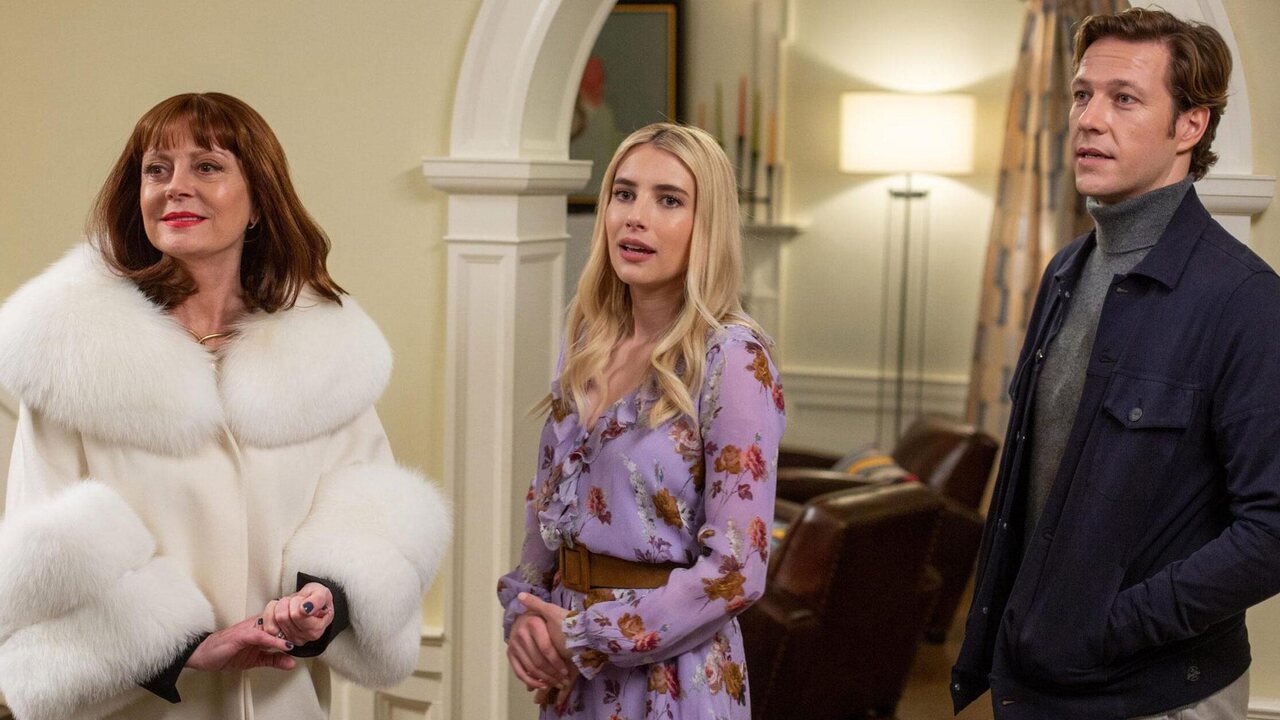 An old man sits in a movie theatre sobbing. At the same time, he also tears into an unhealthy amount of popcorn, licorice, and M&M's. As he sobs, a woman notices this and decides to approach the lonely man to know what led him to this. In a different place a man and a woman are sharing a fancy hotel room, engaged in adultery but with gloom rather than joy. All while a marriage takes place, where the groom's friend ensures that his girlfriend doesn't catch the bridal bouquet that seals his destiny to a marriage.

This is how the director introduces us to the main cast of characters of this dramedy that deals with marriage, infidelity, and love.

"Maybe I do" is a 2023 movie written and directed by Michael Jacobs. It stars some of the most respectable and renowned actors in the film industry. Academy Award winner and 3 times nominee Diane Keaton, Screen Actors Guild award winner Richard Gere, and another academy award nominee William H Macy among others. The cast is so immensely talented that they could just fill a room with awards they've been nominated for. This makes one wonder why they'd take part in such a by-the-book rehashing of the 90s romantic comedy genre. It has a total runtime of 1 hour and 35 minutes.

"Maybe I do" is like a twisted version of the Indian film "Kabhi Alvida Naa Kehna". The plot essentially revolves around Michelle and Allen's relationship. After the incident where Allen catches the bridal bouquet so as to ensure that Michelle doesn't catch it, she gives him an ultimatum for marriage. They both go to their parents to think it over. This is where the viewers discover that Michelle and Allen's parents are having an affair with each other's partners. When they eventually meet and discover the predicament, what transpires is the crux of the film.

This film is very easy to dismiss as another 90s nostalgia cash grab because it definitely feels like it. From the poster to the actors' choices and the predicament of love and infidelity. These are all themes that got popularised during that time, and the film brings it all back together. However, despite all that the film managed to keep me interested in watching, and I was curious to see where it went.

The film as a comedy isn't necessarily laugh-out-loud funny, but it has moments of wit and humor which did resonate with me quite a bit. I felt that the characters despite being written like shallow archetypes felt real because of the performances of all the senior actors present in the film. I especially loved the portrayal of the crude and vicious Monica by Susan Sarandon. The dialogue between the characters and the theories they put together about marriage and love is entertaining and interesting definitely to say the least. They're flawed and the director puts that in the forefront, maybe a bit too forgiving. Also, You're bound to feel sorry for Macy's character specifically, Sam.

The idea of pursuing someone permanently, in perpetuity isn't easy. This film tries to have a layered take on that but just comes off as an attempt to excuse cheating and infidelity as mistakes that can be corrected. The characters react very meekly to the information they discover and it does feel like a stage play because of that. The film at the end of the day isn't as bad as it might look from the outside. I'd even recommend this film if you're someone who is scared about the idea of marriage because even if the film can't provide closure to your thoughts on the topic. It can certainly start a dialogue about it. Especially if you watch it with your partner. As someone who enjoys cheesy romantic films deep down as a guilty pleasure, this film does have some appeal for me at least. If you're like that, I'd again recommend it to you.

Also, I forgot to mention that Emma Roberts is especially cute in this film. Though her unflinching desire to get married and take that leap of faith might have something to do with that. Allen, on the other hand, continued to remind me of Hugh Grant from Notting Hill.

Final Score – [6.5/10]
Reviewed by - Aayush Chaurasia
Follow @AayushChaur44 on Twitter
Publisher at Midgard Times