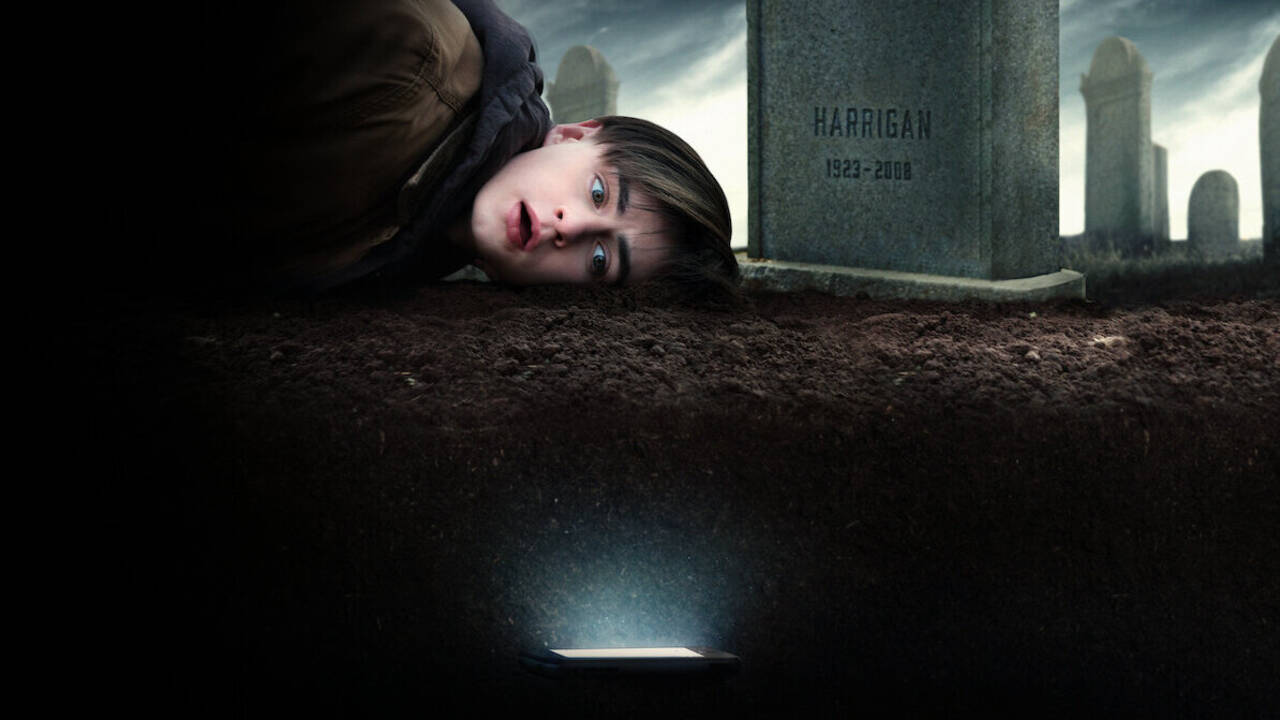 Mr. Harrigan's Phone, John Lee Hancock's new "horror" film - adapted from a novella written by Stephen King - is so bland and infuriating that I am almost surprised it exists. This should not have been the case, ideally. I mean, just consider the basic idea running this film: A commentary on our addiction to smartphones packaged with the wrapper of horror. Neat, right? Unfortunately, this short description sounds more interesting than the whole film. Text messages from a dead person should keep you awake at night and not make you yawn from ennui. Mr. Harrigan's Phone forces you to wonder if you are making a mistake watching this film when you could have a much better time on your phone chatting.

The movie collapses because it's oddly incurious. It treats its characters as props and shows eagerness toward screaming bullet points (Gizmos? Bad. Bullies? Bad. Requesting someone's demise? Bad). Take Craig (Jaeden Martell). Craig blames himself for the death of his mother. Why? A vague line is provided as an "explanation," which only made me scratch my head. Okay, let's forget that and move on. Why is Craig not that close to his father (Joe Tippett)? He seems to be cool and open to conversation. He might initially shoot down his son's request to buy him an iPhone, but he does end up gifting him the phone. Mr. Harrigan's Phone possibly hints at a lack of communication to be the reason behind the slight distance between father and son, which is something you infer from the scene where Craig tells how his father greatly misses his mom. They are seen going through some bills, and a young Craig silently looks at his father, whose eyes look forlorn and are covered with shadows.

But the movie needed to be more specific because these suggestions do not immerse us into the film. As a result, the drama is severely undercut. Craig's intimate relationship with the wealthy-but-alone John Harrigan (Donald Sutherland) drives his real father a bit jealous. Remember the iPhone given to Craig by his father? Well, the first phone call he makes with the phone goes to John. Moreover, he provides John with his own smartphone, and they save each other's numbers in the favorites list. If Mr. Harrigan's Phone had a flair for drama, we could have dived into some fatherly competitiveness.

Alas, all Mr. Harrigan's Phone is capable of is squandering its own potential. If you are not Craig, you come and go without making any dent. But then, Craig himself, even after being there in almost every frame, fails to make a dent. His friends, including a bully at high school, are treated as extras in the background. His girlfriend barely utters any sound, so don't expect their romance to be passionate. She asks Craig if he would be her dance partner through text, which makes me wonder if their first kiss had happened through emojis themselves. There is a teacher, Ms. Hart (Kirby Howell-Baptiste), whom the students adore. Yes, you can include Craig. But how does he actually see her? Does he think of her as a mother figure? Or is there a whiff of romance in this teacher-student relationship? The latter notion arises when Ms. Hart cleans up Craig's wounds. The camera observes them so closely, you think the moment would lead to petting or merely a kiss.

John observes that the Internet could mislead with fake news and conspiracy theories. In other words, he predicts the future of the World Wide Web. Mr. Harrigan's Phone wants to warn us about technology. It seems to be saying, "Throw away smartphones. They could be fatal." Duh. You don't need a vapid movie to tell you this. And anyway, the movie is not sharp or focused enough to drive this point. We are so disengaged that the particulars regarding someone's death (he apparently swallowed a soap) don't shake you up. When Craig deciphers cryptic text messages, we don't feel as if he used his brains. Instead, we believe that the mystery was solved because Craig read the screenplay. Mr. Harrigan's Phone is dull, not scary, passionless, not creepy, frustrating, not frightening.

Final Score – [3/10]
Reviewed by - Vikas Yadav
Follow @vikasonorous on Twitter