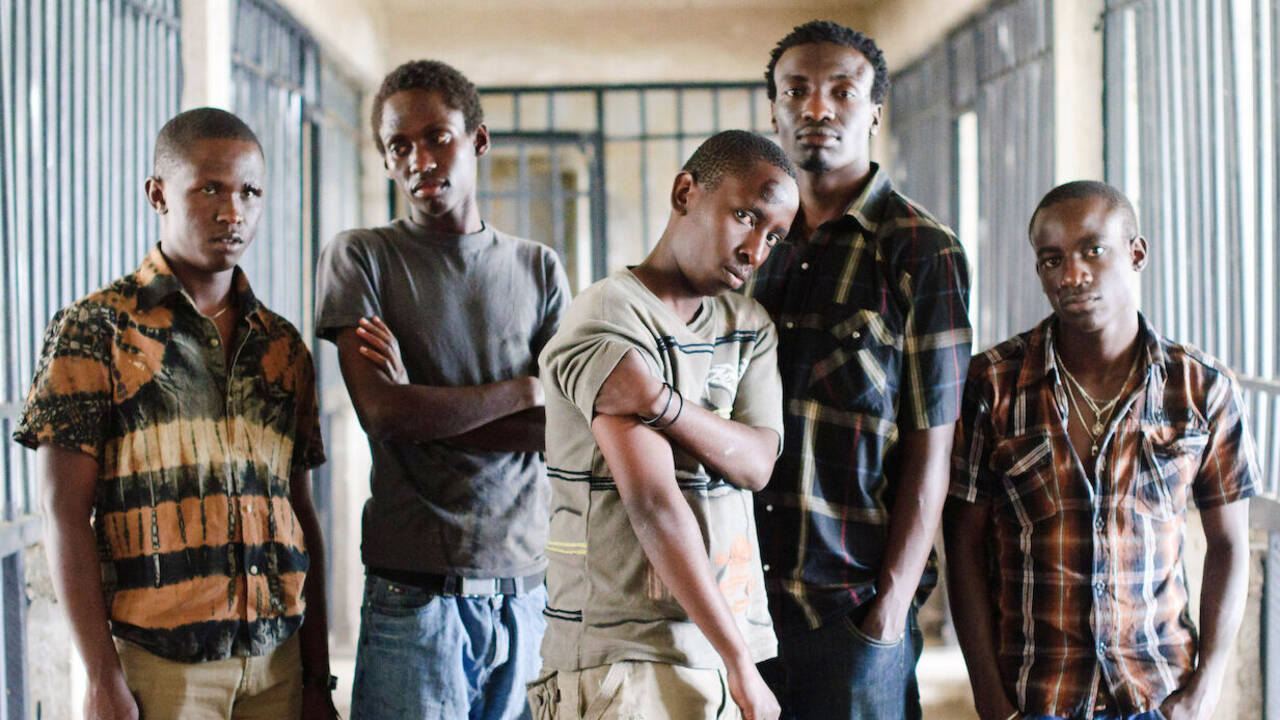 Nairobi Half Life is about Mwas, a young boy from a village who makes his living by enacting scenes from Hollywood action films and selling their copies. He has a dream of becoming a famous actor and thus when a group comes to perform in their village, he reaches out to one of its members. The person guides him to come to Nairobi at the National Theatre and tells him that it's very crucial to have an agent. He offers to be his agent only if he gives him ksh5000. After some bargaining, the man lowers the price to ksh1000, but Mwas only had ksh500.

Heeding the advice of this man, Mwas decides to go to Nairobi. As soon as he gets off the bus, he is attacked by five to six thugs who snatch everything that he had brought with him. At this moment, it became clear to him that surviving in this strange city won't be easy. You'll either have to be a thief or someone who possesses the power. On the very same day, he gets locked up in prison by the Police as he was thought to be a part of some gang. In jail, he comes across Oti who gave him his contacts.

Mwas soon gets involved with Oti's gang and makes money by stealing car parts. He was in debt to his cousin, and to get rid of it, he proposes the idea of stealing cars. Their first experience almost got them killed, but the subsequent ones were quite successful. Seeing the success of Oti's gang, a fight breaks out between Dingo's gang and the former gang. Amid all this, Mwas kills Dingo accidentally. The Police arrive at the scene and two corrupt officers take Oti's gang under their protection. They were taken so that the Nairobi Police can frame them for crimes they weren't even aware of.

Constantly struggling between his dreams and the means of livelihood he chose to survive, Mwas was never able to live a wholesome life. He was always caught between the two. Just after a few days of coming to Nairobi, he got selected for a play and made friends there. If he wished, he could have gone towards a brighter path, but the dark penetrated so deep that he barely made it out alive.

Nairobi Half Life was released in 2012 in Kenya. Directed by David "Tosh" Gitonga, the movie was selected as Kenya's entry to 85th Academy Awards. Unfortunately, it didn't end up winning but still made history as it was the country's first entry under the Best Foreign Language category at the Oscars. Joseph Wairimu, who played the lead role of Mwas, won the award for Best Actor at 33rd Dublin International Film Festival and the Most Promising Actor Award at Africa Movie Academy Awards. The film has won several other awards, including the Africa Magic Viewers Choice Awards 2014 for Best Cinematographer, Best Lighting Designer, Best Art Designer, and Best Make-Up Artist.

In my opinion, Nairobi Half Life is a great film to watch, as it keeps the audience hooked with twists and turns until its last scene. Mwas was a struggler and entered the dark world so that he can make a living. If he hadn't committed those crimes, the city would have eaten him alive. All the actors have done a great job. The screenplay of the 96-minute-long film was never constant and was successful in holding the attention of the viewers. Joseph Wairimu, the lead actor had done such a wonderful job of portraying Mwas and his inner struggles.

Final Score – [8/10]
Reviewed by - Riya Singh
Follow @_riyasinghhh_ on Twitter
Publisher at Midgard Times