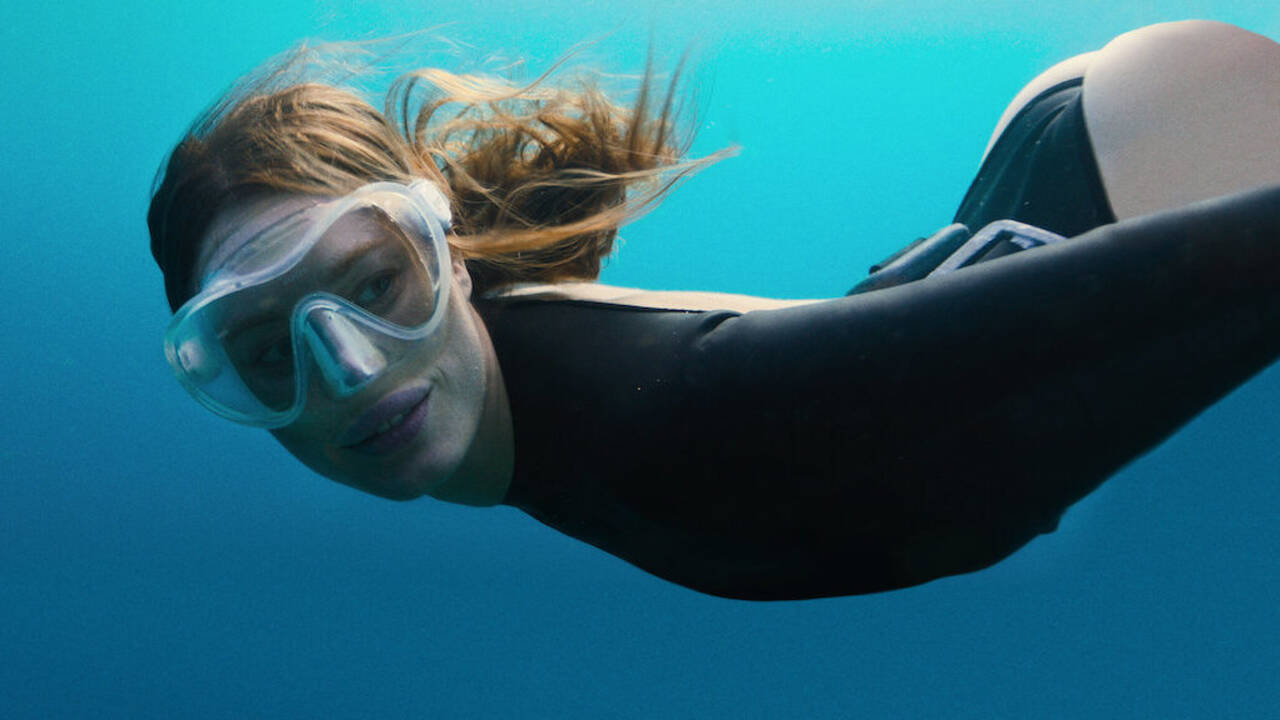 Two lovers, two divers, and competition is the basic plot of No Limit. Roxana bunks her college and goes away for a weekend after she fought with her mother. In her childhood, she used to dive with her grandfather, but after losing him she decided not to go to the beach. One weekend, she made up her mind to try diving. On the boat, she meets world champion and various record holders Pascal Gautier. Both are instantly attracted to each other.

People around Pascal knew about his random hookups and didn't take Roxana seriously. His current girlfriend left him after realizing that she has been cheated on. He is continuously trying to break and make new world records. Things turn problematic when he starts getting blackouts. Roxana was physiologically gifted, and with a little amount of training, she could display her extraordinary talent. Pascal gets jealous of her and the attention she was gaining. Hence, he ends up doing things no one could have ever imagined.

No Limit is a tribute to Audrey Mestre (1974 to 2002) who died attempting to beat the world record of 171m. The movie is about two sea divers who have opposite personalities. The boy likes to challenge himself repeatedly and doesn't want to stop till he achieves that. He doesn't care even about his health and is very competitive. Then we have a sweet girl who can give anything up for the love of her life. She doesn't care about her achievements and can trade them easily for her partner.

In my opinion, No Limit is a film that in the starting gives us an impression of a romantic drama. This movie, later on, turned into something that couldn't be anticipated. I wouldn't say that this film is excellent, but it has something that will intrigue the audience. Jealousy has no boundaries, and even in a normal workspace environment, people tend to get jealous of each other. In the end, what matters is healthy competition. Pascal saw how his girlfriend was excelling in sea diving while he had to face blackouts. This jealousy took control of him, and he did unthinkable things.

The actors played their roles well. Great chemistry can be seen between the lead actors, and there wasn't anything average in the acting department that can be pointed out. The underwater scenes were very beautiful and breathtaking. If you don't want to watch this one for the story, then make sure to have a look at its underwater scenes. This film is average and can be enjoyed by the audience. Initially, the audience won't be able to guess the plot, but as it progresses further, the plot becomes pretty obvious. It is that you would probably be able to guess the next moves of Pascal, but you'll still want to watch if he'll stoop to such levels.

Final Score – [6.5/10]
Reviewed by - Riya Singh
Follow @_riyasinghhh_ on Twitter