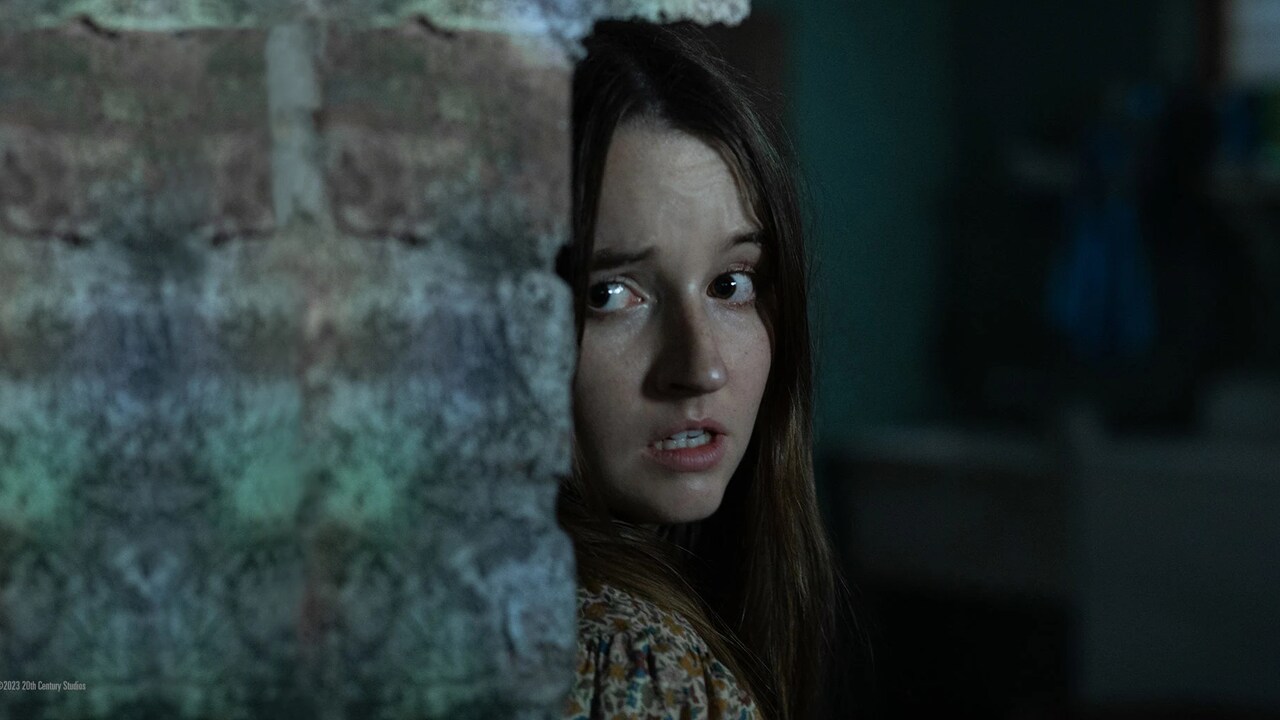 No One Will Save You is about Brynn, a young lady, and her dangerous encounter with extraterritorial creatures. She lives alone in a beautiful home. Looking at how well the property is managed, she must have put in a lot of hard work to maintain this.

Brynn runs a business that involves making customized miniature homes or dresses, this part isn't made clear, but that might be how she manages her expenses. The young girl writes a letter to her best friend Maude and is also seen visiting her mother's grave. The explanation of how her mother died isn't provided. We are told where is Maude and why her parents don't talk to Brynn.

One day, while Brynn was sleeping in her huge mansion, she heard some strange noises. To her surprise, it turned out to be aliens. This horrified her and as the first instinct is to kill, she acted in the same manner. The young girl was able to kill three of them.

This doesn't go unnoticed as her home became the target of the aliens. She's hunted by many, and the people of the town too get possessed by them. Brynn ultimately is caught off guard and now her fate lies in the hands of the aliens.

The makers were successful in creating suspense and horror in the first half of the film. However, the rest of it is just blah. There is no clarity howsoever about what went on in that estranged land. Also, there were no dialogues given to the lead. She was just heard crying and panting.

The most absurd thing about this 83-minute-long film is its ending. When they have shown from the beginning that Brynn was fighting off the aliens then, how come she lives in harmony with humans having their germs in them? Also, another point to be thought about is if she could pull out that creepy organism from her throat, then why couldn't the other one? It wasn't as if she was blessed with a superhuman thing other than the urge to fight.

There's a scene in which an alien is following her. It had legs like that of a spider, and while it was chasing Brynn, it got stuck in her car due to its extremely long legs. Now, at the exact moment it got stuck in the car, the fuel began to leak from the vehicle. What is more unbelievable is that she had a lighter in her pocket. Isn't all this too much of a coincidence?

The director and writer of the movie Brian Duffield had some great ideas in mind. What he failed at was proper execution. Not much logic has been applied to No One Will Save You. There were some mysteries included which if had got a good ending would have made this film worthwhile.

The movie is an unfinished project made in a hurry. Maybe the writer got so excited to show the world a unique idea that came to his mind. Kaitlyn Dever looks pretty as Brynn. She was successful in portraying the horror and suspense elements. Had some dialogue been allotted to her, it would have sounded nice.

The sound artists sure had a lot of work put into this film because it's just noises, creaking, and warbling. The aliens should have been made to look scary. If you google what aliens look like, it is the exact image. They could have used some imagination there instead of animating the Google pictures.

Kaitlyn Dever had a lot of pressure to carry this film and her expressions made the project appear promising initially. It sure has some good horror scenes, but they last for just 10 to 15 minutes. The audience is aware of plots like these and one thing that takes us by surprise and disappoints at the same time is the ending. It is a good title gone bad for me.

Final Score – [2.5/10]
Reviewed by - Riya Singh
Follow @_riyasinghhh_ on Twitter
Publisher at Midgard Times