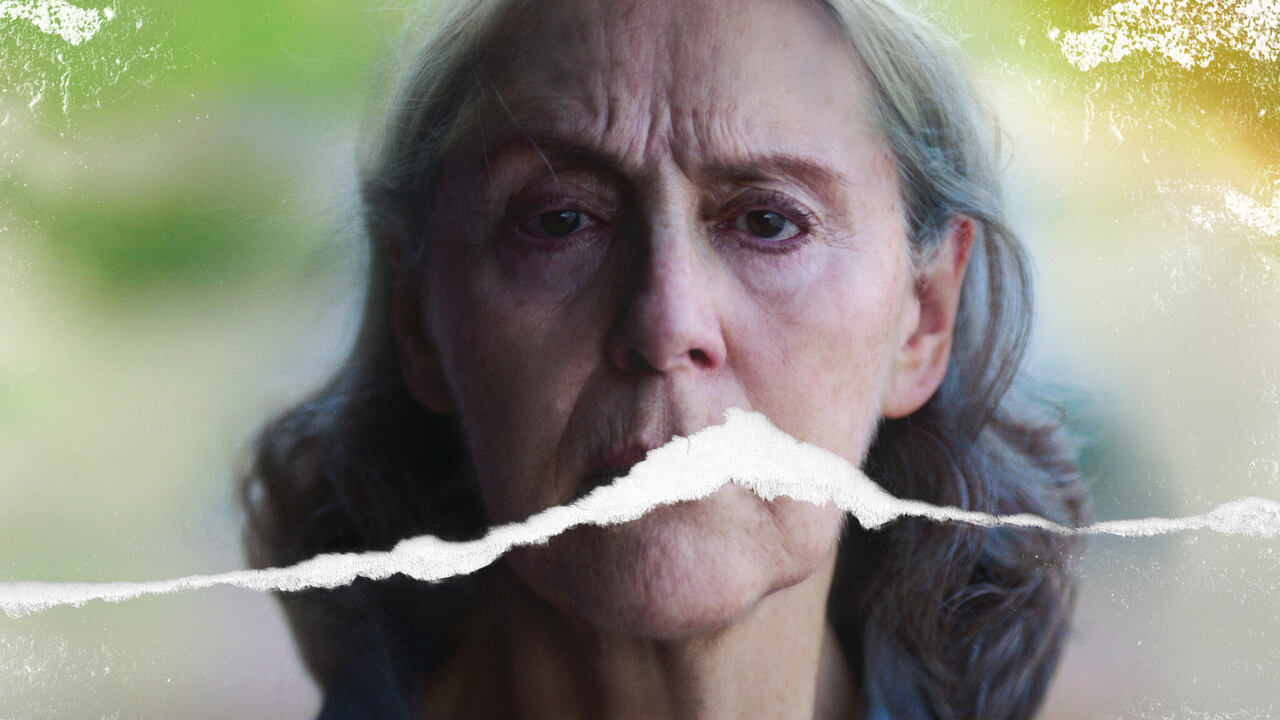 Natalia Beristain's Noise opens with a lot of, well, noise. We hear unsettling music followed by sounds of drumming, and then slowly, more sounds are added into the mix, creating a chaotic soundscape. As far as the visuals are concerned, purple smoke fills the screen while the camera regards an old woman's contemplative face. That woman is Julia (Julieta Egurrola), and the noise that engulfs her comes from a protest.

It has been two years since Julia's daughter, Gertrudis (or Ger), went missing. The Mexican government proves to be incompetent as well as careless. They call Julia and Arturo (Arturo Beristáin) to identify a body but then send them back, telling them they had made a mistake with the files. These government officers seem to have no clue that their "mistake" causes so much pain to the family members of the victims. The police don't really care about the missing persons. In another scene, a female police officer arrives late while Julia and a journalist named Abril (Teresa Ruiz) wait. That officer also takes a bribe to do her job. But there is also an honest police officer, though he is constrained by a corrupt government.

So it's up to the people, then, to do the job of the police officers by searching for the missing persons. Julia meets one such group of women with whom she explores an area and investigates a filthy underground space. Julia is not the only person who has lost someone close to her. She finds her companions, and we are told that some of them have been searching for their husbands, sons, and daughters for more than six years. There is also a support group where women come and share their experiences. Their words, "You are not alone," becomes a source of strength and sadness. Julia's sorrow is not unique; she can find comfort in others going through similar pain. But the fact that so many other people live with the same experience causes distress. One of the women in the support group says that she never stops telling herself to be more excited about her daughter's pregnancy. She cannot organically evoke feelings of happiness. Such is the pain a mother bears when she loses her child.

The closeups of the grieving faces carry a potent charge of despair with them. It's impossible to not flinch while looking at the countenance of these mothers as their expressions explode with anguish and anger. There are also traces of exhaustion in them. You sit helplessly in your chair while the protestors are beaten up, and a journalist is kidnapped. Like the characters in the film, you, too, feel powerless and, thus, irritated.

The movie starts with Julia, but its lens gradually expands and includes other citizens. We see many dead bodies inside a truck, accentuating that there are many victims like Gertrudis out there. Those people in the truck might be dead, but at least they are not missing anymore. Finding someone in Mexico is apparently a very big deal. When Julia and Abril meet a counselor, we first go through her room and then notice the character. On the wall are pictures of people who were founded by this counselor. These papers are displayed like award certificates. Noise suggests that the missing persons either become "files" or "achievement badges."

Julia is initially seen with sad expressions. But as the movie progresses, we get moments where she smiles. The first time she beams, we see her from a distance through one of the small boxes painted on a glassy, transparent wall. Julia also briefly dances with a group of women before returning to the bleak world. The window for pleasure is indeed small.
In Noise, the women seek justice, while the men appear like a blur in the background. Even Arturo is not seen again after the few scenes near the beginning. This makes Noise a celebration of womanhood. And it's not just the humans; the film also praises the animals, like that female dog we observe single-handedly feeding her babies. The female characters take to the streets and protest against the government, filling the environment with cries for justice. At first, Julia quietly and in shock walks among the protestors and then later joins them. It's a terrific scene, and it infects you with its ardor. Like Julia, you, too, become one of the marchers.

Noise falters when Julia is seen crying at an isolated location. At one point, after a journalist is kidnapped, she screams in slow motion. These scenes take you out of the story and create a distance between you and the characters. When Julia and Abril talk at a restaurant, the latter comes with her little daughter. The daughter's presence becomes something of a statement: If the current situation is not changed, then in the future, this little girl will also live in danger. The way the camera focuses on the daughter, it ends up overemphasizing this opinion.

But Beristain loves her characters, which is why we allow the film to wash over us. Since the reality is too harsh, the director uses the medium to dispense a happy ending. The final shot is ambiguous as we are left wondering who that girl is. Is she Gertrudis? Was that man lying? Why not? If movies can mirror our society, they can also offer us relief. Life becomes tolerable when we believe there is light at the end of the tunnel.

Final Score- [8/10]
Reviewed by - Vikas Yadav
Follow @vikasonorous on Twitter
Publisher at Midgard Times