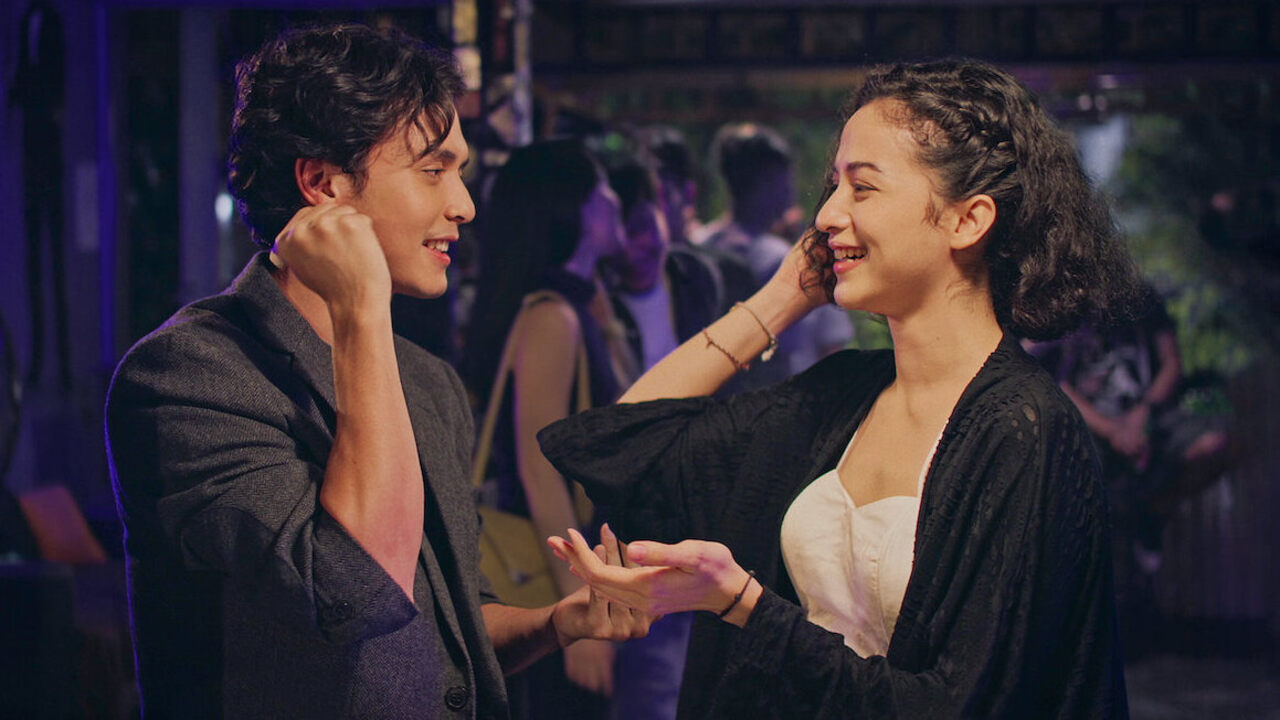 The title of Adriyanto Dewo's film, One Night Stand, suggests something raunchy, something scandalous. The opening scene inside a car also makes you believe that this is going to be a trashy, titillating movie. Perhaps, something like Jasmine D'Souza's similarly titled 2016 Hindi film? But the title and the opening scene turned out to be a smokescreen. One Night Stand is beautiful and thoughtful and bewitching. It stays with you long after the end credits stop rolling.

What instantly strikes impressive about One Night Stand is how effortlessly it attunes you to its characters and their mood. Just notice the glances Lea (Putri Marino) and Baskara (Jourdy Pranata) throw at one another when they meet at the airport for the first time. You feel as if a tsunami of chemistry is flowing between them, and a voice inside your head tells you that this right here is a perfect couple, and they should be together. You root for Lea and Baskara from the beginning, so when you initially notice Dimas (Elang El Gibran), you pray he doesn't come in between these two characters. When Lea and Baskara talk or look at each other, they seem to exist on the same emotional level. This is why their conversations have a delightful rhythm, and when this flow is interrupted by things like a phone call, you experience a sting in your heart.

I was consistently absorbed in the conversations of the characters. They are open and alive and speak with fervor. You never think that whatever you are hearing is rehearsed. Rather, the characters seem to be recounting stories they have actually experienced. Marino and Pranata do not wait for their cues to deliver their dialogues or perform an action. They react to each other. They form a genuine, palpable connection. One of the greatest pleasures of watching movies is that it allows us to participate in events that we might not ever experience. We go through various scenarios in the company of attractive men and women and vicariously satisfy our wishes. Marino and Pranata are not only good-looking people, but they also look good together. On top of that, the two actors give such a passionate (and, at the same time, understated) performance that it's practically impossible to look away from them. Marino especially registers like a breath of fresh air. Her smile rejuvenates your soul, breaks down your defenses, and makes you vulnerable to her charm.

Dewo further elevates the material and the performances by gazing at everything in admiration. It's evident that he loves this film and strongly shares his love with us. The serene environment of Yogyakarta permits the characters to inspect as well as share their deepest thoughts and desires. The movie gives priority to its characters, which is why there are moments where you fail to notice the movement of the camera. During the initial meeting at the airport, we get a long unbroken shot as Lea and Baskara slowly get familiar with each other. You might not notice that the scene is unbroken because you are intensely involved in the discussions. Lea comments that she hates airports as it's filled with farewells, and Baskara agrees with her notion. These characters have said goodbye to some important men and women (she to her father and he to his lover). This is precisely why they don't consider the airport as a place where folks also reunite with their loved ones.

In One Night Stand, Baskara travels to Yogyakarta to attend a wedding and a funeral (both occur on the same day). This is not merely a "quirky situation." At first, there is a funeral, and then there is a wedding because the characters, too, are initially sad and lost and later become more communicative and happy and possibly end up together. Dewo is an optimist who charges his movie with positivity and hope. Instead of filling your eyes with tears, he fills your heart with warmth and makes you grin like an idiot in love.

Final Score- [9.5/10]
Reviewed by - Vikas Yadav
Follow @vikasonorous on Twitter
Publisher at Midgard Times