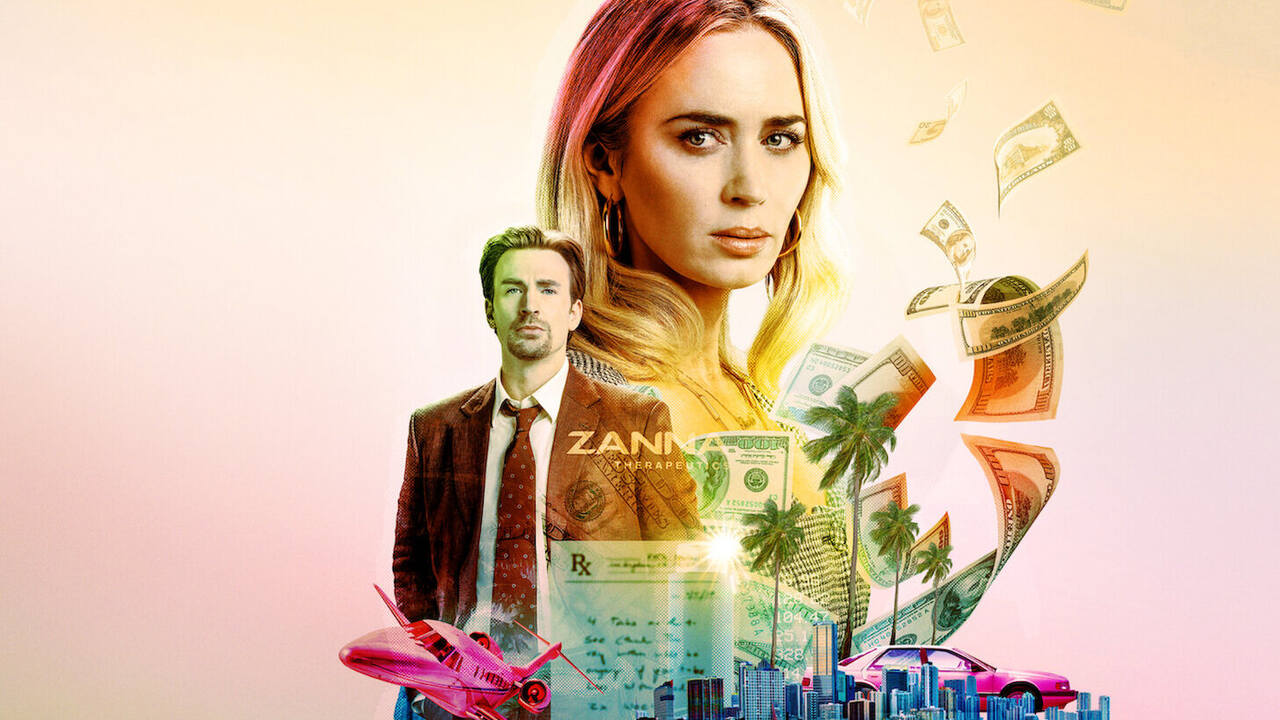 Pain Hustlers, directed by David Yates and written by Wells Tower, is based on a book of the same name by Evan Hughes. But Pain Hustlers is one of those movies that makes you wonder why the filmmakers even bothered to take "inspiration" from a novel. The problem is not that the story - a pharmaceutical company's rise and fall - is a cliché. The problem is that this story moves on autopilot. I can understand why Emily Blunt serves as an executive producer (her character does the right thing here), but what attracted Yates and Tower to this material? The writing is painfully banal, and the direction is devoid of fervor. When the characters throw wild pool parties and enjoy their success, the mood is not feverish, so we merely observe them from a distance. And when everybody is punished for their actions, the movie doesn't see them with a reproving lens. There is no fun in watching a film with zero emotions. Pain Hustlers is as unstimulating as a righteous speech. It's also as ponderous as an academic lecture. Sure, it explains one or two complicated medical procedures in simple terms, but the words lack style and excitement.

On the story level, Pain Hustlers is a dud. Jay Duplass wears a punchable face so that we can get a shallow, rousing scene where he is kicked out of the office. Jack Neel (Andy García), the big boss of Zanna Therapeutics, suddenly develops an insatiable hunger for wealth and success so that Liza (Blunt) can eventually make the correct decision. These beats are very broad and, by extension, dull. It would have been better if the film had told us why the Duplass character is so envious of Liza when she is responsible for the company's success. Does he hate her only because she is gaining attention and appreciation or because she is a woman? A little more detail would have been nice, but the movie chooses to depict this man as a jealous teenage girl. Moreover, I was not convinced by Jack's transformation from "I made this medicine for cancer patients" to "Just give me more and more cash." And when he starts acting up, he becomes "a rich man having his own quirks." But where are these quirks (at least the one where he asks his employees to remove their shoes for the first time) coming from?

As no other department strikes you as interesting, you direct your attention towards the performances. The winner in this category is undoubtedly Chris Evans. He gives a masterclass on how to elevate a bland character. He neither underplays nor overplays his part. Evans maintains a perfect balance and steals the spotlight from everyone. Blunt, on the other hand, is quite uneven. I liked her during "quiet" moments, say, when she hugs her daughter in the washroom or walks around at a party so stoned that she casually talks to someone doing his business on the kitchen sink. But when Blunt is asked to raise her voice, she gives rise to unintentional humor. Look at her pointing her right hand toward the mother character (Catherine O'Hara) when she shouts, "I survived you, Mom! I am here because of me!" Such exaggerations make the scenes less dramatic and more comical, leaving you with a feeling that you are watching an SNL skit, though the twist here is that the actor doesn't think they are performing to make you laugh. When Pete (Evans) tells Liza she will be making $600k per year, her silent face simply looks blank. There is not even a slight tremor of shock or excitement under her facial expression.

There is one horror-comedy sequence in the film where patients move towards Liza like a zombie and ask for Lonafen ("world's first sublingual fentanyl spray"). But Yates doesn't do anything impressive with this visual, and what could have been a superb moment remains utterly disposable. Pain is not just present in the title. It also crops up in the viewing experience.

Final Score- [4/10]
Reviewed by - Vikas Yadav
Follow @vikasonorous on Twitter
Publisher at Midgard Times