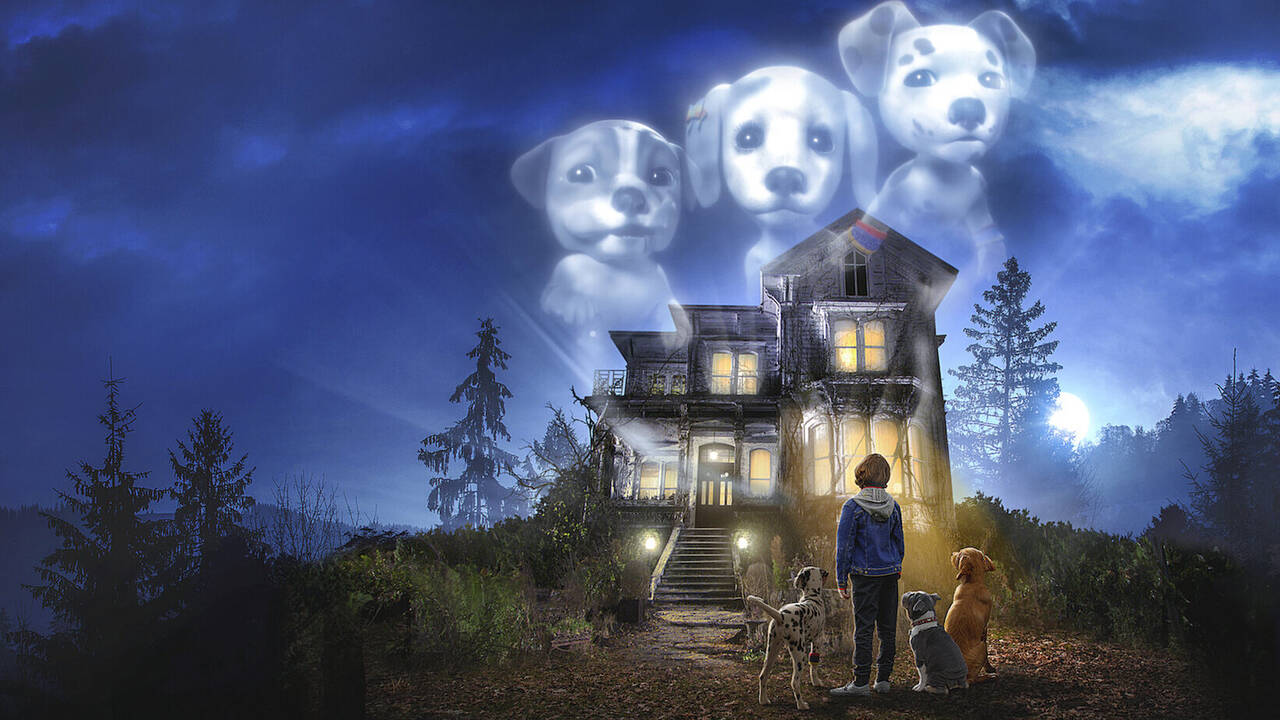 Every ghost movie starts with a haunted house and new owners moving in and out of the same place. Similar is the starting of Phantom Pups, in which three puppies are tricked by an evil ghost of a dog, Grim.

Chewy, Booey, and Lewy are three stray pups who were present at Maplecrest Manor on Halloween night. There was a séance being conducted by Madame Maples. During that, the ritual went wrong, and an evil spirit of Grim got released from the portal that can only be opened on Halloween. On the very same day, the portal in the mirror opened, released Grim, and Madame Maples got sucked into it.

Grim is a smart ghost who tricked the puppies and took their bodies by giving them the greed of freedom and lots of food. Since then, these little cute pups have been trapped in Maplecrest Manor for thirty years while Grim is enjoying. Then, the house gets sold and re-sold till the Hazel's finally come. Helen and Hank Hazel have two children, Freddie and Mimi. They moved into Maplecrest Manor so that they can renovate it and avoid it being sold to a developer.

The ghosts of the pups first interacted with Mimi and made friends with her. Edwin didn't believe his sister as he thought that she was imagining stuff. Piper, Madame Maple's granddaughter being very curious about what's going on in the house joined hands with Edwin and finally discovered these super-friendly pups. The other characters include Cleo, Piper, and Jinks, who are basically from the City of Phantom, Paranormal Control, and want to trap these ghosts with different motives in their minds. The teachers shown in Phantom Middle School are so lazy and don't even know the art to teach the children.

"Sometimes your greatest enemy can be your greatest ally" is the best line in this family-friendly series. Madame Maples narrated these lines to her granddaughter Piper so that she can find help around herself and complete the mission. Despite being so small, these kids don't lose hope and stay motivated. This is something that the kids watching this series should learn.

There are a total of ten episodes in Phantom Pups with a duration of 25 minutes each. The plot of the series is straightforward, dogs change into ghosts, they finally make some new friends, and they are on a mission to return to their normal bodies. This Netflix series can be viewed by people of any age group, but it has been specifically made keeping children as the main focus. In my opinion, this is an excellent series for kids to watch, especially with the approaching weekend.

Phantom Pups has a lineup of great voice actors who made the characters of the dogs look even cuter. There's nothing scary in the series, and Phantom Pups will be liked by all groups of kids.

Final Score – [7/10]
Reviewed by - Riya Singh
Follow @_riyasinghhh_ on Twitter