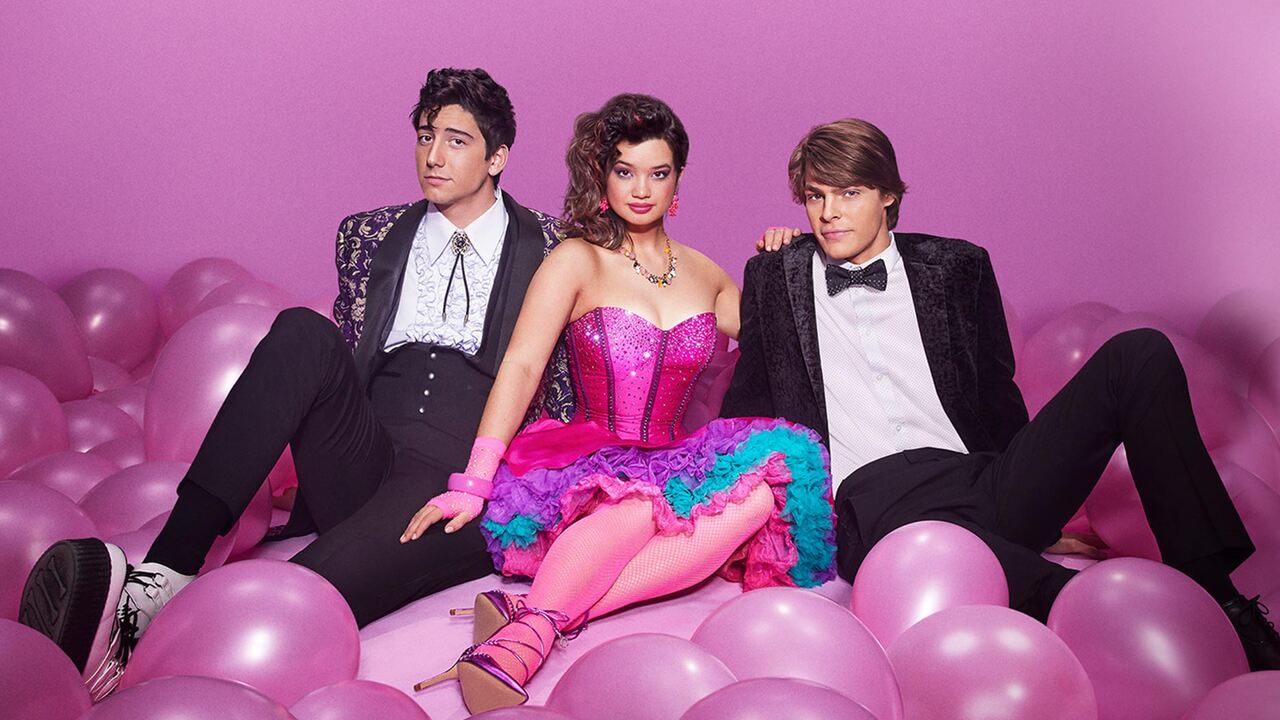 Get ready to relive your high school days with Prom Pact, the latest Disney Original Movie. This movie has everything you could want in a teen rom-com: over-the-top "promposals", prom-related drama, and of course, a classic 80s-themed prom. It's like John Hughes meets Disney Channel, with a dash of modern-day sensibility thrown in. But don't worry, you won't need to dig up your old yearbook to enjoy this movie. Prom Pact is a fun and charming look at the trials and tribulations of teenage life that is sure to leave you with a smile on your face.

The story follows two high school seniors, Mandy Yang and Ben, who have always felt like outsiders. As prom season approaches, they decide to take a step out of their comfort zones and experience the excitement of high school life. Mandy is determined to achieve her lifelong dream of attending college, while Ben is more focused on attending the 80s-themed prom.

Along the way, they both face the stresses of getting into college and navigating their feelings for their crushes. Despite their different goals, the two make a pact to go to the prom together. However, their friendship is put to the test when they both receive unexpected proposals from other people.

Prom Pact is a delightful blast from the past that takes us back to the 80s with its themed prom. The movie taps into our nostalgia and delivers a fun and heartwarming experience that is sure to put a smile on your face. Peyton Elizabeth Lee shines as Mandy, bringing her character to life with sincerity and charm. The over-the-top promposals, the quirky outfits, and the hair-raising tunes make Prom Pact a perfect pick for those who want to relive their high school memories or simply escape into a fun-filled rom-com.

The film's fresh take on the classic teen movie genre, combined with its nods to the greats that came before it, makes for a delightful and charming experience. Despite its predictable plot, Prom Pact manages to remain sincere and entertaining, leaving viewers with a smile on their faces and a warm feelings in their hearts.

However, like any other typical Disney original film, Prom Pact has its flaws. The movie does try to address some of the more problematic aspects of its genre, such as the pressure to conform to traditional gender roles. In the end, it falls short of fully exploring these themes.

Some of the plotlines feel clichéd and predictable, and the movie does not take enough risks to stand out from other romantic comedies. The humor at times may not resonate with all audiences, and the dialogue can sometimes come across as cheesy or forced. I did find myself cringing a few times, but that's typical with Disney films, is it not?

Overall, Prom Pact is a decent romantic comedy that explores the joys and struggles of teenage life during prom season. While it has its shortcomings, it manages to remain sincere and charming. The film delivers some great messages about balancing academics with fun, valuing lifelong friendships, and pursuing one's goals without missing out on the experiences that make life worth living. If you're in the mood for a fun and lighthearted movie with relatable characters, Prom Pact is a worthwhile watch.

Final Score- [5/10]
Reviewed by - Anjali Sharma
Follow @AnjaliS54769166 on Twitter
Publisher at Midgard Times