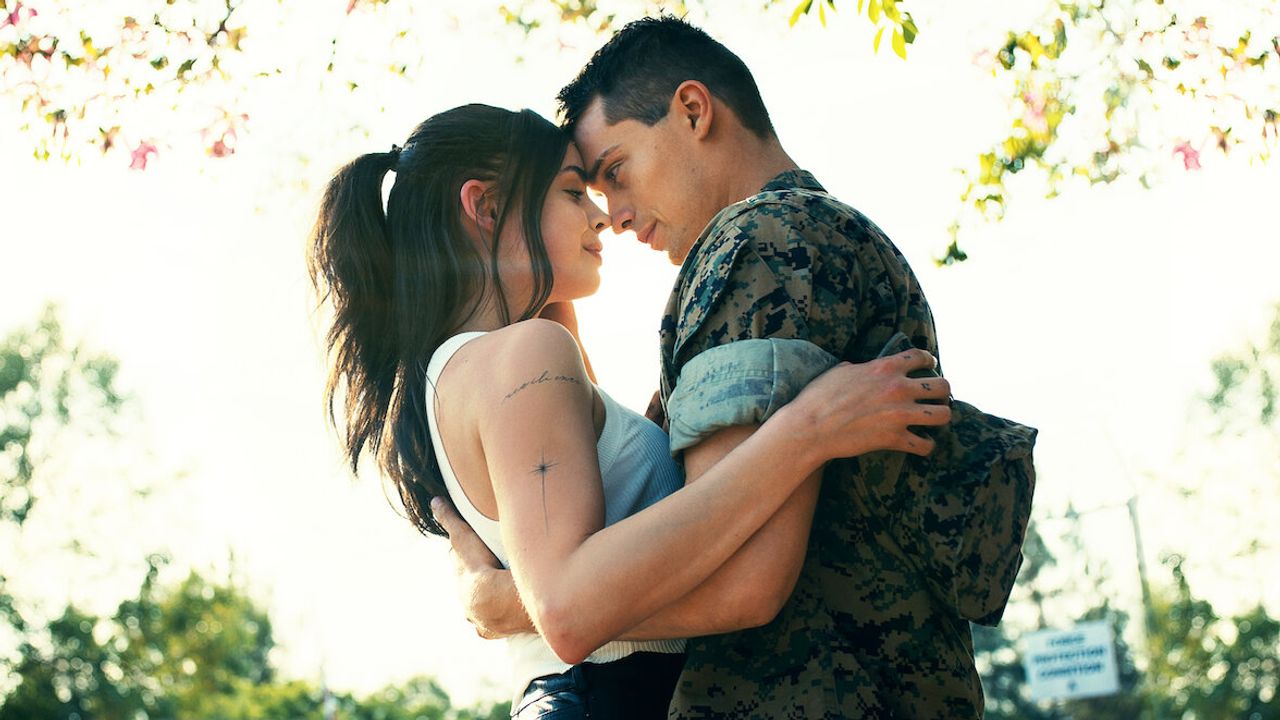 This movie is just like the ones in which we see adversaries becoming lovers. The twist here is that despite having a similar plot, it is different in its own ways. There is an entirely different fanbase for such movies and books as it brings a unique thrill. We get to see how two unlikely people get turned into lovers. Purple Hearts is based on a novel written by Tess Wakefield and is about a marriage of convenience.

Cassie is a free-spirited girl who never shies away from having a stand, and Luke is the complete opposite. He doesn't speak much despite having so much to say. Luke had a terrible past, but Cassie coming into his life changed everything. They both initially came together for their mutual benefit. And yes, when they first met in a bar, there was nothing but fights between these two as Cassie absolutely hated soldiers. Little did she know that she'll end up marrying and falling in love with one.

Both Luke and Cassie had been undergoing some financial troubles and were in desperate need of the money. Cassie proposed her friend Frankie get into a fake marriage with her so that she can get the health insurance given to the spouse of the Marines, which would in return help her in getting her medical supplies for Diabetes type one on time. But Frankie didn't approve of that as he already had a girlfriend Riley.

Luke was a drug addict in the past and owed 15 grand to a man. So, the additional monthly allowance of 2 grand that he would get after marriage, he thought of using these to pay off his debt. Thus, Cassie and Luke enter into a fake marriage. They didn't have feelings for each other, but as they spent time and came to know about each other, a beautiful bond was created. When Luke went to Iraq, Cassie even sang songs for him and his friends to cheer them up.

"I wanna be the one you run back to", these are Cassie's words to Jacob which clearly tell us how deep in love they both were.

In my opinion, you should watch 'Purple Hearts' as it is a feel-good film that'll be surely enjoyed by the fans of the romance genre. The lead actors shared great chemistry. Sofia Carson and Nicholas Galitzine were a treat to the eyes. This wild yet pleasing love story surely deserves your attention.

I particularly loved the song "Come Back Home" as it described how Cassie longed for Luke to be with her. Many beautiful songs have given an extra edge to Purple Hearts. Through her music, Cassie conveyed her feelings. Overall, it is a beautiful film that you shouldn't miss. I hope for a sequel for this film as it deserves it. The ending was also so beautiful, seeing Luke and Cassie mad in love and enjoying each other's company at the beach.

Final Score – [7/10]
Reviewed by - Riya Singh
Follow @_riyasinghhh_ on Twitter