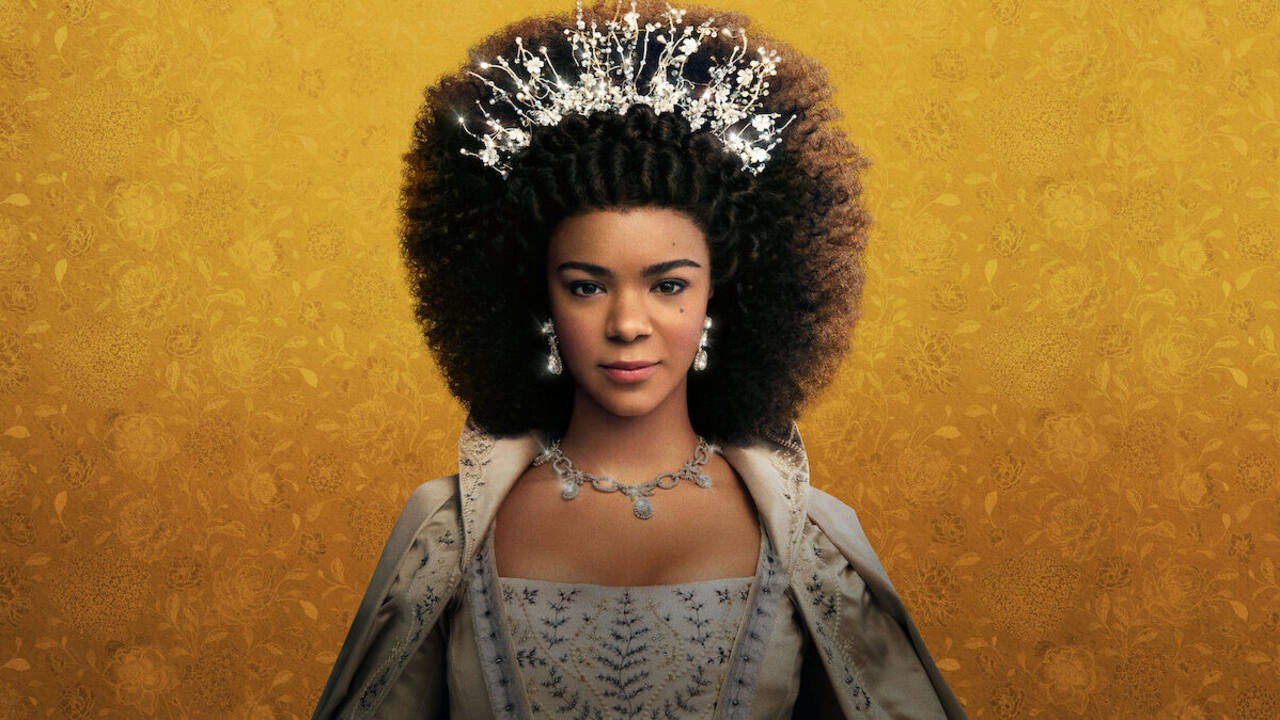 Queen Charlotte is not only excellent, but it also makes better television than the major Bridgerton series. That's blasphemy, right? Perhaps, but Queen Charlotte, which has the added challenge of taking place in two different periods, handles its large cast and multiple plotlines with more skill and better pacing than the main series. It aims high and takes on a lot more, yet manages to do so deftly.

Prequel Queen Charlotte serves as a kind of bridge between Bridgerton seasons. The primary plotline is set in the past and centers on a young Queen Charlotte (played by India Ria Amarteifio) and her forced union with King George (Corey Mylchreest), as well as the effects that union had on English society. Parts of the main Bridgerton timeline are interspersed, as Charlotte tries to match her children with decent partners after her oldest son's wife dies in delivery. Lady Danbury and Violet Bridgerton, two well-known figures, make appearances in both the past and present tales. In the end, the two time periods blend beautifully, and it's interesting to witness how the characters' younger selves made decisions and overcame obstacles.

In Bridgerton's present chronology, Charlotte largely rules alone as her husband's mental state deteriorates despite his occasional lucidity. This just heightens the resonance of the budding romance with Queen Charlotte. The main Bridgerton series tells us that Charlotte and George are deeply in love, despite their current circumstances; Queen Charlotte explains how that love developed: A headstrong young woman and a troubled young man defied their own expectations—and the expectations of those around them—and found similar-minded individuals in one another.

Both desire to defy social norms and it is Charlotte who gives George the courage to do so even though his mental health issues make him feel alienated (let's not get too caught up in the real historical details here). Even though it's all set against the bittersweetness of the present, they triumphantly find one another despite all the obstacles.

Young Charlotte, George, Lady Danbury, and Brimsley and Reynolds, the right-hand men to the Queen and the King, respectively, are all endearing characters. Queen Charlotte's B-stories all seamlessly integrate into the larger overall plot and support it, in contrast to the most recent season of Bridgerton, which suffers from having too many side plots that don't actually have anything to do with the main storyline. Queen Charlotte: A Bridgerton Story accomplishes a great deal of things that Bridgerton itself could not do appropriately for a queen. If Queen Charlotte has a weakness, it is that the narrative inherited Bridgerton's odd treatment of race and is only able to do so much with it within its brief six-episode run. Given that racism once existed but hasn't in recent years where Bridgerton is set, the main show's approach to it is typically something along the lines of, "Don't think too hard! The issue was long ago resolved by the love between Queen Charlotte and King George. Just move your body to "Wildest Dreams."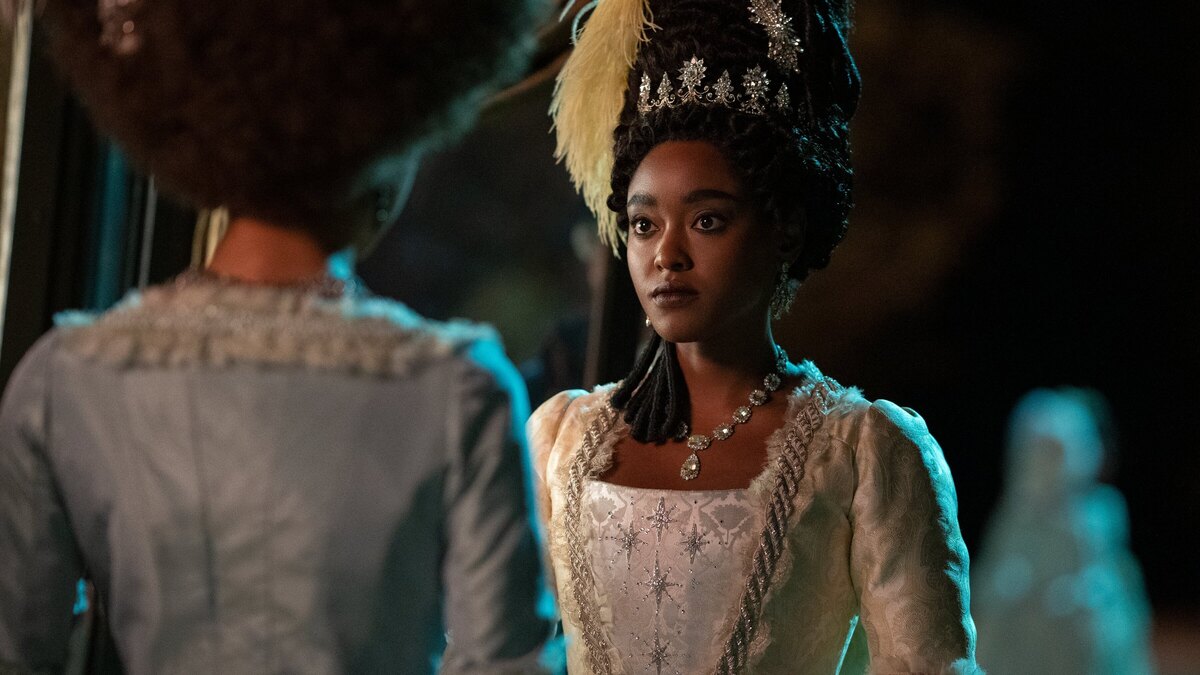 However, Queen Charlotte is about that love, so it can't simply brush the issue under the rug. Even so, the program never fully commits to a more in-depth examination of race. One is that no one in the show ever expresses that it is about race. People of various races are simply referred to as "our side" and "their side." The program does emphasize a few characters who demonstrate their legitimacy in light of these new cultural norms, most notably young Lady Danbury (Arsema Thomas). It never really goes anywhere, though, because most of the attention is on Charlotte and George's developing connection and the romantic arc of their arranged marriage to actual lovers rather than their time as rulers making important decisions, even if some of those important decisions are beyond their control. It never truly delves deeply into how institutionalized racism was destroyed. At the conclusion, there is the barest hint of it, but not enough to satisfactorily answer the significant questions Bridgerton has attempted to bury behind a pastel-draped silk curtain.

However, Queen Charlotte excels when it comes to arranged marriages from reluctant allies to genuine lovers to doomed romance arcs. Amarteifio and Mylchreest have a strong chemistry together; in fact, Mylchreest's crazy yet endearing performance feels similar to Nicholas Hoult's King Peter in Hulu's The Great, which is a compliment. And Queen Charlotte's pacing is unquestionably great, in contrast to Bridgertons-prior when the arc felt either hurried or overly drawn out. The main relationship has just the right amount of give and pull to keep it interesting. An effective romance requires a delicate balance between internal and exterior stress. If there is too much internal conflict, you may wonder why the pair even likes one another, but if there is too much exterior conflict, their tale may be abandoned. But Queen Charlotte skillfully strikes a balance.

In contrast to the main Bridgerton series, Queen Charlotte doesn't have a triumphant happy-ever-after conclusion. Fans of the original program (or the history of the real pair, I presume) know all too well that Charlotte and George's narrative was tragic from the start. The entire show is resonant with grief, which heightens the poignancy of the joyous moments while emphasizing the tragic ones. It doesn't conclude on a typically upbeat note, but it's also not entirely depressing either. Despite George's deteriorating mental state, he still contains remnants of the person he once was and the love they once shared, built up by these six episodes, which demonstrate how these two fiery and complex characters pushed each other and fell in love. The poignant sweetness of The Notebook, Titanic, and other tragic love stories is evident in Queen Charlotte's closing moment, which emphasizes that love is always worth the pain it causes.

Final Score- [8/10]
Reviewed by – Neha Krishna
Follow @Neha25Krishna on Twitter
Publisher at Midgard Times